The fallout from Italy's 'no-ruck' tactics deployed in their 36-15 defeat by England shows no sign of letting up after it emerged that World Rugby is considering a review of the law that allowed them to avoid the ruck and negate the offside line.
The England head coach, Eddie Jones, was irate afterwards after witnessing tactics that he felt "was not rugby" and went against the spirit of the game, while George Ford and Danny Care supported his calls for World Rugby to address the regulation before their penultimate Six Nations match against Scotland a week on Saturday.
The tactics, deployed by Italy coach Conor O'Shea and defence coach Brendan Venter, also drew criticism from World Cup winner Matt Dawson, while his head coach back in 2003, Sir Clive Woodward, claimed that while the ploy was a masterful one, World Rugby needed to address the law in order to prevent the ruck becoming a no-contest.
However, not everyone rushed to criticise the Italian team – something that angered O'Shea immediately after the match as he demanded Italy be treated with respect – with New Zealand's Rugby World Cup-winning coach lauding the Six Nations' basement side for trying the risky tactic.
"It's a brave team that tries it," Smith told Fairfax Media in New Zealand. "I think Conor has shown some thinking outside the box and they've been courageous enough to have a crack because there are lot of potential flaws, and not every referee will be in favour of it.
"It's one of those surprise tactics that I think could work now and again, but you certainly couldn't build your game around it. I don't think it requires a law change. The law says you require one from each team over the ball bound together to create a ruck. I can't see them changing that.
"It's not an anomaly in the law, it's just a part of the game, a shock tactic that a team might use now and again but certainly if you became predictable by doing it you'd be cut to bits."
And that's exactly why the big fuss over rule changes and law clarifications seems somewhat rather unnecessary. This was not Italy ripping up the rulebook, this wasn't O'Shea flouting the laws in order to gain an underhand advantage. This wasn't like bowling underarm in cricket, no matter how much Jones wanted to compare the incident to Trevor Chappell against New Zealand in 1981.
Six Nations team of the weekend - round three
Six Nations team of the weekend - round three
1/15 15. Stuart Hogg (Scotland)

Well on his way to cementing a second Player of the Tournament award, Hogg was again showed how dangerous he is with the ball in hand. Arcing run and chip behind the Welsh line triggered a brilliant counter for Scotland, and his quick hands released Tim Visser to score on the left wing.

Getty Images

2/15 14. Keith Earls (Ireland)

The quiet man of the Irish backline, Earls kept the French defence guessing with smart running lines and hard running after contact. Beat three defenders in one-on-one scenarios, and was a key reason why the Irish fightback succeeded.

AFP/Getty Images

3/15 13. Huw Jones (Scotland)

It was a brilliant week for No 13s, and Garry Ringrose, Michele Campagnaro and Remi Lamerat are all unlucky to miss out. Jones takes the place though thanks to his individual brilliance in breaking the Welsh line and giving Scotland the platform to attack. He made 44 metres from just four carries, and contributed massively to Scotland's best win for great some time.

Getty Images

4/15 12. Ben Te'o (England)

With most of the inside centres going under the radar this weekend, Te'o's versatility gets him into the side in the 12 shirt. The centre bagged his second international try on his first start and at times played as a crash-ball centre to put Italy on the back foot. He displayed his offloading talent on more than one occasion, and also snaffled out an Italian attack by rushing up in defence.

Getty Images

5/15 11. Elliot Daly (England)

Along with Hogg, he is the only player to feature in all three weeks so far. Scored his second try of the tournament with his electric pace – which nearly bagged him another try had it not been for the boot of Carlo Canna – and also pinned Italy back in the second half with a monstrous kick to touch. Also worked well defensively, forcing a knock-on in a maul on his own try line.

AFP/Getty Images

6/15 10. Jonathan Sexton (Ireland)

Announced his return from injury in style as he not only energised Ireland's attack, but also contributed with the most tackles of any Irish back. His kicking from hand was also impressive, and he just did enough to oust Finn Russell from the shirt.

Getty Images

7/15 9. Conor Murray (Ireland)

Another assured performance from the scrum-half and the only try of the match to boot. Kept France on their toes as he sniped around the ruck, which ultimately led to the try, and also showed good finishing skills to ensure he grounded the ball under pressure from the French pack.

Getty Images

8/15 1. Andrea Lovotti (Italy)

Had Dan Cole in trouble in the scrum battle early on, and from the moment he went off the field, Italy's pack went into retreat.

Getty Images

9/15 2. Rory Best (Ireland)

Hit an Irish jumper with all 17 of his lineout throws and it was the clean ball off the top of the set-piece that allowed Sexton to attack on the front foot.

Getty Images

10/15 3. Tadhg Furlong (Ireland)

A big effort with the ball in hand as he repeatedly crashed into the French defensive wall. Beat three defenders to penetrate the line and offloaded twice out of contact to keep the ball moving. A great performance in the loose.

AFP/Getty Images

11/15 4. Joe Launchbury (England)

England best carrier in terms of number of carries to metres made, and he was prominent in how England changed their game in the second half. Italy repeatedly kicked to him off the restarts, and were punished as a result.

AFP/Getty Images

12/15 5. Dries van Schalkwyk (Italy)

Italy's most prominent forward with the ball in hand and he was unlucky not to have a try as he couldn't round last man Jonny May. He made 56 metres from 11 carries and broke the line three times to generate go-forward ball for Italy in the first half.

Getty Images

13/15 6. John Barclay (Scotland)

Skippered Scotland in the absence of Grieg Laidlaw supremely well and while he carried well, it was his work off the ball and his disruption in the Welsh breakdown that really stymied their attack in the second half. He secured turnovers, slowed down the ball and along with Ryan Wilson he was the Scots' top tackler.

Getty Images

14/15 7. Simone Favaro (Italy)

Along with Edoardo Gori, he was Italy's chief 'fox' in disrupting the English backline and ensuring they could not attack due to the controversial no-ruck approach. Made an impressive 17 tackles, though some of those came when he was standing next to the English ball-carrier given the circumstances, but that's why England went in at the break trailing.

AFP/Getty Images

15/15 8. Ryan Wilson (Scotland)

10 tackles and a match-leading 17 carries saw him return to the Scotland squad in style, and he also gave the side an extra option in the lineout.

Getty Images
This was an incredibly risky strategy that, for 45 minutes, left England scratching their heads. By disturbing the quality of ball between scrum-half Danny Care and fly-half George Ford, Italy had nullified the impact that England's lethal outside backs can have if given clean ball with space to run into.
But this all changed at half-time, where the message was made clear to England. Be direct, be faster and don't allow the Italians round to their side of the tackle. It worked and then some, with England running five tries past Italy in the second half and comfortably dominating their opponents after working out how to beat them. That, by all accounts, is a contest.
Despite the criticism he took for asking the referee, Romain Poite, what he wanted to see in the ruck, Haskell actually hit the nail on the head after the match. "It is called a test match for a reason and we have been tested and you always want to learn," the flanker said.
If teams are willing to play how Italy did on Sunday, they must be wary of the fragility they suddenly create in defence. Once England realised that quick, pick-and-go drives from the base of the ruck left them with big gaps to run in to, Italy soon stopped rushing beyond the ball as they simply did not have enough defenders to cope around the breakdown. As Smith says, if teams want to live by the sword, they will soon enough die by the sword if they choose to persist with such tactics.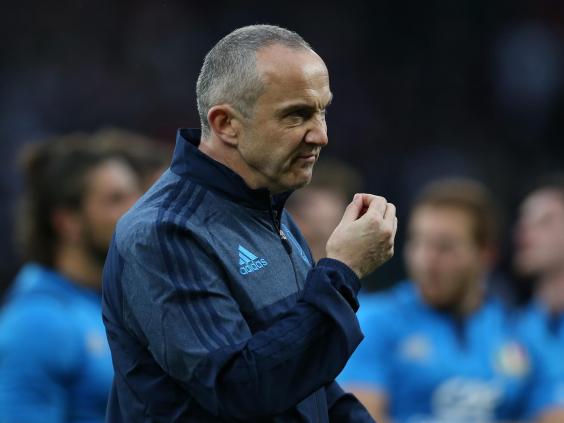 Which makes all the talk of rule changes a load of nonsense. If the All Blacks want to abandon their eye-catching style that has kept them at the top of the game for the last seven years, then let them. Of course, they would never dream of it, as this tactic is there for teams trying to shake up the established order, spring a surprise on nations like England and like New Zealand. O'Shea insisted Italy need to change. On Sunday they did, and rugby is better for it, even if Jones has to accept that for 40 minutes he was completely outsmarted.
Reuse content