England may be drawn in the group of death at their own World Cup next year but even if they are killed off by Australia and Wales ahead of the knockout stage, Stuart Lancaster and his front-line staff will still be alive and kicking.
The Rugby Football Union made a bold leap of faith on Wednesday by extending the contracts of the head coach and three key lieutenants – Andy Farrell, Graham Rowntree and Mike Catt – to the end of the 2019-20 campaign.
Lancaster, appointed in the toxic aftermath of the last global tournament in 2011 and charged with clearing up the unholy mess left by the Martin Johnson regime, had indicated on several occasions that he wanted to stay in his post beyond next year's competition.
But even he may have been pleasantly surprised at the scale of the deal sanctioned by the Twickenham hierarchy – not least because international sport has a bloody history of long-term agreements suddenly turning into short-term ones when things go wrong.
Ian Ritchie, chief executive of the RFU and the man responsible for nailing down Lancaster and his team for a second World Cup cycle, argued strongly yesterday that there was little likelihood of the Lancaster deal going sour sooner rather than later.
"There are elements of risk and balance in all these things and, of course, we will review matters throughout the duration of the contract," he said. "But we've asked ourselves if this is the right thing to do and the right time to do it, and we've decided that it's the correct approach.
"Stuart and his team are a committed bunch of people, doing a great job, not just in terms of the England team but also in restoring English rugby's connectivity with the sporting public – in enthusing and galvanising the nation.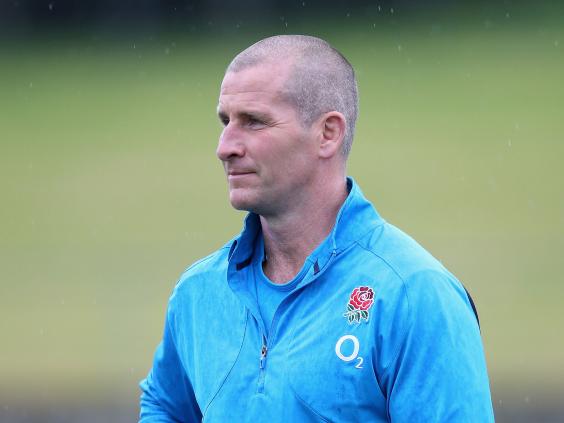 "Also, these contract extensions are geared towards achieving sustainable success in the long term while enabling the coaches to focus completely on the next 12 months. I have no hesitation in saying that we're right to do it now as a means of removing any possible future  concerns."
Ritchie added that in his view the early call on contracts would also act as a disincentive to any rival union attempting to poach one or more of the coaching hierarchy ahead of the 2019 World Cup in Japan. "Let's be clear," he said. "We're talking about a very talented group of people and we're lucky to have them.
"We want to keep the best talent inside the England environment and we're delighted that they've given a commitment to us. They are, after all, extremely marketable."
There was rather less clarity on the issue of the British & Irish Lions, who tour New Zealand in 2017 and may, if Lancaster drives England close to World Cup success, come knocking on his door – especially if the current favourite for the job, Warren Gatland of Wales, fails to deliver results over the next 12 months. Whoever the Lions choose will be expected to devote a minimum of six months, and probably more, to planning and selection.
Rather peculiarly for a man at the heart of the negotiations, Ritchie said he was "not sure" if Lancaster's new contract contained any Lions-specific clause. He did, however, indicate that the RFU would not stand in the Cumbrian's way if a Lions opportunity arose.
"We would see it as an honour, both for Stuart as an individual and for us as an organisation," he said. "Our view at the RFU hasn't changed. We would always be supportive."
Lancaster's England Record
2011 Appointed head of interim England coaching team, alongside Graham Rowntree and Andy Farrell.
2012 Given job permanently after England finish second in the Six Nations. Leads side to autumn win over New Zealand.
2013 England lose to Wales in Six Nations final-day decider.
2014 Six Nations runners-up once again, behind Ireland.
Overall record
P 30 W 18 D 1 L 11 Win% 60
- Only Sir Clive Woodward, Geoff Cooke and Martin Johnson have led England in more matches.
Reuse content