The drums are beating loudly in support of Steffon Armitage, the Toulon flanker whose fine performance in last weekend's Heineken Cup final victory over Saracens at the Millennium Stadium rekindled the argument over his absence from the England international team, but the cacophony is falling on deaf ears. Stuart Lancaster, the red-rose coach, made it abundantly clear on Monday that, short of a full-blown injury crisis in the weeks leading into next year's World Cup, there will be no recall for the back-rower while he remains in exile.
Rugby Football Union policy, underpinned by a multimillion pound deal with the Premiership clubs that gives Lancaster and his coaching team significant amounts of access to the leading talent in the country, is driven by the principle that selection begins and ends at home. Only in exceptional circumstances can foreign-based players be picked at representative level, and those circumstances have little to do with mere form.
Just because Armitage is performing at the peak of his substantial powers and has been publicly praised to the high heavens by clubmates as celebrated as the Springbok wing Bryan Habana and his World Cup-winning countryman Juan Smith, it does not mean he meets the necessary criteria.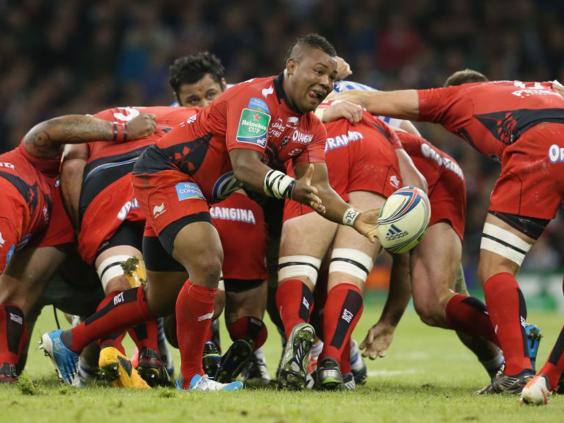 "I agree with the policy," Lancaster said on Monday after naming an initial 30-man squad for next month's three-Test tour of New Zealand. "It's important for the development of the English club game to have the leading players here, going head to head with each other, and it's important for the England coaches to have access to those players when they need it. The RFU pays the clubs an unbelievable amount of money for that access because playing for England is the ultimate.
"New Zealand are more rigid than us on this issue: they have no flexibility at all and it hasn't done them any harm. 'Exceptional circumstances' are really about injuries and if we were to find ourselves in serious trouble just before a World Cup we might think about picking from abroad. But if such injuries occurred before a summer tour, or an autumn series, or a Six Nations, I'd choose to develop some of our young home-based players. It's not my rule but I support it, as do the clubs."
Lancaster recently visited the Armitage brothers – Steffon's older sibling, the full-back Delon, also plays for Toulon – to put them in the picture. "I wanted to tell them that I respected the fact that they are good players, playing well – that there was no issue over their ability," Lancaster said. "But the rule is there for a reason and I felt it was important that they heard it from me directly. I guess this discussion will run and run, but I don't think the policy is going to change."
Neither Armitage would have been available for the first Test with the reigning world champions in Auckland on 7 June: rather like the England contingent at Northampton and Saracens, who meet in the Premiership showpiece at Twickenham on Saturday, they have a major piece of domestic business ahead of them in the shape of this weekend's Top 14 final against Castres. But the younger Armitage, confirmed on Monday as the European Player of the Year following his man-of-the-match contribution in Cardiff, would, all things being equal, have been in the shake-up for a place among the second tranche of England tourists, who fly to All Black country in time for the second Test in Dunedin.
Lancaster named five back-row forwards on Monday: two blind-side specialists in Tom Johnson of Exeter and James Haskell of Wasps; the Gloucester breakaway Matt Kvesic and his club colleague Ben Morgan, who travels as the lone No 8; and the Harlequins open-side flanker Chris Robshaw, who has led England since the start of the 2012 Six Nations. Two more red-rose regulars, the Northampton loose forward Tom Wood and the Saracens No 8 Billy Vunipola, will be on the later flight to New Zealand, assuming they survive Saturday's confrontation in one piece.
Haskell has not played for his country since the crushing defeat in Wales on Grand Slam day 14 months ago, but his recent efforts at club level have driven him back into Lancaster's thinking.