Just what England need, rehabilitated bad boy Aaron Cruden back at 10 to form a rapid-fire half-back pairing with Aaron Smith, and reconstituted wrecking ball  Sonny Bill Williams next along the All Black line at inside centre.
One year out from a World Cup in this parish, what better place than Twickenham against Stuart Lancaster's emerging if injury-hit England to test the merits of an experimental creative hub?
Cruden and Williams are two of only four starters to retain their places from the jolly in Chicago last week, their selection re-inforcing the idea that coach Steve Hansen might be looking further ahead than the next match.
Cruden, of course, forged a blistering partnership with scrum-half Smith during Dan Carter's long recovery from a broken leg. Carter enjoyed 30 minutes against the United States in Chicago but, according to Hansen, the ageing icon does not have the necessary conditioning to go against the English tomorrow.
Cruden is preferred to the equally gifted Beauden Barrett, who is seen as the man to run the torture chamber that stretched opposition defences tend to mirror late in games against New Zealand's relentless endeavour. 
As you might expect from a player coming off the naughty step, Cruden was wholly on message at the team hotel in central London yesterday, grateful for another opportunity to establish himself as the man to stoke the Kiwi boiler when the post-Carter era eventually dawns.A missed flight for a Rugby Championship fixture two months ago against Argentina after a night on the toot cost Cruden his place in the All Black squad, and brought upon his shoulders the wrath of a nation that does not take kindly to the abuse of the ultimate privilege in the land through "dick-head" behaviour.
"I wasn't expecting to be named in starting line-up," Cruden said. "You never really know until your name is read out. I was sitting there a little unsure. Putting yourself in a little bit of jeopardy like that [missed-flight episode] you never know what you might lose. That was definitely at the forefront of my mind but that has been dealt with now, I'm just looking to push forward and move on. I have a great opportunity this week and aim to do exactly that.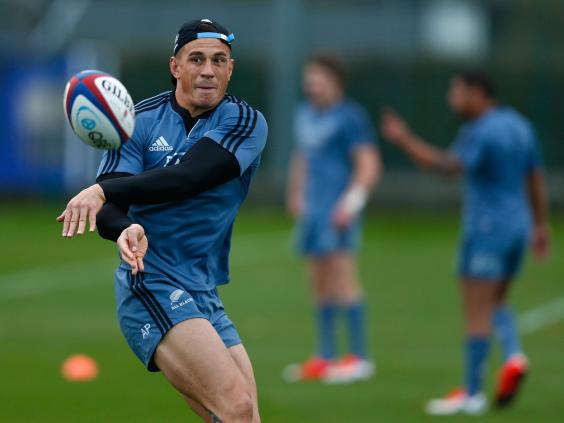 "To be named is a huge honour, especially at Twickenham against the English. It's going to be a massive battle. It was hard watching the team you love playing for, the guys you love playing with, on telly. Last week [in Chicago] I was so excited to be back in the mix. A lot of guys were getting a run for the first time in a while. I was one of them. I just tried to bring a lot of enthusiasm to it and am looking to build on that this weekend."
There is excitement, too, at the prospect of feeding the beast that is Sonny Bill, all  6ft 4in and 17 stone of him. Williams plays his first union Test match for two years tomorrow. In his first incarnation as a convert from Rugby League, Williams was more curiosity and not necessarily trusted in the big games. This selection suggests all that is about to change.
"He is a phenomenal athlete physically and mentally," Cruden said. "He is a true professional. In the short time he has been back with us he has been asking questions, picking brains, talking to coaches.
"It was pretty incredible his performance last week, to come back after two years out of the game to play the way he did. He will get confidence from that. He gets another opportunity this week and I know he is chomping at the bit. For guys like us who are not the biggest in the team it is nice to look outside you and see a dynamic player like Sonny to give you a bit of go-forward."
Hansen believes Williams might develop into an All Black to rival the best in this, his second coming. Speaking before his return in Chicago last week Hansen said: "He's already a mile ahead of where he was in picking the game up when he first came because he's had the advantage of playing for the Chiefs, Crusaders and All Blacks whereas last time he'd only played for Toulon.
"It is about letting his instincts kick in. When you put great instincts with a  6ft 4in guy who has got speed and power, things happen. He's a freakish athlete and he could become one of the very best we have ever had. It's just allowing him to get into his work and understand from a structure point of view that it won't be perfect, but that's OK. Whatever he does, he will do well and we will work off it."
• Reuse content