James Haskell was taught the art and craft of back-row rugby by no less a figure than  Lawrence Dallaglio, won Premiership and European titles with Wasps while still in swaddling clothes and made his international debut at 21.
He played – not brilliantly, but a whole lot better than most of his fellow countrymen – at the last World Cup in New Zealand; will probably play at the next one here in England; and knows what it is to enjoy the fruits of his labours in far-flung corners of the union landscape, from ritzy Paris to rickety Dunedin via tumultuous Tokyo. The question "What's not to like?" springs to mind.
Wales. That's what. Haskell has been in and out of the national team for eight years now, partly as a result of his own career choices – his decision to play professionally around the globe rather than around the shires cost him caps aplenty – and partly because of the selectorial meltdowns of England coaches past. Yet the rugby gods, who love nothing more than to have some fun at the expense of super-confident types like the Windsor-born flanker, always ensure he is in the match-day squad when a visit to the Millennium Stadium is on the immediate itinerary.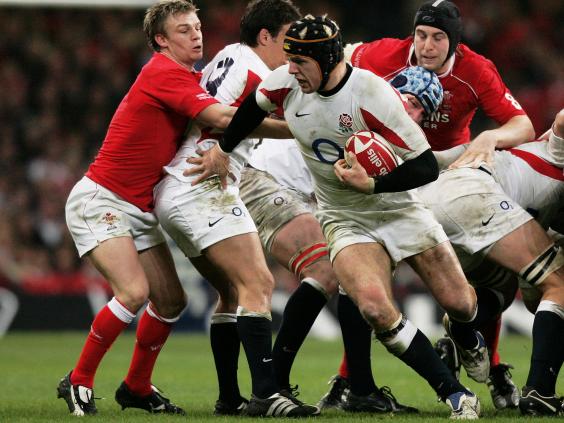 Try as he might, he cannot escape the place. "I made my debut there in 2007 [England lost] and won my 50th cap there in 2013 [England lost], and I was also in the side when we were beaten in 2009," he recalls, a trifle wearily. But for the excellent red-rose victory in Cardiff under Martin Johnson's management four years ago, Haskell would surely be tempted to take a bulldozer to the place.
So much has been said and written about that last record defeat, when England crossed the Severn in search of a Grand Slam and returned with plenty of nothing, that even Haskell struggles to shine new light on the matter. But he is honest in his appraisal, as always. "I was given 10 minutes off the bench, which wasn't a great way to celebrate a half century of caps," he comments. "There's not much you can do in that time, apart from hare around the field looking for tackles. The really disappointing thing was the nature of the way we were beaten. We'd left no stone unturned in the search for a performance, but if you don't have the experience in a situation where there's extra spice, which we probably didn't...
"There's more experience in the side now, I think. A lot of the players in this team have faced the big southern hemisphere sides, fallen behind to them and found a way back. I don't believe there will be a repeat of 2013, when it was like being caught in a tumble dryer and we made mistake after mistake, compounding our errors. We know how Wales like to play – very direct, very physical – and we understand that, first and foremost, we have to match them in their physicality. But it's a challenge, going down there. It takes a good side to do what they did to us two years ago."
With Chris Robshaw looking increasingly secure in the captain's role, Haskell finds himself contesting the blind-side position with the likes of Tom Wood, Tom Croft and the uncapped Calum Clark, with another relative newcomer, Dave Ewers of Exeter, looking to join the merry throng after giving some very decent Irish forwards a hurry-up in last week's second-string Saxons-Wolfhounds game in Cork. There are those who believe England's back-row balance would be improved if the head coach, Stuart Lancaster, picked an out-and-out "fetcher" on the open-side flank, and if Haskell's recent performance against Robshaw in a European Champions Cup match was anything to go by, he will be a prime  candidate if the job ever comes up for grabs.
But, as things stand, the post is not being advertised. Does this frustrate him? Apparently not. "You know my view on all this back-row balance stuff," he says. "The game has moved on – moved away from the system of having three players with very different skill sets doing very specific things," he said.
What does frustrate Haskell is failing to maximise his return on the chances he is given, which, as he closes in on his 30th birthday, will be subject to the law of diminishing returns soon enough – although if Nick Easter can rematerialise in the England squad at the ripe of old age of 36, there is hope for us all. Last autumn, following Wood's uncharacteristically conciliatory effort against the touring Springboks, the  red-rose coaches promoted Haskell for the following week's meeting with Samoa. It was a big opportunity.
"I think I was guilty of trying a little too hard," he says, acknowledging that things failed to go precisely as he had planned against the South Sea islanders. "Whenever there were chances to attack, I always seemed to be stuck at the bottom of a ruck. There's more to my game than sticking my head into the nearest breakdown, but I didn't make that obvious. I don't think I had a bad match and I wasn't livid with myself, but when you get a start for England you really don't need 'not bad' or even 'good'. What you need is 'exceptional'."
His appearance in the run-on team this time is down to Wood's injury problems rather than form issues, and as Lancaster gave the Northampton man a ringing namecheck on Wednesday, it is clear that Haskell will have to play out of his socks if he is to hold the position for the duration of the championship and secure a World Cup spot ahead of what will be a bitterly competitive training camp in July.
"What will the World Cup be like? Unbelievable – a unique experience," he says. "You only have to remember how we staged the 2012 Olympics to understand that. But if you start thinking about that tournament at this point in the season, you'll come unstuck. The only sensible thing is to treat every game as a full stop.
"When I think of Ben Morgan [the Gloucester No 8 alongside whom Haskell played in the Samoa game], it really drives the message home. Ben was performing well and I'm sure he had grand plans for the year ahead. Who could have foreseen that he'd break his leg straight after Christmas? I want to play in the World Cup, obviously, but as Stuart always says, the shirt is never yours. If I'm in the side for the first pool match, then I might start smiling. But then you have to worry about winning, so the smile won't last long."
A little previous though it may be, Haskell can probably afford a fleeting grin right now, if not a full-blown belly laugh. When Lancaster began his stewardship of the national side, he was well out of sight in Japan and just as far out of mind. By cutting short his travels and sacrificing his wanderlust on the altar of red-rose ambition – by  coming home when he did, a little older and much wiser in the ways of rugby – he forced the new coach to sit up and take notice.
Haskell has not always been at the centre of Lancaster's thinking and still has much to do to make himself indispensable. But his commitment to the cause is beyond question. If his early spell as a professional was a time of gifts, he is now the man doing the giving.

NatWest are proud to support Rugby. Current account customers can win exclusive rugby experiences. It's not who you know, it's who you bank with. Visit natwest.com/rugbyrewards
Reuse content