Three things have combined to drive James Haskell back to the forefront of English rugby ahead of next year's World Cup: the enriching effects of a three-season stint in foreign lands as different from each other as they are from the Home Counties; the heavy responsibility of club captaincy; and the belated recognition that he is something more than merely Lawrence Dallaglio-lite.
"You have to be yourself in this game," he says, midway through a long training day at Wasps. "But you can't do that until you find out who you are."
It will come as a surprise to those who have followed Haskell's career from the get-go that he should ever have had a problem on the self-definition front. Even in the early days, when he first broke into a wildly successful Wasps side under Dallaglio's mighty leadership, his personal website was something to behold – the site is still up and running, complete with a photo item under the striking headline "James Haskell Gives Lucky Ladies An Early Valentine's Day Treat" – and his frequent public pronouncements were unusually confident in tone. His critics wondered whether he might be suffering from elephantiasis of the ego.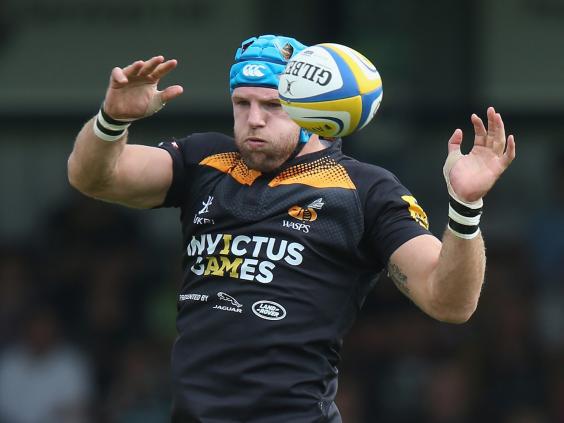 "I've always put myself out there," he acknowledges. "But I'd also argue that I've changed as a person, largely as a result of the years I spent playing abroad. I'm less precious now, I think, and far happier in my own company. When I'm not training or playing, I don't do anything too interesting: I can't remember the last time I went to a club, went out on the town. Most of my spare time is spent having physio. Either that or eating: a lot of my life seems to be centred around food. I go out on the odd date but more often than not, I can't even be bothered with that." So much for the website.
It was in 2009 that Haskell agreed offshore terms with the glamorous French club Stade Français and left Greater London for central Paris. He represented England at the 2011 World Cup in New Zealand – he was just about the most productive back-rower in the squad over the course of that benighted campaign, a fact lost on those picking the team – and then moved to Japan for a stint with the Ricoh Black Rams. From there, he returned to All Black country, playing Super Rugby for the Otago-based Highlanders.
Around this time, the new red-rose hierarchy under Stuart Lancaster embarked on their most controversial policy: namely, that they would not select foreign-based players unless they were forced to do so by "exceptional circumstances" – an injury crisis, in other words. Much as he was enjoying his rambles around the rugby-playing planet, Haskell decided to head home. "I still wanted to play for England, so I came back," he says. "I felt my business at international level was unfinished."
All of which takes the discussion into a sensitive area, principally because one of Haskell's obvious rivals for a place on the World Cup squad's back-row roster, Steffon Armitage, is playing out of his skin… but also playing in Toulon, thereby putting himself off-limits as far as Lancaster and his fellow selectors are concerned. There are plenty of people who believe England cannot afford to ignore Armitage, rated by some as the best player in Europe. Others take the view that as he has made his bed, he can now feel free to lie on it. Armitage himself appears to be intent on switching national allegiance to France, under a change of regulation introduced to bolster rugby's seven-a-side profile at the 2016 Olympics. It is a mess, to be sure.
Haskell has an opinion on the matter and, characteristically, he is prepared to state it in public. "My view is as follows," he says. "The way I see it, life is one big opportunity – it's there to be experienced. If I'd listened to everyone who told me not to do something as I was making my way in rugby, I'm not sure where I'd have ended up. I'd support any player who wants to get out there in the big, wide world and explore the possibilities it offers, as long as he does it with his eyes open and isn't mesmerised by the pound signs. It's not plain sailing, moving abroad as I did: it's rewarding, yes, but it's also really tough.
"Yet I also have to say that the rules as they currently stand are pretty black and white. To repeat: I came back to England because I wanted to play rugby for England. I'm not here to judge the rules. I just know what the rules are and I've acted accordingly."
It may yet prove to be the best move of his career. Back in 2008, at the start of Martin Johnson's ill-starred tenure as England manager, it seemed that Haskell was the way forward for the national side: together with his fellow loose forwards Tom Rees and Luke Narraway, he performed well enough in an otherwise calamitous two-Test series against New Zealand to give the tourists at least a semblance of hope for the future. For contrasting reasons, things did not go to plan for any of the three. But Haskell's current form suggests that, in his case at least, there is still a chance of fulfilment.
The scrap for back-row places in the World Cup squad will be ferocious. It is difficult to imagine Chris Robshaw of Harlequins, the captain, or Tom Wood of Northampton, his chief lieutenant, missing the cut, and the same goes for the freakishly strong Saracens No 8 Billy Vunipola. That leaves a maximum of three places, and any number of contenders: Will Fraser, Matt Kvesic, Tom Croft and Ben Morgan are all under discussion, and the uncapped Exeter flanker Dave Ewers will soon join them if his hot streak continues.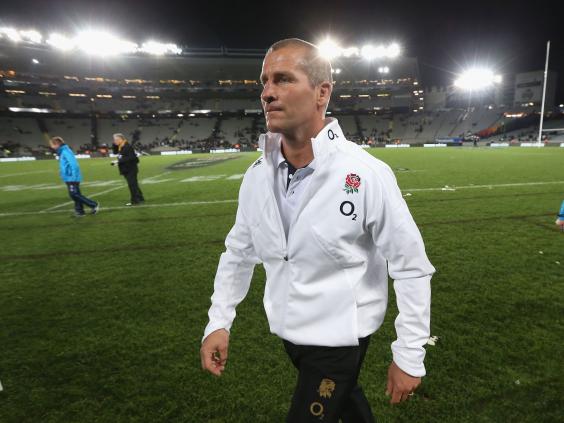 But Haskell is performing as well as anyone and better than most, and has two obvious advantages: the positional flexibility to play across the back row, and a growing air of authority, highlighted by his instant mastery of the captaincy duties at club level. He says he feels privileged to be performing the role at this crucial point in Wasps' history and has committed himself to playing a leading part in re-establishing the Londoners as a serious Premiership concern after a dark period of financial instability and competitive failure.
"When I left the club, our golden era of success was drawing to a close," he continues. "When I returned, everything was different. The only things I recognised were the training ground, one of the physios and three players: Tim Payne, Tom Palmer and Richard Birkett. And Richard lasted next to no time. Nothing else was standing, and I quickly realised how close we had come to disappearing because of the money problems.
"Now, we are building again. I don't usually like to talk about rebuilding, because that feels like an excuse for not winning things, but we have good people on the board and a clear idea of how we'll get back to where I've always felt Wasps should be. I think we've already put some shape on that this season, although I'm pretty irritated at losing two of the first three games, and I'm relishing the responsibility of leadership.
"Back in the day, when I had only myself to think about, I'd wake up before a hard training session or a big match and say: 'I just want to get through this.' As captain, you can't look at it that way: you can't concentrate on yourself when there are 14 others out there who need something from you. I'm enjoying that aspect of my rugby. It's good for me."
--
HASKELL IN NUMBERS
51 - England appearances – making his debut against Wales in 2007
4 - Tries scored for his country – three against Wales and one versus Italy
133 - Games played by the 29-year-old for Wasps, scoring 18 tries
Reuse content