A lot's been said in the inquisition following the defeat by the All Blacks about Warren Gatland being under pressure. But there's always going to be pressure. The external pressure and expectation are huge in Wales, as it should be in our national sport.
If you have a poor game as a player, people are on your backs and that's no different if the results go against you as a coach. But I think this autumn is a testament to him as a man. He could have taken easier games and, as a result, wins but the Warren Gatland mindset is that the only way to improve – particularly with the World Cup in sight – is to play against the best sides in the world.
Warren's been a massive influence on us as players over the last six or seven years; he's unified us and from all the players he has the utmost respect. OK, we lost again at the weekend but surely we learnt a lot more as players, coaches and staff from taking on the best in the world rather than winning 50 points to nil against a tier-two side.
Right now, we're not quite good enough. You only have to look at the world rankings to see the All Blacks in the No 1 spot and us down in fifth. We have to be honest with where we are right now.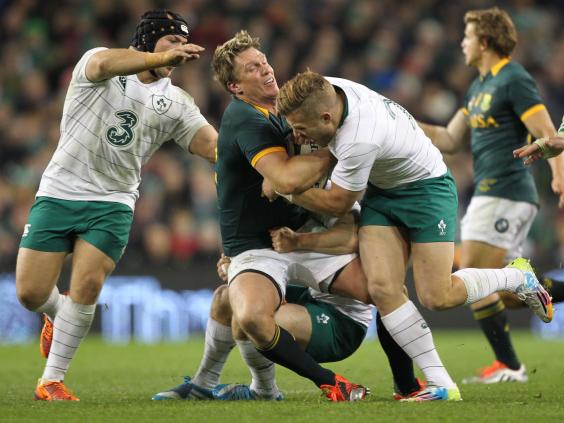 Don't get me wrong, we're playing some very good rugby and we're knocking on the door against the world's best but, when push came to shove, we came up just short against New Zealand.
While the result at the weekend was again hugely disappointing, it's pleasing that for 69 minutes we were a match for them; but we simply could not sustain the intensity for the entire 80 minutes.
When you get to the last 10 minutes or so of a game like that, everything matters. Every ruck you go into, whether you go into the contact area or not, every decision you make matters big time.
In Saturday's match, we got 99 per cent of those decisions right but the ones we got wrong came at a vital stage and that's due to fatigue. They got them spot on and that's why they're the best in the world – the final score reflects that.
The result aside, of course, I was pretty pleased with my performance, although it still feels like there's things I can work on. It was a definite step up from the Fiji game, where many of the basic facets of my game appeared to go Awol.
As for the body, it hurt in the aftermath, as it does following a game of this intensity. My face, elbows and knees were badly grazed, but that's fairly standard. The new pitch is a bit sandy at the moment and it needs more grass to grow, so when you're brought skidding down at full pelt it stings. With all those grazes, the shower afterwards was a stinger.
Everyone's body – whether it's a Welshman or a Kiwi – is fairly battered after a game like that. It's car-crash stuff, really, and it takes about four days for the body to properly recover. I've played three full 80 minutes this autumn and the body starts to feel that.
A pleasing aspect of Saturday was seeing the burgeoning partnership between Rhys Webb and Dan Biggar at half-back. I thought the two of them played fantastically well in such vital roles in what is essentially the computer of our team.
Rhys had a couple of hiccups back in the Australia game but he's a very clever player – likewise Dan. Rhys has shown how mature a player he is already and what a solid future he has ahead of him. His was the sort of performance of a player with infinitely more caps to his name.
As for Dan, he's been one of the best players in Wales over the last few years. Maybe five or six years ago he was a bit immature but his form of late for club and country has been outstanding.
I work well with Dan and that link-up is important. We're actually both similar players in the way we think about and approach the game in terms of weighing up the risk-and-reward aspect of your decision making.
We need that partnership to fire again today if we have any aspirations to win. I personally don't think we're far off.
Everyone's talking about the South Africa game as a must-win game but I see every game in a Wales shirt as exactly that. This one's no different, against the second best side in world rugby right now.
First and foremost, we can forget about winning if we don't turn up physically. That's what's required against the Springboks. It's like your body has to get ready for 80 minutes of warfare.
There will be some mighty hits. The South Africans always have big players running at you and it's quite relentless, with their pretty direct approach.
They kick very well too, and they will have noticed that New Zealand kicked just that little bit smarter than us last weekend.
We have to front up and be ready for the physical challenge.
For me personally, the challenge is Jean de Villiers, who to my mind is one of the greatest 12s ever to have played the game of rugby. It's such an attritional position and he's just superb at it. I'm a huge admirer of the Springboks captain and I had the chance to play against him for the British & Irish Lions in 2009.
As for his fellow centre, Jan Serfontein, I've played against him a few times – he's quick and strong, your typical South African centre. He's a young player making his way on the global stage, and a very accomplished one at that. He's nailed down the 13 jersey and theirs is a very strong partnership.
People talk about this being a case of revenge for what happened in the summer and the narrow, painful nature of that second-Test defeat to them, but rugby's always about revenge and I see this game no differently to any other.
We need a clever game plan against the Boks and we need to stick to it. They're tough defensively but they have a very dangerous back three, which we became all too aware of in the summer.
We have to wind the clock back to 1999 and the first match at the Millennium Stadium for our last – and only – win against South Africa. I only remember very vague snippets of that game, Mark Taylor running in a try, if I recall it correctly.
Wales as a nation needs that sort of performance and result again today. We have to forget what's happened in the past. This is a fresh match and a fresh week.
It will be a brutal affair but this feels  like our time to get  it right. We must  get it right.