Sam Burgess, the biggest rugby union name never to have played a game of rugby union, was always going to have to learn his new sport at the speed of sound if he was to stand a chance of making the England squad for next year's home World Cup.
Now that he is nursing  surgically repaired fractures to the eye socket and cheekbone following his heroics in the recent NRL grand final in Australia, he will have to do it at the speed of light.
History suggests he will struggle to make the  transition in time – the union game boasts an entire back catalogue of quality 13-a-siders who found the demands of cross-code conversion much more challenging than they had imagined. But those  members of the red-rose hierarchy who first struck upon the idea of luring him across the divide continue to believe in this tale of the highly unlikely.
Andy Farrell, one of the men who made the self-same journey from league to union and now coaches the  England backs in the 15-a-side form of the sport, does not appear to have the slightest doubt that Burgess can make a breakthrough as an inside centre, which has been a huge problem position for the national team since the retirement of Will  Greenwood at the mid-point of the last decade.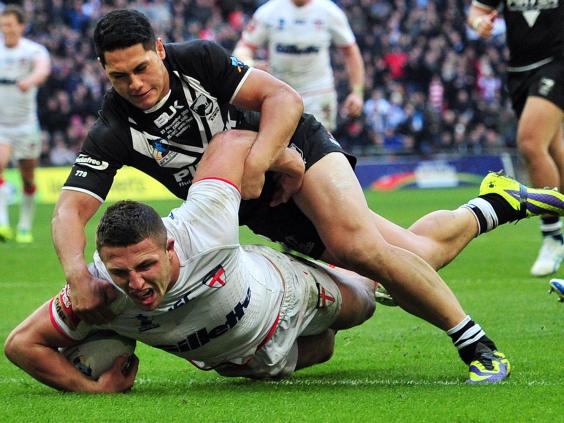 "A lot of Sam's thinking is ingrained because he has played rugby league for so long," Farrell was quoted as saying in New Zealand at the weekend. "He knows that already and is already  working hard on things that will help him get attuned.
"Time on the paddock is the thing that helps you learn the most, but he will adapt. The biggest things he will have to get his head around are the dos and don'ts in the contact area – the decision-making. But I'm sure he will take  everyone to a new level through his skill and his  competitive nature."
Yesterday, it was the turn of Farrell's closest colleague, England head coach Stuart Lancaster, to wax lyrical. "Does he have enough time? I guess we'll see," the Cumbrian said in a television interview with Sky. "It's probably a good thing he can have the break he needs and learn the game in a quieter environment rather than be thrown straight into the spotlight.
"He's an incredible rugby player, a great leader, and  having spoken to him his mindset is to make the World Cup squad. We have some very good centres who will have something to say about that, but he's an impressive person. You have to admire someone with his mental strength and toughness."
Lancaster is no doubt right on a number of counts. That Burgess was bold and  ambitious enough to take up the cudgels in Australia as an 20-year-old says something significant about his  character – the NRL is not obviously the place for an  English youngster to go in search of tea and sympathy – and in the five years since he has  developed an even harder competitive edge.
He is also as tough as old boots. If he can play 79  minutes of a full-on final with his face in need of reconstruction, he might even have  withstood the kind of dockyard brawler's assault we saw from Wigan forward Ben Flower in the Super League showpiece against St Helens three days ago.
Yet the coach is equally correct in saying that while England's new  Greenwood remains more elusive than the Scarlet  Pimpernel himself, there are a number of contenders: those whose claim on the No 12  jersey is immeasurably greater than anything Burgess can offer by way of a job application. Lest we forget, we are talking here about a man who has spent precisely no time whatsoever on a union pitch.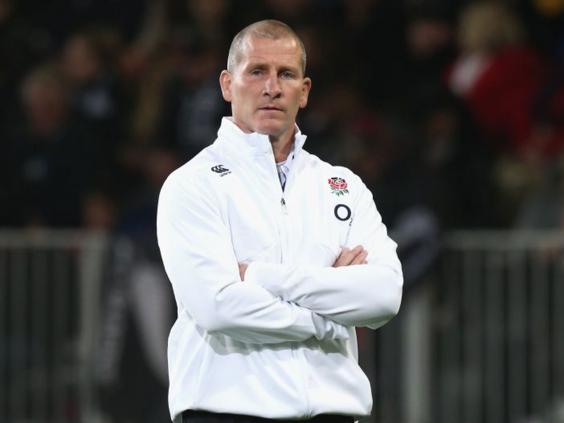 Billy Twelvetrees, of Gloucester; Luther Burrell, of Northampton; Manu Tuilagi, of Leicester; and Brad Barritt, of Saracens, are all chasing starting places at centre in the forthcoming autumn international series against the cream of the southern hemisphere – and, by extension, in the 2015 Six Nations, followed by the main event itself. So are Henry Slade, of Exeter, and Bath's Kyle Eastmond and Jonathan Joseph.
Those last two are  currently playing the house down as a midfield  partnership, and as Burgess will be playing for the West Country club once his busted bones knit sufficiently for him to fly around the world and touch down on these shores, his immediate problem is  obvious. Is it really possible he can elbow aside Eastmond, a fellow cross-coder, in double-quick time? Are the Bath coaches serious about  weakening their side for important Premiership and European fixtures, simply to give Lancaster a look at their protégé experiencing match  conditions?
And another thing, as they say in all the best arguments – will Bath play Burgess as a  centre anyway? Bruce Craig, the outspoken and highly opinionated Bath owner and executive chairman (some would add the title "acting director of rugby" to that list), has indicated more than once  that the new signing might find a home in the back row rather than in midfield.
What is more, the former England coach Brian Ashton has been heard to suggest that when push comes to shove, Burgess will be a blind-side flanker rather than an inside centre – and Ashton knows as much about the union-league nexus and all it entails as  anyone in Europe.
If, as the Rugby Football Union has indicated, Bath are the sole financiers of  Burgess's navigation of the great gulf between codes, Craig and company have every right to do what they like with him – and just at the moment, the Recreation Grounders are in far greater need of loose  forwards than backs.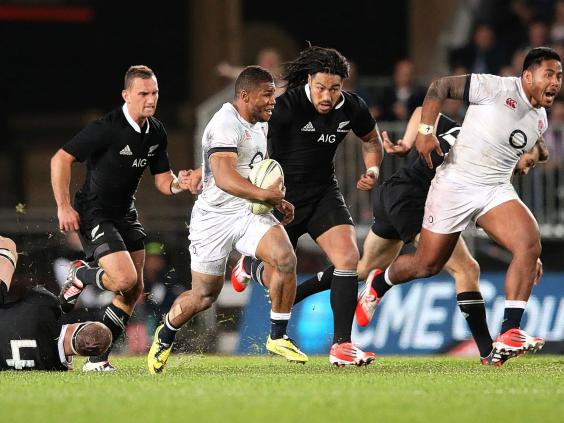 Which begs yet another question: namely, the  precise terms of the arrangement under which Burgess is heading for these parts. More than one Premiership club has yet to be convinced that there is no RFU money in the mix, and there will soon be calls for complete transparency over the matter.
One way or another, then, the idea of bringing a  brilliant rugby league player back to England and turning him into a brilliant union player for the benefit of the nation is fraught with problems. At the very least, Lancaster runs the risk of fracturing the unity of his squad by fast-tracking an  individual at the expense of players who already have "credit in the bank", to borrow one of the coach's favourite phrases. It is a sensitive issue, in need of careful handling.
--
Midfield minefield... six cross-coders who took on the centre challenge
Kyle Eastmond (Bath)
The smart-stepping  Mancunian was a mixed  bag in New Zealand in June, but his progress this season has been startling.
Cross-code success: 7.5/10
Andy Farrell (Saracens)
A rare talent whose union career was wrecked by  injury. Patently a "Test  Match Animal", but never  at his best in 15s.
Cross-code success: 6.5/10
Joel Tomkins (Saracens)
A little fortunate to win union caps a year ago, he returned to league admitting that 13s suited him better.
Cross-code success: 5.5/10
Henry Paul (Gloucester)
A sublime footballer with serious game management issues. Won six full caps but was never fully accepted, for all his skills.
Cross-code success: 5/10
Barrie-Jon Mather (Sale)
A big-money trailblazer whose union career was on the rocks after one England appearance. Never lived  up to the hype.
Cross-code success: 4/10
Chev Walker (Bath)
A big-news signing who failed to adapt to union and was back in league in the  twinkling of an eye.
Cross-code success: 1/10
Reuse content