England international Delon Armitage is "an habitual offender" with "an appalling disciplinary record", according to the rugby union disciplinary panel which suspended him last week.
The length of the ban – 12 weeks – was four weeks more than normal, with Armitage described by the panel as a player "for whom there needs to be a deterrent to combat a clear pattern of offending, both on and off the field".
The Toulon full-back was found guilty last Wednesday by a European Professional Club Rugby independent disciplinary panel of misconduct after making a number of comments within earshot of spectators – including children – using foul and abusive language following his team's European Champions Cup defeat against Leicester at Welford Road earlier this month.
Yesterday the panel's full judgement was released, and was scathing of Armitage's behaviour. "We considered the player's previous record and concluded that he is an habitual offender against the laws of the game, and one for whom there needs to be a deterrent to combat a clear pattern of offending, both on and off the field," it read.
"The player is without doubt an exceptionally talented individual, but he has an appalling disciplinary record, both on and off the field."
The hearing was told that Armitage had been making his way from the Toulon team bus to the Legends Lounge at Welford Road when there was an interaction with a group of Tigers fans. The judgement said: "The player admitted in his evidence that he had sworn at them and had used the words 'f*** off' twice and raised his hand/arm in a dismissive wave away, which he had not intended to be threatening."
A spectator, Stephen Hampson, made a complaint to Leicester Tigers the following day. His 11-year-old son had been waiting to get autographs when the altercation occurred. The judgement added: "Mr Hampson told the committee that the player seemed very agitated and was shouting in an intimidating and threatening manner and used the words 'f*** off, I'll f***** come down there and sort you out. F*** off – come on then, come on then, f*** off.'
"Mr Hampson described the scene in front of the Met RX stand as fairly typical after a match, with approximately 12 children in the age range eight to 14 years in the immediate area, as well as another mixed group of Tigers fans, 12 to 14 in number, standing around the central gate waiting to meet players who would come across the pitch.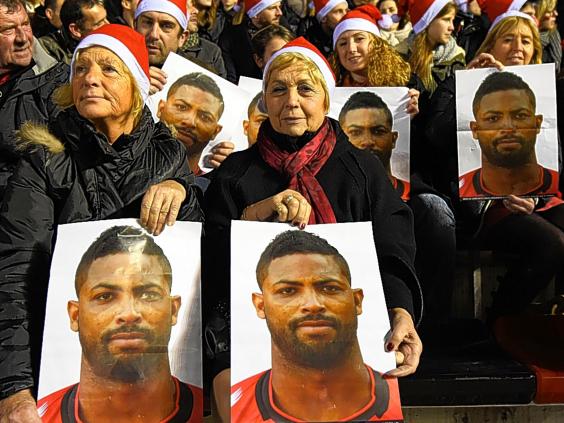 "After the incident had ended, Mr Hampson described himself as being completely aghast at what he had just witnessed, and did not speak to any other adults around him as he just wanted to concentrate on reassuring his son that the incident was over and that there was nothing to worry about.
"His son had seemed shocked and confused by what he had just witnessed and said to his father, 'Tigers players are always very friendly and happy to chat."'
In his defence during the hearing, Armitage, who pleaded not guilty, said that he was "frequently the subject of banter and abuse."
The judgement continued: "When questioned by the committee about why he reacted to people who had been drinking, he said it was light banter. He accepted that he had told them to 'f*** off' twice. He said he did not use the words aggressively, though they were goading him. He accepted that it was not appropriate to use that language.
"We were not impressed by the player when he gave evidence and was questioned. He presented himself as the victim and sought to justify what he had done and said.
"Wherever there were inconsistencies between his account and that of Mr Hampson, we had no hesitation in preferring the evidence of Mr Hampson."
Armitage was banned for eight weeks in 2011 after a misconduct complaint was upheld for using threatening and/or abusive language towards an anti-doping official, while he has been suspended on three separate occasions for foul play on the pitch.
Another misconduct complaint against Armitage for his alleged conduct during Leicester's 25-21 win was dismissed, the panel finding inconsistencies in witness evidence. Armitage will be suspended until 8 March, subject to appeals.
Reuse content