Ireland's iconic centre Brian O'Driscoll retires this summer after 15 years in the international arena and 141 Test appearances.
The 35-year-old made his international debut in Ireland's 46-10 defeat to Australia in Brisbane on June 12, 1999 and his final game will be the Six Nations match in Paris against France this weekend.
Here, we take a look at O'Driscoll's records and career statistics...
IRELAND STATS...
Appearances (final match versus France in Paris not included): 131 starts, 1 replacement.
Tries: 46.
Drop-goals: 5.
Yellow cards: 2.
Points: 245.
Win: 79.
Lose: 51.
Draw: 2.
BRITISH LIONS STATS...
Appearances: 8 starts.
Tries: 1.
Points: 5.
Win: 2.
Lose: 6.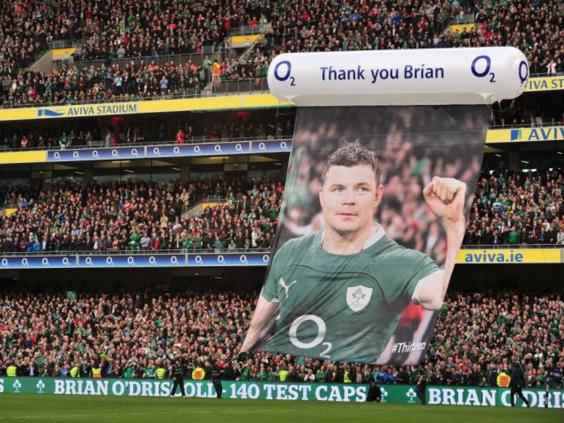 RECORDS....
* Brian O'Driscoll will increase the world record for Test appearances to 141 in his final Ireland match against France. The 35-year-old has eight British and Irish Lions caps to add to his soon-to-be 133 Ireland turns.
* O'Driscoll's 46 international tries is an Ireland record.
* The Leinster stalwart is the Six Nations' leading all-time try-scorer with 26.
* O'Driscoll will bring his record Five/Six Nations appearance tally to a final total of 65 in Paris.
* O'Driscoll has captained Ireland more than any other player, 83 times between November 2002 and June 2012.
* O'Driscoll and Gordon D'Arcy will extend their world-record centre partnership to 56 caps against France.
* Ireland claimed four Triple Crowns under O'Driscoll's stewardship, in 2004, 2006, 2007 and 2009, with 2009 also yielding the Grand Slam.
* O'Driscoll's eight personal victories over England leaves him level with Mike Gibson's Ireland record.