Late last year, Dylan Hartley turned his back on a highly lucrative Top 14 contract with the French club Montpellier because he did not feel ready to call time on his international career. Unfortunately, for a man congenitally incapable of turning the other cheek – a deep-seated character weakness that has surfaced once too often for England's liking – he no longer has a say in his red-rose future.
Whatever it was that provoked him into his half-hearted assault on Jamie George during the Northampton-Saracens game at Franklin's Gardens a week ago – always assuming provocation played a part, however small, and that the New Zealand-born hooker did not simply think it a good idea at the time – has cost him the rugby equivalent of a king's ransom. Hartley says he is "devastated" at losing his place in England's training squad for the forthcoming World Cup, and well he might be. Devastation is a heavy sentence for a crime some way short of cataclysmic.
No doubt his many supporters will accuse Stuart Lancaster, the England head coach, of heavy-handedness in his latest dealings with the most experienced forward in the red-rose set-up. Some may even take the view that the boss has sacrificed the nation's World Cup chances on the altar of his own puritanism – that following his decisions in respect of the centre Manu Tuilagi, cast aside after his recent court conviction for assault, and the flanker Steffon Armitage, declared off-limits because he plays his club rugby abroad, this is one principled stand too many.
But Lancaster has framed the argument in such a way as to suggest that he had no realistic choice in the matter. Once Hartley admitted butting George and received a four-week ban that ruled him out of the opening World Cup game with Fiji on 18 September as well as the warm-up matches with France and Ireland, the coach felt his hands were tied – not least because tournament regulations state teams must have full front-row cover available on the replacements' bench.
"This was an incredibly difficult position to be in," he said in London, where he found his naming of the England XV for tomorrow's game with the Barbarians taking a distant second place to yet another disciplinary flare-up. "But when you weigh up the risk of going into a World Cup with only two available hookers, one of whom might be lost to injury…
"Let's say we're in Fiji week and a physio comes to me and tells me, 'This hooker has a tight hamstring and can't play'. I'm sat there as coach of the host nation, playing in the biggest game we've had, and I have one hooker and no one on the bench. People would look at me and think I was daft. The four-game ban was a game-changer."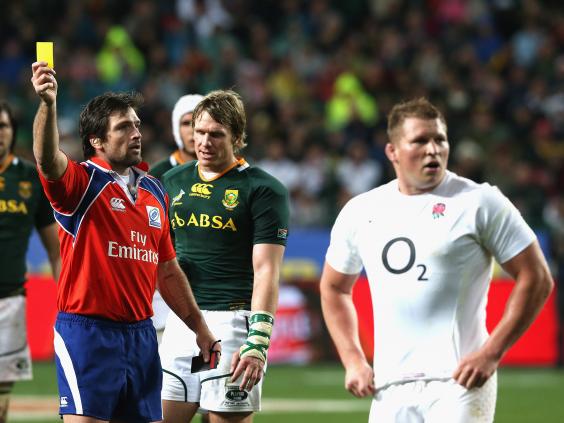 Lancaster did not rule out a Test return for his most infuriating player, but the odds are stacked against a comeback. Hartley will turn 30 during next year's Six Nations, by which time international rugby may well have left him behind. His great rival for the England shirt, Tom Youngs of Leicester, will almost certainly start the early World Cup games and therefore have ample opportunity to nail down the position. The two young generation hookers in the training squad, Luke Cowan-Dickie of Exeter and the newcomer George, are comfortably gifted enough to make Hartley an irrelevance.
And anyway, Lancaster could already be past caring when it comes to a man whose total suspension time since his first indiscipline in 2007 stands at more than a  calendar year. The coach's words on Friday did not have much "forgive and forget" about them.
"You invest a lot of time and effort in a player, so losing him at this point is hugely disappointing – not just for him but for the team, because he was an important cog in the wheel," he said. "Dylan is excellent in an awful lot of ways but clearly, emotional control and the ability to make good decisions under pressure is a key quality – and the pressure at the World Cup will be white hot."
Reuse content