There were plenty of sound reasons to believe that Andy Goode would kick Wasps, the latest of his many clubs, to a fine victory over their great London rivals Harlequins at Twickenham last weekend: the best part of 2,000 reasons, in actual fact. It was an awkward, wide-angled, do-or-die kind of shot at the very end of the  contest, but a player does not accumulate 1,846 points over a 12-year stretch and stand second in the all-time Premiership list of heavy scorers  without landing the odd tough one under pressure. 
"I thought it was over – genuinely I did," he says, peering out over the empty expanse of the former European champions' training ground in Acton. "I struck it perfectly well, I had a little smile on my face as I watched its  trajectory…and then it hit the post and bounced away. The smile disappeared, the feeling of devastation took over. I felt terrible."
Devastation? Might he not be over-egging it just a little? Acute disappointment at failing to nail a match-winning conversion deep in overtime as Wasps lost 16-15 after a long afternoon of backs-against-the-wall rugby would be perfectly understandable, but hell… this was the first game of the season, no titles rested on the outcome and nobody died. Devastation? Please.
"Are you kidding?" Goode  responds. "That was my Wasps debut and all my new clubmates – people who had been absolutely brilliant to me for three hard months of pre-season training – were relying on me to do the job I was brought in to do. I really felt it and it's taken me four days to stop hurting. It runs in the family, I guess. My little girl, Ella-Grace, was crying in the stand. When she came into the dressing room afterwards, her bottom lip was still going. That really got to me."
Having owned up to being a big softie at heart – on social media, he  describes himself as "dad to Ella-Grace first, rugby player second" – Goode goes on to argue that his continuing ability to feel utterly crestfallen at the end of a game is a positive sign rather than a negative one. "It means I still care," he explains. "I suppose I've been around longer than most, but winning rugby matches still matters to me. Even now, I can get annoyed if things aren't as they should be in training. If I no longer had the capacity to feel that way, I wouldn't bother playing. I'm quite proud of the fact that at 33, I don't feel any differently to how I felt at 23."
He can feel equally proud that a Premiership team should offer him a deal that will take him past his 35th birthday. Goode was never an edge-of-the-seat kind of outside-half – built for comfort rather than speed, the miraculous mix of mastery and mystery that distinguished the Barry Johns and Mark Ellas from the rest was entirely foreign to him even in his days as a bright young thing at Leicester – and there were times during his international career with England when the smoked salmon set at Twickenham registered their disapproval.
But there is more to rugby in the No 10 position than dash and daring and dainty footwork, as Danny Cipriani, one of Goode's predecessors at Wasps, has spent the last few seasons discovering. Not only does Goode have longevity on his side when it comes to assessing his value as a professional rugby player, he can also point to a couple of Heineken Cup-winners' medals, having started in Leicester's great victory over Stade Français in 2001 and been among the replacements when they successfully defended their title against Munster a year later.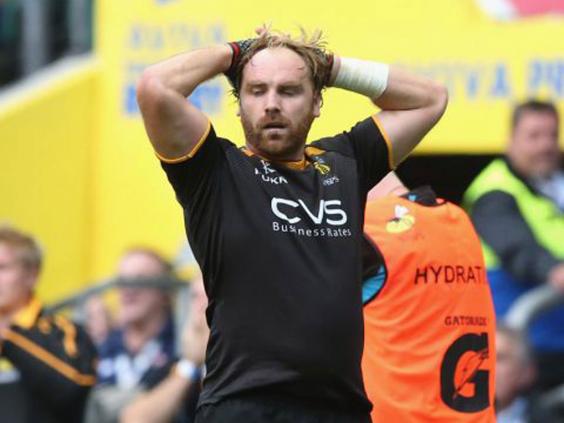 It is also worth pointing out that when Goode's spell at Worcester was drawing to a close last season, Leicester were keen on re-employing him. Bath, awash with money and ambitious as the day is long, were also interested in his services. Three major clubs, all of them wearers of the European crown, competing for a thirtysomething outside-half with a career's worth of mileage already on the clock? Goode has something to offer, clearly.
"The thing is, I want to play every week if I possibly can," he says. "Was I going to be picked ahead of Toby Flood at Leicester? Probably not. As for Bath, they have George Ford there now, and George left Leicester to go down there because he didn't feel he was playing enough rugby at Welford Road, even though he'd been playing quite a bit for a lad of his age. And besides – and I'm not trying to be funny about this – George's dad is the Bath coach. You have to take these things into account, don't you?
"If I'm honest, there was a time when I thought I might see things out at Worcester, but I was out of contract at the end of last season and the usual merry-go-round started up. They kept on saying to me 'we'll talk to you,  we'll talk to you', but my agent is a  pretty good reader of people and he thought they were stringing me along. So that was that, really. I knew I'd be moving on."
When Goode held his first discussions with the Wasps rugby director, David Young, it took him next to no time to decide that this was a move worth making. "Basically, he was  flat-out honest," he recalls, "and  believe me, it doesn't happen that way all the time in this game. He was completely up front about the problems the club had experienced in recent seasons – no secrets, no nonsense – and I respected him for that. I was also taken by his enthusiasm now that the club is under new ownership and has some financial stability. Five minutes over a cup of coffee was enough for me. I was more than happy to sign."
Not for the first time in recent years, the Heineken Cup will happen without Wasps. As there may not be another Heineken Cup – this week's manoeuvrings by the leading English and French clubs have left the tournament in grave danger of collapse – the failure to qualify hurts. How does Goode feel about this latest outbreak of boardroom squabbling, an  argument that could easily tear apart the fabric of club rugby in the northern hemisphere?
This question is met with a sigh, followed by a carefully drawn response. "To think there might not be another Heineken Cup… it's a shame, that's for sure," he says. "I hit the heights of the tournament with Leicester, and when I was playing in France with Brive, who had won the title in the early days, qualification was a big thing. I remember a match between us and Bourgoin where the winners would get in and the losers would miss out. They had Morgan Parra [the world-class French scrum-half] playing for them and he had a drop goal to win it. So did I. He put it wide. I didn't. Happy days.
"Having said that, I can see completely why Premier Rugby are taking this stand. In England and France, players go through hell to qualify for the competition. They half kill themselves. It's not like that in other countries, where guaranteed places make a massive difference. I don't sit there thinking: 'God, you blokes in Ireland and Wales have it easy'. I'm not the  envious sort. But without speaking out of turn, I do sometimes feel that decisions on these things are made by people who aren't really close enough to the reality of rugby from a player's perspective. There's a place in the sport for good businessmen, but we need to protect the soul of the game."
At least the Premiership has an air of certainty about it and over the next two years, Goode is likely to break into the top 10 for the number of career  appearances and make a dent in Charlie Hodgson's 358-point lead on the scoring chart. But for the years he spent indulging his wanderlust in France and South Africa, the man from Coventry would already be up there alongside the man from Halifax.  And people wonder why Wasps have signed him?
Reuse content