Both England and South Africa will arrive at Twickenham on Saturday having lost last week, and both teams will need to change things up.
In their set pieces, England were good. The dilemma is still the midfield. To win international matches you need a solid midfield. Yes, they are missing Luther Burrell, Manu Tuilagi and more besides, and Stuart Lancaster will want to win the game that is right in front of him, but Brad Barritt is not the future. He is a stop-gap. The guys at Bath, Kyle Eastmond – who played – but also Jonathan Jones – who didn't – they are the ones for the future.
To that end, it is good news that Kyle has recovered from his illness. Some people have given him a bit of flak for his performance last week, but I think he put his nightmare summer to bed. He carried the ball well, put in his hits and created opportunities for Mike Brown.
Dave Attwood, who came in from the bench, had a blinder, and he will be in much better shape for this match. It's also great news that workhorse Tom Wood and Courtney Lawes have recovered from their various knocks and are fit to start.
To win, England will need to create more opportunities than they did against New Zealand, and crucially they will need to take them. They got off to a flying start, but they missed opportunities to get points on the board. New Zealand were dominant but also clinical. They took their chances.
England will take from last week's game the knowledge that they can compete with the best, and they fought a tight game against the best team in the world. But the match wasn't as close as the scoreline. Come the second half there was only ever going to be one winner out there. England had virtually none of the ball.
This week, England will be asking themselves 'How do we get more ball out to the backs to beat South Africa?'
For England, this match must be about getting a result. For three years now, Stuart Lancaster has talked about the future – the matches have been about the performances, not necessarily the results. Now they must get a result. And it will not be easy.
Very frustratingly, they won't have their starting XV out on the pitch, and they don't have the kind of strength in depth of the Springboks.
England starting line-up vs South Africa
England starting line-up vs South Africa
1/23 15. Mike Brown

Age: 29 Caps: 30 Tries: 5 Points: 25 Club: Harlequins

Getty Images

2/23 14. Anthony Watson

Age: 20 Caps: 1 Tries: 0 Points: 0 Club: Bath

Getty Images

3/23 13. Brad Barritt

Age: 28 Caps: 19 Tries: 1 Points: 5 Club: Saracens

4/23 12. Kyle Eastmond

Age: 25 Caps: 5 Tries: 1 Points: 5 Club: Bath

5/23 11. Jonny May

Age: 24 Caps: 8 Tries: 1 Points: 5 Club: Gloucester

6/23 10. Owen Farrell

Age: 23 Caps: 26 Tries: 2 Conversions: 33 Penalties: 67 Drop-goals: 1 Points: 280 Club: Saracens

7/23 9. Danny Care

Age: 27 Caps: 49 Tries: 7 Drop-goals: 3 Points: 44 Club: Harlequins

8/23 1. Joe Marler

Age: 24 Caps: 23 Tries: 0 Points: 0 Club: Harlequins

9/23 2. Dylan Hartley

Age: 28 Caps: 58 Tries: 1 Points: 5 Club: Northampton Saints

10/23 3. David Wilson

Age: 29 Caps: 38 Tries: 0 Points: 0 Club: Bath

11/23 4. Dave Attwood

Age: 27 Caps: 13 Tries: 0 Points: 0 Club: Bath

12/23 5. Courtney Lawes

Age: 25 Caps: 33 Tries: 0 Points: 0 Club: Northampton Saints

13/23 6. Tom Wood

Age: 28 Caps: 31 Tries: 0 Points: 0 Club: Northampton Saints

14/23 7. Chris Robshaw

Age: 28 Caps: 29 Tries: 2 Points: 10 Club: Harlequins

Getty Images

15/23 8. Billy Vunipola

Age: 22 Caps: 11 Tries: 1 Points: 5 Club: Saracens

16/23 16. Rob Webber

Age: 28 Caps: 9 Tries: 1 Points: 5 Club: Bath

Getty Images

17/23 17. Matt Mullan

Age: 27 Caps: 6 Tries: 0 Points: 0 Club: Wasps

18/23 18. Kieran Brookes

Age: 24 Caps: 3 Tries: 0 Points: 0 Club: Newcastle

GETTY IMAGES

19/23 19. George Kruis

Age: 24 Caps: 1 Tries: 0 Points: 0 Club: Saracens

20/23 20. Ben Morgan

Age: 25 Caps: 24 Tries: 2 Points: 10 Club: Gloucester

21/23 21. Ben Youngs

Age: 25 Caps: 39 Tries: 6 Points: 30 Club: Leicester Tigers

22/23 22. George Ford

Age: 21 Caps: 3 Tries: 0 Conversions: 1 Points: 2 Club: Bath

Getty

23/23 23. Marland Yarde

Age: 22 Caps: 5 Tries: 4 Points: 20 Club: Harlequins

Getty
There has been much talk of how South Africa haven't lost at Twickenham since 2006. I remember that match well. Andy Robinson was in charge, and we'd lost to New Zealand, then we'd lost the following week to Argentina. We felt like we really had to win, and we did, 23-21.
But I remember when we played them in 2010, they'd just lost to Scotland and we had smashed Australia, but they came out and pummelled us. They're a proud nation, they don't like losing as they did last week, and it will be an extremely tough game.
Their team selection is interesting. The coach, Heyneke Meyer, has always said he would use squad rotation, and being able to bring in guys like Schalk Burger and JP Pietersen – World Cup winners – that's the sort of strength in depth that really helps.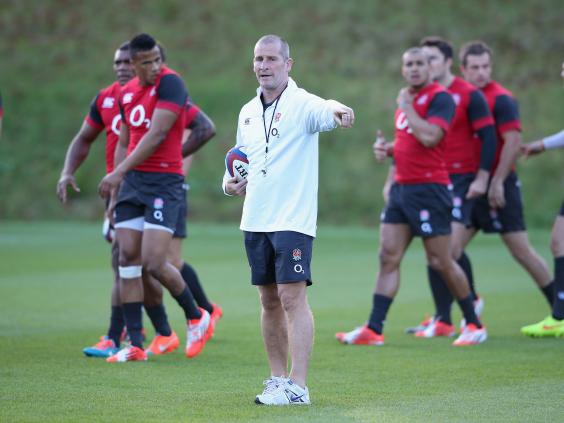 Clearly, he's trying to see who has still got it, and will still have it for the World Cup. Patrick Lambie at fly-half is an interesting one to recall, he was the strangest change for me. He blows hot and cold, which is rare for a South African. He can be brilliant or he can be terrible. He's one of those players you can get underneath mentally, and I'm sure England will try and target him.
Above all, what England must do is not just retain possession but use it. Look at the way New Zealand's forwards attacked in pods, carrying the ball up but then offloading it. If England just bash it up, bash it up, time after time, they won't get over the advantage line, and they won't win.
Bryan Habana's been talking about his sympathy for his English team-mate at Toulon, Steffon Armitage – this year's European Player of the Year who, by playing his club rugby abroad, has made himself ineligible for the national side.
Bryan's right. England could certainly do with Steffon. He is arguably England's in-form No 7 and should at least be in a position to contest that shirt. He offers something completely different to every other No 7 and, to my mind, they must find a way of getting him back. I don't know if it's by relaxing the rules, like they did with Jonny Wilkinson in 2011, but to not have him around is a travesty. There are young guys coming through – Matt Kvesic, Luke Wallace, Will Fraser from Saracens – but they're not consistent enough.
There are risks of course in opening up the international side to foreign-based players. Look at what the rule change has done to the once powerhouse of Welsh domestic rugby.
Suddenly you open the doors and all your players go off to France. But it's a professional game. Players only have a certain life expectancy in their careers, and they will take the money where it's on offer, even if it means they don't get to play for England.
Reuse content