Sam Burgess accumulated a number of nicknames in his rise to rugby league grandmaster. "Slammin' Sam" is the best-known, then there's the "sparkly- eyed man" as his "mate" Russell Crowe came to describe him, or the affectionate "Footy Sam", coined by Burgess's girlfriend Phoebe for the deadeyed character in the zone on or near a match day.
No one, publicly at least, has yet called Burgess "face-ache" but that would also be apt, as he deals with the effects of the five plates and 21 screws inserted into his right cheek after the infamous head-to-head clash with Canterbury Bulldogs' James Graham in the first minute of last October's NRL final in Sydney. Even before the pain recedes, he might just have completed a remarkable transformation to be an England rugby union World Cup player.
European Champions Cup in pictures
European Champions Cup in pictures
1/50 Northampton Saints 8 Racing Metro 32

Benjamin Lapeyre celebrates with his Racing Metro team-mates

Getty Images

2/50 Northampton Saints 8 Racing Metro 32

Juan Imhoff scores for Racing Metro

Getty Images

3/50 Northampton Saints 8 Racing Metro 32

Dylan Hartley sits on the bench after being sin-binned in Northampton's defeat to Racing Metro

Getty Images

4/50 Northampton Saints 8 Racing Metro 32

Tom Wood looks on in dejection after suffering and ankle injury

Getty Images

5/50 Wasps 20 Leinster 20

Nathan Hughes scores for Wasps in the 20-20 draw with Leinster

Getty Images

6/50 Wasps 20 Leinster 20

Andy Goode reacts to his missed drop goal in the final play of the 20-20 draw between Wasps and Leinster

Getty Images

7/50 Wasps 20 Leinster 20

Tom Varndell closes in on the try line

Getty Images

8/50 Wasps 20 Leinster 20

Rob Kearney attempts to ride the tackle from Christian Wade

Getty Images

9/50 Castres 17 Harlequins 47

Nick Easter in action for Harlequins in the win over Castres

Getty Images

10/50 Castres 17 Harlequins 47

Marland Yarde scores on of Harlequins' seven tries

Getty Images

11/50 Castres 17 Harlequins 47

Nick Evans seeks a team-mate as he breaks the Castres line

Getty Images

12/50 Castres 17 Harlequins 47

Harlequins' pack carries the ball forwards towards the line

Getty Images

13/50 Ospreys 9 Northampton Saints 20

George North breaks through the Ospreys defence to score for Northampton on Sunday

Getty

14/50 Toulouse 18 Bath 35

Francois Louw scored Bath's final try against Toulouse to earn a bonus-point win on Sunday

PA

15/50 Toulon 60 Ulster 22

Nicolas Sanchez dives over the line for a try

Getty Images

16/50 Toulon 60 Ulster 22

Mathieu Bastareuad barrells his way over for a try against Ulster

Getty Images

17/50 Toulon 60 Ulster 22

Bryan Habana touches the ball down for one of Toulon's eight tries

Getty Images

18/50 Saracens 33 Munster 10

Chris Ashton celebrates a try against Munster

Getty Images

19/50 Saracens 33 Munster 10

Billy Vunipola evades the clutches of Dave Foley

Getty Images

20/50 Saracens 33 Munster 10

Jacques Burger and Peter O'Mahony clash during Saracens' win over Munster

Getty Images

21/50 Leicester 40 Scarlets 23

Harry Robinson scored two tries in response for the Scarlets

Getty Images

22/50 Leicester 40 Scarlets 23

Tom Youngs slides in for his second try of the match

Getty Images

23/50 Leicester 40 Scarlets 23

Julian Salvi attempts to sneak around the fringe of the scrum to tackle Rob McCusker

Getty Images

24/50 Clermont Auvergne 26 Munster 19

Peter O'Mahony tackles Aurelien Rougerie

GETTY IMAGES

25/50 Wasps 44 Castres 17

Wasps' Tom Varndell scores his second try

PA

26/50 Wasps 44 Castres 17

Fans say their farewells to Adams' Park

REX

27/50 Saracens 28 Sale Sharks 15

Alex Goode scores in the corner for Saracens

Getty Images

28/50 Saracens 28 Sale Sharks 15

George Kruis tries to barge his way over scrum-half Will Cliff

Getty Images

29/50 Toulon 23 Leicester Tigers 8

Mathieu Bastareaud dives in for Toulon's second try

Getty Images

30/50 Toulon 23 Leicester Tigers 8

Leigh Halfpenny tries to sidestep Ben Youngs

Getty Images

31/50 Toulon 23 Leicester Tigers 8

Mathieu Bastareaud tries to barge his way over Vereniki Goneva

Getty Images

32/50 Toulon 23 Leicester Tigers 8

Blaine Scully dives over in the corner to score for the Tigers

Getty Images

33/50 Bath 32 Montpellier 12

Bath's Matt Banahan (centre) and Sam Burgess (left) team up to send the former over for his first of three tries

GETTY

34/50 Harlequins 24 Leinster 18

Harlequins Nick Easter and Luke Wallace hold up Jimmy Gopperth of Leinster

REX

35/50 Castres 17 Wasps 32

Andy Goode kicked 12 points in the win

Getty Images

36/50 Benetton Treviso 15 Northampton Saints 38

Ben Foden touches down to scores Northampton's third try against Treviso

Getty Images

37/50 Sale Sharks 15 Saracens 19

Andrei Ostrikov scores for Sale against Saracens

Getty Images

38/50 Montpellier 5 Bath 30

George Ford kicked 15 points as Bath strolled to victory

Getty Images

39/50 Northampton Saints 34 Ospreys 6

George North of Northampton Saints scores the first try during the European Rugby Champions Cup Pool 5 match between Northampton Saints and Ospreys

GETTY IMAGES

40/50 Ulster 13 Toulon 23

Toulon's English wing Delon Armitage scores his team's second try during the European Rugby Champions Cup match between Ulster and Toulon

GETTY IMAGES

41/50 Bath 19 Toulouse 21

Dave Attwood of Bath pushes in a scrum as Imanol Harinordoquy (L) and Timoci Matanavou of Toulouse

GETTY IMAGES

42/50 Leicester Tigers 25 Ulster 18

Owen Williams of Leicester Tigers in action during the Aviva Premiership match between Leicester Tigers and Harlequins at Welford Road

GETTY IMAGES

43/50 Racing Metro 20 Northampton Saints 13

Northampton's No 9 Kahn Fotuali'i passes from a scrum

Getty IMages

44/50 Glasgow Warriors 37 Bath 10

Busting the line: Glasgow No 8 Adam Ashe makes a break

Getty Images

45/50 Saracens 30 Clermont Auvergne 23

Chris Ashton capitalises on an error to score the match winning try

GETTY IMAGES

46/50 Saracens 30 Clermont Auvergne 23

David Strettle touches down for a try in the corner

GETTY IMAGES

47/50 Saracens 30 Clermont Auvergne 23

Zac Guildford scores a try to stretch Clermont's lead

GETTY IMAGES

48/50 Sale Sharks 26 Munster 27

Munster players celebrate the victory over Sale after a late drop-goal from Ian Keatley

Getty Images

49/50 Harlequins 25 Castres 9

England team-mates Danny Care and Marland Yarde celebrates after the scrum-half scores a try

Getty Images

50/50 Harlequins 25 Castres 9

Nick Evans kicks a conversion during Quins' opening European match at the Twickenham Stoop

Getty Images
"I got another hit on it later in the game," Burgess recalls of the final, when with stunning resilience he played out the 80 minutes to help the South Sydney Rabbitohs – co-owned by Hollywood star Crowe – win their first title in 43 years. "In surgery they had to damage my face a lot more to sort it out. My lip and my gums around it are numb. The nerves are really sensitive up around the scar; it sends shooting pains around my face. It just feels unnatural – but it's okay, it's strong. The surgeon said between one and two years, it should start feeling normal again."
The final topped out Burgess's league career of 15 Great Britain and England caps – and a try in the tumultuous World Cup semi-final loss to New Zealand at Wembley in 2013. Next Friday, after just two months playing rugby union for Bath – three starts and four appearances off the bench for the first team, two starts for the reserves – he will pull on England's white jersey again, only this one bears the RFU red rose. "I'm getting goosebumps just thinking about it," he said. "It's been ages since I sang the national anthem."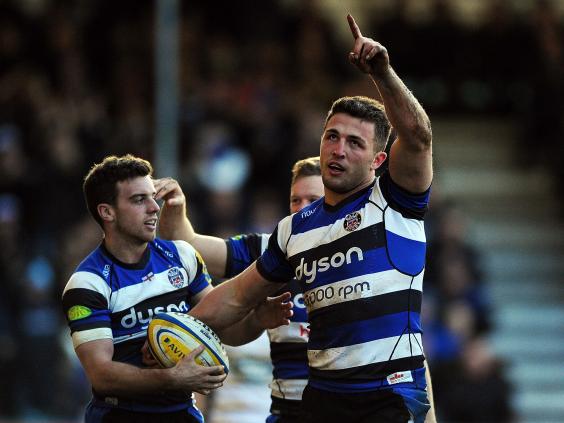 Appearing for the second-team Saxons away to Ireland A in Cork will not guarantee Burgess a place in September's World Cup any more than the promise from head coach Stuart Lancaster to call him in for training with the seniors during the Six Nations, which start with England playing Wales in Cardiff on 6 February. But it places Burgess a lot closer than when he was a lad growing up in Dewsbury, in that league heartland of hard-bitten mill towns south of Leeds.
"It would be silly to sit here and say I wasn't looking to be a part of the World Cup," says Burgess at Bath's training HQ. "That's a great goal. But I don't want to be disrespectful; I know how hard players have worked to be in a position to make the squad."
For starters he has five England backs as team-mates at Bath in George Ford, Kyle Eastmond, Jonathan Joseph, Anthony Watson and Semesa Roko-  duguni.
Today their focus will be beating Glasgow to qualify for the quarter-finals of the European Champions Cup. Adding Burgess, at no little expense, they took on the task of turning a "poster boy" forward in league into a union centre, or eventually a flanker.
Someone not a million miles from Bath's coaching staff confided before Christmas that he believed the World Cup would come too soon. Burgess himself admits he was thinking more about the possibility of playing for England before he arrived than he is now, such has been the unexpected complexity of his new sport. But his story already has a high tariff of what-ifs that ended in affirmation.
"League can be simplified," Burgess says, "into three areas that, if we were good at them, we'd win the game. Whereas in union, there's so many different aspects: field position, the scrum, the line-out, the ball presentation, the delivery from nine to 10 – before you can actually get into a rhythm. There's got to be more parts of the machine in order before you get the final product. Which is really interesting. I like the strategy of it."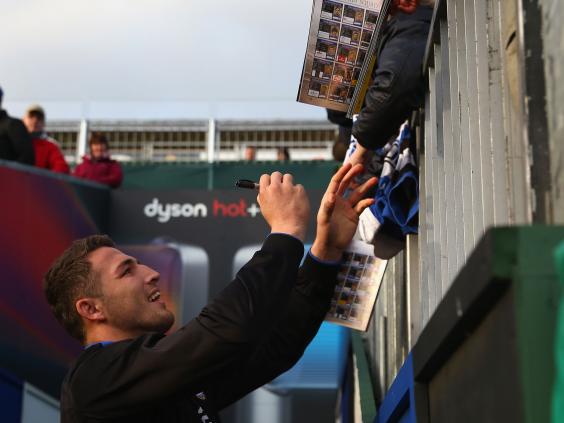 Crowe's "sparkly-eyed" epithet was about a leader giving every last drop of effort on the field and being dutiful to family off it. Mark Burgess was a man with a barrel chest and four sons: Luke, Sam and the twins Tom and George. The boys would go on to play together for South Sydney, joined in living Down Under by their mum, Julie. But their dad had passed away from motor neurone disease in 2007.
Sam had been his main carer, carrying him up and down stairs as the horrible illness ravaged his bones. Mark was an amateur of note; Sam represented Great Britain at the age of 18, and moved from Bradford Bulls to the Rabbitohs in 2010.
At 6ft 5in, with good pace and hands and a magical sidestep, he prospered in league's one-on-one combat: the "slam" in Slammin' Sam. His YouTube showreel is stuffed full of clashes that a union follower might commentate on as: "Penalty… penalty… penalty… oh, borderline legal – good one!" Burgess acknowledges this disparity with lip-smacking relish: "There aren't as many chances for that collision. When you get your chance, you've got to take it." Ask Wasps' Ben Jacobs, shaken to his core by a tackle from Burgess in what was critically regarded as a breakthrough performance two weeks ago.
Bath have important Premiership matches coinciding with the Six Nations, and Burgess expects this to be "a good period when I should be knocking some 80 minutes out." And training with England? "Stuart [Lancaster] mentioned it, quite casually, that he wants to show me the set-up, have a quick look at how they train and build up to a Test match.
"I'll absorb as much information as I can. There's a lot going on but it doesn't worry me at all. In Australia the environment was unbelievably high-pressured; rugby league is the No 1 sport in Sydney, like football is here."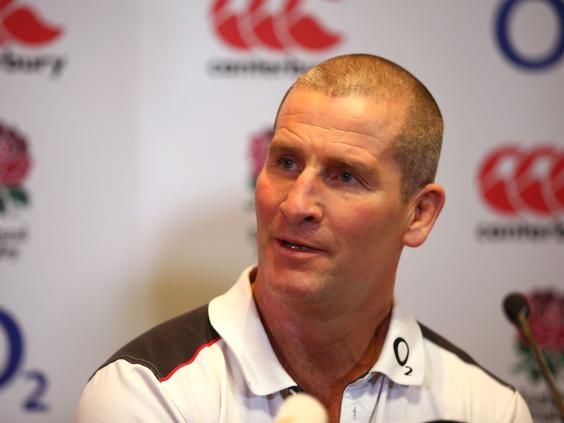 It is a reminder that Burgess has swapped countries again, as well as codes. "It's been harder than I thought, leaving the family, but walking round Bath, the vibe's great – you just need a few more jumpers on. I'm on Instagram, following my brothers, all my ex-team mates in Sydney, putting pictures up of themselves sunbathing. My brother sent me a picture of his car thermometer: 36C. I sent one back, from my car at seven in the morning: -1C."
And the upside? Briefly Burgess mimes a man racking his brains. Then he mentions a good cup of tea and being "back on the pints, not the schooners", although it transpires he drinks lager and the odd Guinness, not Yorkshire bitter. We move on before getting into brass bands or Happy Valley.
If the story ever becomes Hollywood material, we can guess the director. "Me and Russell speak two or three times a week," says Burgess of the A-listed New Zealander. "He's such a wise man, so smart, I've learnt a hell of a lot from him over the years. He's due in London in March and we'll catch up then. He's interested to see how I get on – we might even get him into being an England supporter, if I get in there."
In This Sporting Life, the great rugby league film of the 1960s set in Wakefield, near Dewsbury, the hero Richard Harris says: "We don't have stars in this game, that's soccer." Adoring rugby's team ethos as he does, Burgess would be happy to repeat it. He might also disprove it.
Code-breakers
Ten rugby league players have played union for England during the open era:
John Bentley - Union 1988-89; League 1995-96
Barrie-Jon Mather - League 1995; Union 1999
Jason Robinson - League 1993-99; Union 2001-07
Henry Paul - League 1995-2001; Union 2002-06
Andy Farrell - League 1993-2001; Union 2007
Lesley Vainikolo - League 1998-2005; Union 2008
Chris Ashton - League 2006; Union 2010-
Kyle Eastmond - League 2009; Union 2013-
Joel Tomkins - League 2010-14; Union 2013-returned
Shontayne Hape - League 1999-2008; Union 2012-retired
Reuse content