When Slammin' Sam finally crossed rugby's great divide after months of feverish anticipation, he was given the razzle-dazzle treatment usually reserved for minor royalty, revered members of the theatrical aristocracy and big-name sportsmen with a spectacular body of work behind them rather than a near-perpendicular learning curve ahead of them. And he had not been in town five minutes when he found himself at the heart of an unusual kind of club-versus-country conflict.
"My gut feeling," said the Bath head coach Mike Ford in welcoming Sam Burgess to the Recreatioin Ground on Thursday, "is that he'll play in the back row." This could be seen as a nasty smack in the guts for the England hierarchy, who seem desperate to give the new recruit VIP access to the red-rose squad ahead of next year's World Cup but only ever talk of him as a potential saviour in the midfield department.
As for the man himself...let's just say he was reluctant to commit himself positionally, which seemed only fair and reasonable given that he has never played a serious game of union in his life. "I don't know where I'll be best suited," he said, his face still showing faint signs of recent surgery on the busted cheekbone and fractured eye socket he suffered in his farewell game of league in Australia. "I don't even know when I'll be fit to start playing. How long will it take me to get up to speed with a new sport? I wish I could give you an answer. I'd like to think it'll be straight away, but that's probably ludicrous."
According to Ford, there is half a chance that the 25-year-old Yorkshireman will have his first run-out with the Bath second-string before Christmas, assuming the medics sanction his involvement. If Burgess adapts quickly to his new rugby reality, he may be fast-tracked into a heavily populated England training squad at the end of the domestic season. If, however, he is still playing for the "stiffs" towards the end of next year's Six Nations, with the World Cup only six months distant, he will surely miss out. At which point, some wag is certain to tinker with the vowels in his nickname and re-christen him "Slummin' Sam'.
Ford insisted he was "not too concerned" about nailing down the precise nature of Burgess' role on the field. "To begin with, he'll be in the padded cell with all our other injured players," the coach said, sardonically. "He has to spend some time learning the game and we won't pick him until he's ready. I do think that rugby league skills are more translatable to union now than they were years ago and I also feel that the mistake some coaches made in the past was to bring league players across and attempt to change them into union players. The one thing I won't do is try to change Sam.
"I believe the style we're developing at Bath will suit his skill set, which means I can concentrate on finding ways of getting my best 15 people on the field. I'm in a different position to Stuart Lancaster, aren't I? Stuart's job is to win an international match and he gets one shot at it. I get 22 chances over the course of a league season, so I can afford to experiment a bit."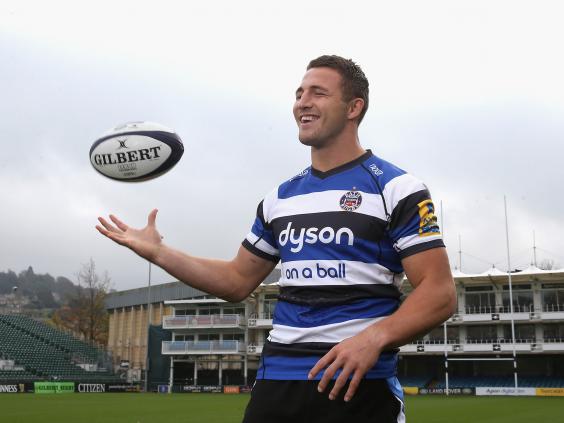 Burgess flew to England earlier this week, after resting up following his extreme exertions on behalf of the South Sydney Rabbitohs in the NRL Grand Final: a heroic contribution in anyone's language, given that he went the distance after suffering his orthopaedic trauma in the first play of the game. He spent some time with his league-playing siblings – "They'll be on Coogee Beach, not wearing their T-shirts, so I'm not sure they'll be following me to England just yet," he remarked – and also got together with his friend, the Hollywood actor Russell Crowe, a part-owner of the Rabbitohs.
"After the final and my surgery, I went to Russell's farm for four or five days," he said. "We had a couple of beers and a good time. Maybe I'll invite him down to The Rec for a game." Would he have found it more difficult to make the move to union had South Sydney lost the final rather than won it? "That game meant a lot: it's a big thing to win," he replied. "But I wouldn't have found it harder or easier either way, because my decision had been clear for some time."
The way Burgess tells it, he has had minimal contact with Lancaster and the national coach's principal lieutenant in the England set-up, Andy Farrell, whose own journey from league to union before the 2007 World Cup most closely parallels the one upon which the man from Dewsbury has just embarked. Burgess said the thing that switched him on to the 15-man game and its possibilities, leaving aside the high-profile treatment given to last year's autumn Test series at Twickenham, was the "passion and ambition" shown by Ford and the Bath owner Bruce Craig.
Yet it was clear right from the start that this was no ordinary move in union's fledgling transfer market – that the Rugby Football Union, which had participated actively in cross-code signings when Sir Clive Woodward and Andy Robinson were in charge of England affairs, was in close touch with developments. Most of those at the top end of Twickenham hierarchy see Burgess as a first-choice international in waiting, and rather assume he will not be kept waiting long.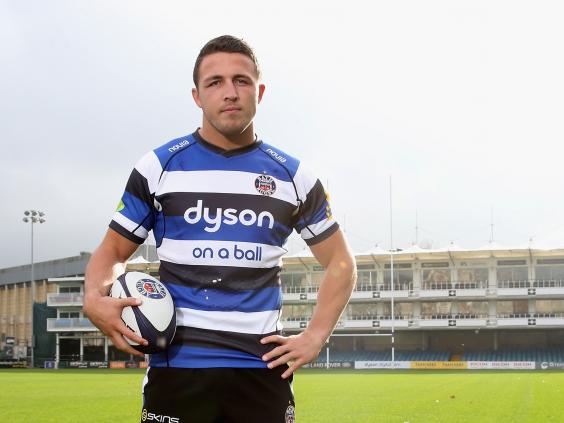 On Thursday, he did everything in his power to lower expectation levels on the red-rose front. "When I was in England for the Rugby League World Cup this time last year, I did watch the Twickenham games and thought: 'It would be fantastic to be a part of that experience,'" Burgess said. "And yes, I have my goals and ambitions, like everyone else, and I don't lack belief. But there are a lot of sportsmen out there who believe in themselves. It's going to be a step by step process for me. I know that.
"Perhaps this injury of mine will prove a blessing in disguise. It will allow me to see the union game from ground level before I jump in at the deep end. I made my decision to switch codes based on the challenge of playing a different kind of rugby, not on the fact that there's a World Cup in 2015. If I'd been told there was no way I'd learn the game in time to play for England next year, it wouldn't have made a difference."
So there it is: Burgess is in Bath, and there's no going back. Not in the short term, at any rate. If he turns out to be England's answer to Sonny Bill Williams, the New Zealander who crosses codes in both directions the way other people cross the street, it will be a cause for countrywide celebration. If he fails to cut it...well, he won't be the first. Union and league have more in common than at any point in their recent history, but they remain very different games.
Sam Burgess and his back-row challenge...
Blind-side flanker
Many good judges believe this will turn out to be his optimum position in union. Built on the same scale as Tom Wood, the England incumbent – they are both 6ft 5in and obvious line-out options, although Burgess is a little heavier – the heavy-duty defensive chores and close-quarter carrying would suit him.
Open-side flanker
A monumental ask. The technical demands are extreme, especially around the tackle area, so it is difficult to imagine Burgess giving Richie McCaw or Michael Hooper a hurry-up any time soon. Chris Robshaw may have shaped the role to his own spec, but that doesn't mean everyone can do it.
No 8
If Burgess is as powerful as his league reputation suggests, a tête-à-tête with Billy Vunipola might make the earth move. Those familiar with the newcomer's repertoire believe he would make an impact off the back of the scrum and insist he has the rugby instinct to make good decisions under pressure.