When Sam Burgess arrived at the Recreation Ground six weeks ago with a fractured cheek bone and eye socket, English rugby fans were disappointed. Not in the Yorkshire man, but in the news that he was not expected to feature for Bath until 27 December.
Bath's most promising purchase had been damaged in the Australian National Rugby League (NRL) grand final, less than a month before he was dispatched, and Englishmen everywhere thought they would have to endure the speculation surrounding his cross-code switch until after Christmas.
But Burgess made his debut against Harlequins less than a month after his arrival. The 25-year-old has played just 55 minutes of professional rugby union, but while we are far from seeing any conclusive proof that he will adapt to the 15-man game in time for next year's World Cup, now that Burgess is actually playing, speculation will eventually give way to observation.
Of course, he still has a lot to learn about the complexities of game. But the huge sum Bath paid for the union novice is testament to his abilities. The only Englishman to be named International Rugby League Player Of The Year is a phenomenal athlete. His sizeable frame, searing pace and balletic grace is enough to strike fear into the most formidable defenders. But will it be enough to earn him a place in the England World Cup squad next year?
No. No one doubts the man's athletic ability but he still needs to further his rugby union education. He has only made two second-half appearances for Bath and on both occasions his team were comfortably ahead. England's World Cup squad is the ultimate goal, but Burgess will need to prove himself at club level before being included in the international fold. However, England head coach Stuart Lancaster said last week that Burgess is already in contention for a place in the England Saxons side that will face the Irish Wolfhounds on January 30.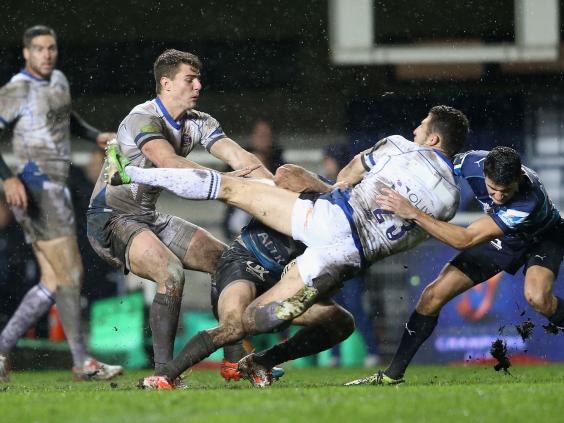 On Friday night he is set to make his first start, in the return leg against Montpellier. So what should we expect?
In the short run, a beautifully brutal spectacle. Burgess is a proven battering ram, who carries with explosive pace and dogged determination. But he also possesses a keen eye for a gap, an acute sense of timing and deft hands. The Bath pack is forceful and the Yorkshireman will be provided with plenty of front-foot ball. And if anyone in the Premiership has the ability to put Burgess into space, it is the Bath fly-half George Ford and the relationship between the two will only improve over time.
Burgess, like so many rugby league greats, is a lethal finisher. In the final third, league players usually have to bully their way through set defences to get over the try line and during his time in South Sydney, Burgess mastered the art. Bath will often resort to him when they reach the opposition's five metre line.
Unsurprisingly 'Slammin' Sam' has an insatiable appetite for big hits. He may decide to adopt the union tackle technique and target legs, but during his time in the 13-man game, he vigorously hammered opponents by smashing them as high as legally possible. However, if he strays from the defensive line to go searching for a big hit, he could leave gaps for the opposition to exploit. His biggest challenge will be adapting to the defensive system, reading the situations and reacting instantly, instead of retreating 10 metres and resetting.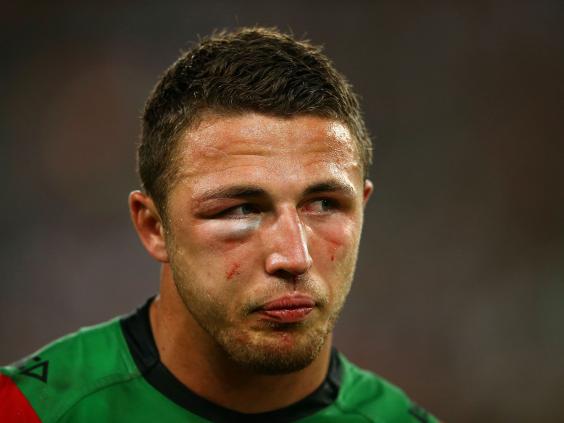 In the long run, expect a swift progression. Physical attributes aside, Burgess is a humble and determined individual, who works extremely hard and consistently demonstrates a desire to learn. 
Widely regarded as one of the best rugby league players to have ever played the game, Burgess did not reach the pinnacle of success with complacency. And as Bath head coach Toby Booth admitted earlier this week: "It's all about the ruck and his rate of change in how he gets used to union. Sam's the first to admit he's got a lot to learn".
In the NRL grand final in October, Burgess fractured his eye socket and cheekbone in the first minute of the game, but went on to play the entire 80 minutes, launching himself into contact head first. If that does not illustrate desire and commitment, what does?
With a good run of game time and the tutorage of two rugby league converts, Toby Booth and centre Kyle Eastmond, Burgess will flourish. But there is only so much a player can learn in the confinements of the training ground. Burgess needs to play. 
Before he had even played a competitive game of rugby union, he was tipped to be part of England's 2015 World Cup squad and after playing just 55 minutes, Burgess is in the running for a place in the Saxons. So now the question begs: what he can achieve in 80?
Reuse content