Will One Direction accept the challenge?
The boyband's cheeky Irish crooner, Niall Horan, has been involved in an entertaining  Twitter argument with Wales scrum-half Mike Phillips, which culminated in Phillips, over 16 stone of pure hardness, inviting Horan, and "the rest of the Beatles" down to a Wales training session to call him an "idiot" to his face.
Horan was watching the Six Nations contest between Ireland and Wales on Saturday, which Ireland won 26-3 in Dublin, and decided to goad Phillips.
In the dying stages of the game, Phillips clashed with Rob Keaney, which caused the singer to quickly take to his Twitter account to write: "Mike Philips is like a child throwing his toys out of the pram! his attitude is terrible, looks like a right arrogant idiot."
But Phillips didn't take this insult lying down, and responded with: "@NiallOfficial come down to training in the week big boy. Bring the rest of The Beatles with you." Unsurprisingly Phillips then got bombarded with tweets from One Direction's fans, known as the Directioners.
Phillips seemed to have calmed down today, congratulating Ireland on their win and saying he enjoyed a night out after the game with Kearney, who is also a former Lions' team-mate of his.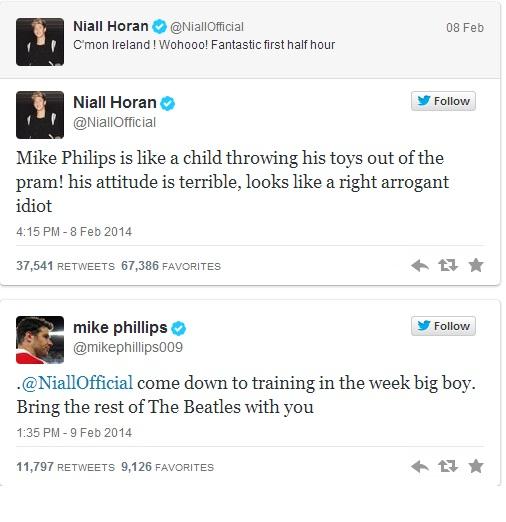 Then Kearney got involved..

While the players are friends in the end, will Niall ever get down to Wales training this week?