Assuming the England boss Stuart Lancaster does not intend to play it ultra-tight against the All Blacks in Auckland next weekend by removing David Wilson from the front row of the scrum and running him at outside-half instead, the No 10 shirt will be worn by one of two men, neither of them especially reliable.
Freddie Burns is an "ideas man" who can have a crowd eating out of his hand while leaving his coach in dire need of a conversation with the Samaritans. Danny Cipriani is even more of a blue-sky thinker – in the popular imagination, at least – and therefore riskier still.
This is not the way Stephen Myler goes about his business. "A huge part of my job is concerned with control," says the Northampton playmaker, goalkicker-in-chief and dyed-in-the-wool straight man. "It's to do with putting the team in the right parts of the field.
"I'm not a particularly flamboyant sort – I'm quite a reserved person and maybe that's reflected in my rugby – but it seems to me that every successful side has a strong element of discipline. In the modern game, the best teams don't simply go out on the pitch and throw the ball around like a bunch of mavericks. I'm happy to play to a plan, to do what's expected. If that means I don't get written about, it doesn't worry me. It's not about column inches."
While it is indisputable that the former rugby league professional has the lowest profile of England's current contenders for the pivot role at international level – for every Proust-length paragraph written about Burns or Cipriani or Owen Farrell or George Ford, only a brief subordinate clause is devoted to Myler – Lancaster has moved him a long way up the pecking order as a result of his admirably consistent performances for the Midlanders. But for the small matter of this afternoon's Premiership final with Saracens at Twickenham, he would certainly be preparing to play a part against New Zealand at Eden Park.
There must be just a hint of frustration at this bone-headed, entirely avoidable fixture clash, surely? "What I'm thinking about right now," Myler responds, caution oozing from every pore, "is one of the biggest games of my career. My focus is on Northampton and them alone, as it has been all season.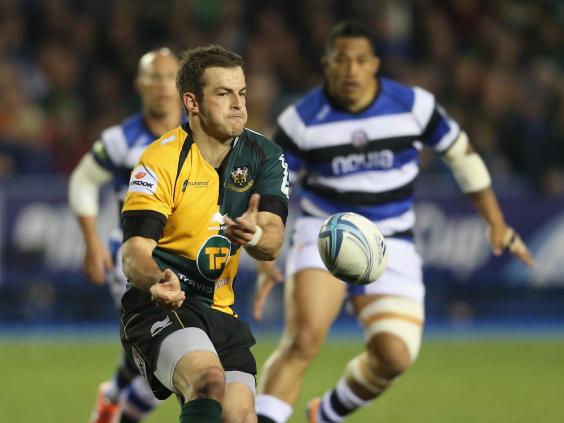 "I can't, and I won't, allow myself any negative thoughts about things that are beyond my control. I'm ambitious to play for England – that's obvious – and yes, this is an unfortunate situation. But I have to be professional about it and concentrate on giving myself 100 per cent to the Northampton cause."
All of which confirms him as a fixed point in club rugby's ever-changing world. A little over five years ago, when he was a relatively fresh ingredient in the Premiership mix and had just been drafted into the second-tier England Saxons squad, Myler told this newspaper he had no intention of being distracted by glittering prizes that were not yet within his reach.
"I'd love to play for my country and I certainly see it as one of my aspirations," he said at the time, "but while it is nice to be recognised by the Saxons, they'll soon derecognise me if I take my eye off the ball at club level. There are a lot of good No 10s out there, which keeps me honest and humble, on my toes and out of my comfort zone. I like the edge it brings to my rugby. But really, the only thing that matters is Northampton."
Far from distracting him, it seems, his subsequent successes have done quite the opposite.
He would not, if truth be told, include last year's Premiership decider against Leicester among his high points. That final is remembered principally for words spoken rather than deeds performed – specifically, a short sentence uttered by Dylan Hartley, the Northampton captain, at a defensive set piece as the interval beckoned. Hartley was sent off by the referee Wayne Barnes, who felt he had been accused of cheating, but events would have unfolded differently had Myler listened to the official's clear and repeated instruction not to send a 22-metre drop-out straight into touch.
When the outside-half turned a deaf ear, he conceded the scrum from which all hell broke loose. "I'll be listening this time," Myler mutters, the softest of self-mocking smiles barely concealing an underlying grimace. "That's all I'm going to say on the matter."
He is, however, more than happy to discuss the peculiar demands of a title challenge that falls into two profoundly unequal parts: a long and arduous regular-season campaign that demands a high level of performance in all winds and weathers, followed by a sharp and brutal play-off phase requiring a completely different mindset.
"The league season was the acid test for our squad and I think we really progressed. We brought through some younger players when the big names were away on Six Nations duty and maintained our standard, which was very satisfying," he says.
"But whether or not you're successful over the 22 games, under this system everything comes down to one game. It's a bit of a funny scenario, but I hope we can complete the job. Not that it will be easy. Saracens are a strong side and we have to assume they'll be at their best. Yes, they lost in the Heineken Cup final last weekend, but I'm sure they're professional enough to overcome that and get back on the right page."
When Myler arrived at Franklin's Gardens in 2006 from the Super League 13-a-siders Salford City Reds – born in Widnes, he had also turned out for his hometown club, as well as St Helens – he fell under the influence of his predecessor Paul Grayson, a fellow northerner whose own playing career had provided him with a Heineken Cup title, a World Cup winner's medal and a reputation as one of the most intelligent game managers in European rugby. "Paul overhauled my technique," Myler says, looking back fondly on the beginnings of his union education.
Now, under Alex King – another unusually thoughtful outside-half keen to carve out a fresh career as a coach – he is learning still.
There are obvious similarities between the three of them. Neither Grayson nor King was exactly electrifying when it came to straight-line speed and Myler shows few signs of transforming himself into Usain Bolt any time soon, but there is more to life at No 10 than turbocharged rampages in broken field. All things considered, it is generally better to think your way through a match than sprint through it.
Myler says he is delighted with the input from King, who moved to the East Midlands at the start of the season after a sound coaching apprenticeship in France with the outstanding Clermont Auvergne, where he found himself working with backs as brilliant as Sitiveni Sivivatu, Wesley Fofana and Morgan Parra.
"Alex has freshened things up," Myler explains. "He's given us new structures and I've enjoyed playing my part in putting them into operation." The results are there in black and white. Northampton topped the try chart in the regular season with 72 touchdowns, a 25 per cent increase on the previous term.
Rather like that Wilkinson chap, who is scheduled to play a final of his own on the far side of the Channel this evening, Myler has no objection to being described as "functional", even if he privately feels that the word sells him short.
"As a matter of fact, I was credited with the most assists in the Premiership last season," he points out. "Nobody seemed to mention it, but I can't say it worried me."
Lancaster will happily settle for a solid, safe-as-houses, error-free contribution against the world champions when Myler, together with the Saracens outside-half Farrell, finally catch up with the England squad next week. Both will be available for the second Test in Dunedin on 14 June, health and fitness willing, and it will be no great surprise if both are involved.
There again, Burns or Cipriani could play the house down at Eden Park and leapfrog both of them. In which case, Myler's view of this God-forsaken fixture clash will darken considerably.
Reuse content