Courtney Lawes has a phrase for the attitude England intend to bring to their Rugby World Cup challenge. "Squeaky clean, it'll be," says the 6ft 7in Northampton Saints lock forward. "Discipline is massive for us. I used to get a bit angry playing, now I am concentrating on what I need to do in the game, how I'm going to make an impact. I don't need to get worked up to make big hits."
Four years ago, at his first World Cup in New Zealand, Lawes had no such sangfroid. He clattered his knee into the Argentinian hooker Mario Ledesma during England's opening pool match in Dunedin, and was cited and banned for two games. Returning for a start against Scotland, followed by demotion to the bench for the abject quarter-final loss to France, his tournament was more or less a write-off. Though he maintains to this day he was hard done by, Lawes has learnt the lesson.
"We know what we've got to avoid doing," he says now, less than a week before his second crack at the global tournament kicks off with Fiji as the opposition at Twickenham, and Wales and Australia to follow at the same venue in thunderclap clashes. With upwards of 40 television cameras trained on the players, and beady-eyed citing commissioners with access to 'smart replay technology' – a zoom tool to magnify incidents here, multiple camera angles synchronised there – any foul play will be pounced on. "Everyone's ready for the officials to clamp down hard," says Lawes.

Now here's the good news, if you are an England supporter or indeed one of Lawes's team-mates, who showed their appreciation with a mass pat on the back when he ripped the ball from Ireland's possession late in last weekend's warm-up friendly.
Squeaky clean or not – and bearing in mind the dismal drink-related headlines created by England in the 2011 World Cup, you can be assured the maxim applies in the pub as much as it does on the pitch – Lawes's signature dish is still on the menu. Think back to the extraordinary 55-35 win over France at Twickenham last March. The French fly-half Jules Plisson was giving a nice comfortable pass off his left hand when – boom! – in came Courtney with a trademark slamming tackle that, even after dozens of similar examples throughout the 26-year-old's career, still catches the observer unawares, because it is coming from a lanky second-row. "Malevolent," one tabloid newspaper called it, trampling over the match officials' verdict in a rush to put the boot in. "Tackle's fair, timing was good," was how the referee Nigel Owens had viewed it.
"I am just trying to get to the fly-half before he passes the ball," Lawes explains, while we chat in a break from England's training at their Surrey hotel. "People get hit after they pass the ball, all the time. You'll see dozens of them, if you go through any game. It's just because the impact is not as big – that's why my tackling is made a big deal of. Ultimately, the referee is there, and he has replays to look at if he wants, and I have never had a yellow or red card for one of those."
To be precise, across his 40 England caps, Lawes has made one trip to the sin bin, in Argentina in 2013, and that was for preventing release of the ball. A point worth making, Courtney? "Exactly," he replies. "Well, I think so, anyway."
While some are keen to brand Lawes as England's "enforcer", the man himself prefers the word "talisman", and in a wishful sense not an arrogant one. He recalls his younger self as "a bit of a nutter really" but it is clear when you explore his upbringing, he was no tearaway – or ever going to be. "My dad's tough, really tough, but chilled, like myself," he says of Linford Lawes, who comes from Jamaica, and used to be a pub doorman. "My family hasn't put pressure on me to achieve something. If they'd done that, I might have shied away from it. I enjoy playing rugby, but I don't get worked up about big games. It's important but not the be-all and end-all."
Lawes's mum Val is a prison officer, currently working part-time on bed watches. "That's when the prisoner needs to go to hospital, maybe overnight," Lawes says. "She takes them and keeps an eye on them." Did he ever worry about his mother, coming home occasionally from her former posting at Wellingborough Prison with bruises? "If it was America, maybe. But I've never thought it was too dangerous. She's never had to deal with a riot or anything."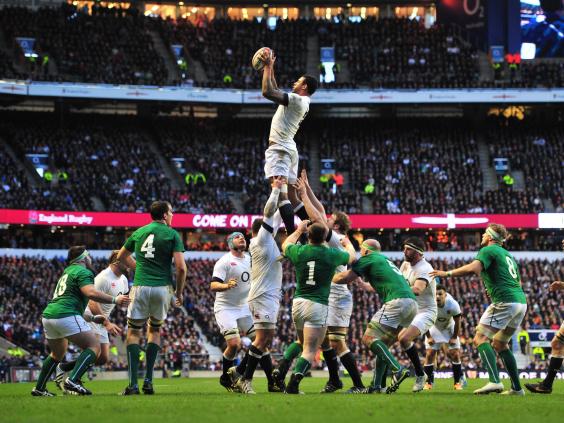 Courtney was born in Hackney in north London, but he was four when the family returned to Val's native East Midlands. He took up rugby at 15 at Northampton School for Boys, and developed lightning fast. Val has spoken warmly of rugby being "a blessing" that came into the lives of an "ordinary" family. "My work life is about discipline and I believe in a structure for my kids, keeping them off the streets, giving them something constructive to do," she said on an RFU series called 'Rugby Roots'. "He [Courtney] absolutely loved playing rugby, the energy of it and the structure."
It has become commonplace to see black or mixed-race faces in the England team; a taboo-smashing transformation from the decades up to the 1980s when there wasn't a single one. No one batted an eyelid when Lawes was front and centre of the recent squad photos publicising a new kit. "It's not even commented on, and that's when you know it's good," he says. "It's to do with the world and the country changing, and acceptance of different cultures. And the more acceptance there is, the more black or mixed-race people will try new sports. Heritage wise, black people are pretty quick and nimble, and that's a big part of rugby. I'm half Jamaican and I am English. Weddings on my dad's side are Caribbean parties, and that's cool, although my sister's was the most recent and I missed it because I was playing rugby."
England have not banned use of Twitter during the World Cup – the message from Stuart Lancaster, the head coach who likes his players to wear their tracksuit hoods down, is "keep it sensible" – and the accounts of Lawes and his fiancée Jessica are full of loving messages and photos of themselves and their children (23-month-old Nelly was joined by Teddy earlier this year). Jessica and Lawes's dad work together renovating houses, while Courtney takes care of rugby business. He has won his last four meetings with Australia, and overall has five wins out of six over those opponents and Wales when he has been in the starting team. He has worked hard on his line-out proficiency, and between him, Joe Launchbury, Geoff Parling and George Kruis, there are few pieces of England's second-row puzzle missing.
On the other hand there is the embarrassing memory of Wales's Scott Williams pinching the ball from Lawes in a Welsh win at Twickenham in 2012. "Wales will try and go through you and if you can't front up, you're in trouble," says Lawes, as he looks ahead. "I don't want to give Wales anything that might get them psyched up. They're clever guys, they're not going to keep trying to smash down the door if everyone is expecting them to."
And Australia? "Much improved," he says. "When we played [and beat] them last year they were in transition. They are very much a different force now, doing far better, especially in the scrum."
Lawes has endured long spells out of the game: six weeks to rest a knee, four months with a stress fracture of the shin, eight weeks with an injured elbow, and most recently 10 weeks' recuperation from an ankle operation last January. His shoulders gave him terrible gyp towards the end of last season. He was limping in the second half against the Irish. "It was only a couple of weeks ago that I went full on again, with a fresh mind about it," he says. England's followers will be crossing their fingers that continues for Courtney Lawes.
Reuse content