As we made our way out of the changing room for the 2003 World Cup final, Martin Johnson led the team, as he always did. I had played with Johnno for Leicester, England and the Lions and I liked to be the next one out, directly behind him. So that's what I did on that November night in Sydney.
Johnno had a well-deserved reputation for being a man of few words but he would always say something to us in those final moments as we were about to make our way on to the pitch. By then the adrenalin would already be pumping and what he said would just be a final battlecry, aimed very directly at our opponents that day, expletives most definitely not deleted.
Over the years, knowing what was coming, I would instinctively put my hand up to protect my face because he used to froth at the mouth and spit. This time, though, was different. I lifted my hand as usual but Johnno looked back and didn't say a word.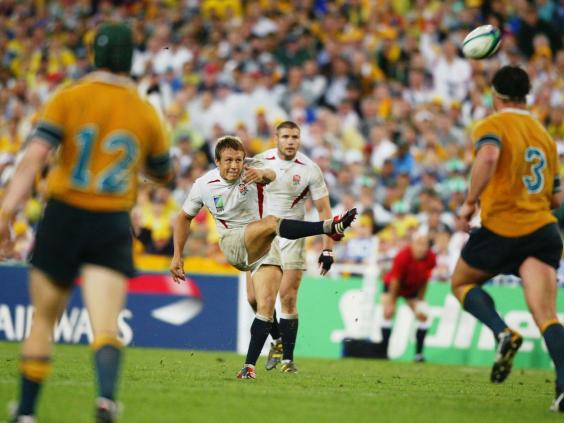 Once the game began, though, there was trouble. We were favourites, having beaten Australia only five months earlier, but this was for the World Cup, on their patch, and we were a try down after just six minutes.
Tactically the Australians had out-thought us. A brilliant cross-field kick isolated Lote Tuqiri, who's 6ft 3in, on Jason Robinson, who's 5ft 8in. Tuqiri wins that match-up and they score. Looking back, I have only one question for them. Why didn't you try it again?
But we didn't panic. There was a reason we were the No 1 team in the world. We'd been down in many games before, including the quarter-final against Wales, and we knew how to come back. By the half-hour mark Jonny Wilkinson has slotted three penalties and we are playing with real fluency.
Then, with a couple of minutes to go before half-time, we win a line-out down the right. It's not the cleanest possession but we keep the ball – Lawrence Dallaglio makes a great break, passes back inside to Jonny, who plays a lovely flat pass out to Jason. Now Jason isn't the fastest player I've ever played with or against, not over 100 yards, but he is the best user of space there's ever been on a rugby field. He has incredible feet and a wonderful sidestep. He's so well-balanced. So many times the tacklers think they can get him but they don't. He glides past them.
That's what it was like in the World Cup final. With five yards to go he knows he's going to score the try – and I knew watching him from across the pitch. You could see in his celebration what it meant to him, especially after conceding that early try. He was pumped and we were back in the match. In fact, we were on top.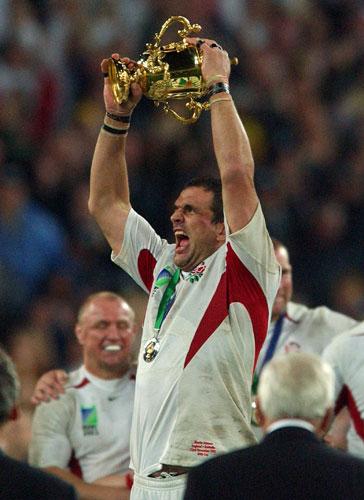 By half-time we were 14-5 ahead and should have won fairly easily from there. But we lost the second half 9-0 and the reason was because we were too good in the scrum. Both our props, Phil Vickery and Trevor Woodman, were playing brilliantly; Phil, in particular, was having his greatest game in an England shirt. Trouble was, he was too good – and the referee, the South African Andre Watson, was penalising us almost every time there was a scrum. Afterwards Watson said words to the effect that he didn't know what was going on at the scrum, but given England's utter dominance he assumed it must be illegal.
Whether this was fair or not, the result was that Australia began making up the deficit. It was incredibly frustrating. The victory we deserved was slipping through our hands.
At full-time we were locked together at 14-14 and it was desperately worrying. We felt we had done enough to win the game, certainly in the first half we had dominated. But the momentum was now with Australia, they were at home – were they destined to steal our glory?
Remembering where I'd come from
For all of us there it was a moment to reflect not just on how near we were to our lifetime's ambition but also how far we had come.
For me that was of a rugby-mad young lad growing up in Coventry. A lad obsessed with driving himself to see how fit and strong he could become, so that he could turn himself into the best rugby player it was possible for him to be.
The 15-year-old who built his own gym in his parents' semi, who trained relentlessly in what was still then an amateur game as he progressed through the teams and clubs until he achieved his first dream by making the first team of mighty Leicester, seven years before the game became a professional sport.
I would try anything and everything if I thought it made me a better player on a Saturday afternoon, not just training and fitness but anything to give me an edge. For instance, I realised that taking caffeine pills just before kick-off really gave me a lift. Not a huge one, but enough to make me feel it. They were quite legal. And I also realised that if I didn't have coffee during the week, that made the pills much more effective. So I gave up coffee. I love coffee, like most people. But if it made me a better player it was worth giving up.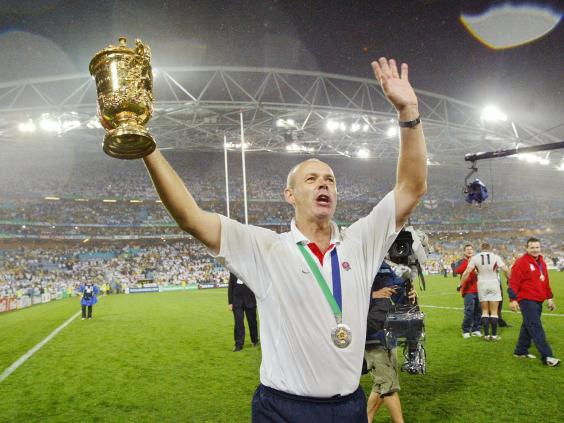 I soon earned a reputation as a fast and effective flanker but at 5ft 10in there were many who felt I was not big enough to play at international level. Unfortunately Jack Rowell and Geoff Cooke, the England coaches of my early and mid-twenties, were two of them.
By the age of 27 I only had a handful of caps, two gained in 1994 and three at the 1995 World Cup out in South Africa.  But everything changed for me when Clive Woodward was made England head coach in 1997. He was the first one in his position in the professional era and everything about him was different – and refreshing.
He didn't just think about the next match – he wanted to think about how far as a group we could go. And he wanted us to aim high. Why shouldn't we aspire to win the World Cup? And if we want to do that, what did we have to do to get there?
And then once he got us thinking like that, he was always throwing it back to us. What are you going to do to be the best? Everything from how we played the game to fitness and diet, to socialising and what we wore during squad sessions. He was in charge but he was always asking us questions. We were all on board for all of that. So for the whole group of us, being on that pitch and playing in the World Cup final was the culmination of years of work and sacrifice. We were not going to throw it all away now, were we?
T-CUP, Zigzag... and then Jonny
During the break Clive and Phil Larder rushed over with key messages for extra-time: play in their half, don't give away penalties.  As players though, our response was, "No shit." We didn't really need those messages.
We were experienced and due to the environment Clive had created we knew what to do. And in the end Johnno eased Clive and Phil out of the huddle so we could just look into each others' eyes and say: "I trust you, we're going to win this." (At this point Jonny slipped out of the circle and went down to the end to practise kicking. He knew what he had to concentrate on.)
So then into extra-time and soon Clive and his coaching team earn their money. Aware of what has happened at the scrums, they take Phil Vickery off, bring Jason Leonard on, and tell him, "Whatever you do, don't give away any penalties."
So Jason, a man with 113 caps, goes over to Watson and says: "Andre, I'm not going to scrummage. I'm not going to go forwards, backwards, up or down. So you cannot penalise me." Not those exact words but words to that effect.  It works. Up to a point. We take the lead with a penalty but with time virtually up they draw level with one of their own.
What happened next was the most vividly memorable sequence of play in all my time playing rugby. We knew that we had 90 seconds to win the World Cup.
We kicked off down the middle, they got the ball, but Lewis Moody applied great pressure (as we have practised a million times) and Mat Rogers miscued his kick. So we get a line-out in their half.
We call a play called Zigzag, a pattern where we work up between the 15-metre lines, down the centre channel of the pitch. But first we had to win the line-out. Now, if you were throwing into a line-out to win the World Cup, where would you throw the ball to guarantee possession?
To the front to Johnno, our captain? A bit further to the middle to Benny Kay, to our line-out caller and one of our best line-out jumpers? Or 15 metres to the back and Lewis Moody, now on for Hilly?
The call was made by Benny, who had earlier fluffed a great chance to score a try in the first half. And Benny did exactly what Clive wanted him to do. T-CUP. Think Correctly Under Pressure. Benny called the line-out to go to the back – the hardest throw there is. But it was the right one because Australia marked front and middle.
It wasn't the perfect throw, and Lawrence and I lifted Moodus (Moody) at the back, and that wasn't perfect either. But it was good enough and we moved the ball quickly and smashed the ball up the middle of the pitch through Matt Dawson, JW with a short pop pass to Catty (Mike Catt). We all knew our roles, supporting the man with the ball. We'd done it so many times in practice. Now, Jonny's in the pocket. Waiting.
But they're putting pressure on the breakdown, of course they know what we want to do. Daws saw that. They were creeping offside, but we weren't going to get a penalty from this ref so Daws dummies the obvious pass to JW in the pocket and makes a break, and he gets us a bit closer.
Again we all know our roles in supporting the man and suddenly I find myself at scrum-half. Now I could have passed it to Jonny. I was confident in my passing skills. But Clive had drummed into us the need to have the best people in the best positions, so I see Johnno trundling up and I pop the ball to him.
He made about an inch of ground. People say a yard but I was there. It was nearer to an inch.
But the key thing was that it gave us a cleaner ball and most importantly enabled Daws to get in position to pass back to Jonny.
So the ball went back to Jonny… It was on his wrong foot and people forget he'd already missed three drop goals in that final, but he nails this one. We're ahead!
But you watch what happens now. Not one of us celebrates as if the job is done. We look at the clock and know there's 20 seconds left and they have a restart. So to a man we are rushing back into positions. And I give the Aussies full credit with their kick-off. They kick off short and down the middle of the pitch and pick out Trevor Woodman, a prop who has been on the pitch the entire game. If anyone was maybe going to be fatigued and potentially going to knock it on, it would be one of your front-rowers.
And I give Woody  as much credit as anyone, including Jonny, for us winning the Cup. He catches the ball cleanly, we swarm to create a ruck to retain possession and Catty kicks the ball deep into the seats, Watson blows the final whistle and it's over.
We've won the World Cup.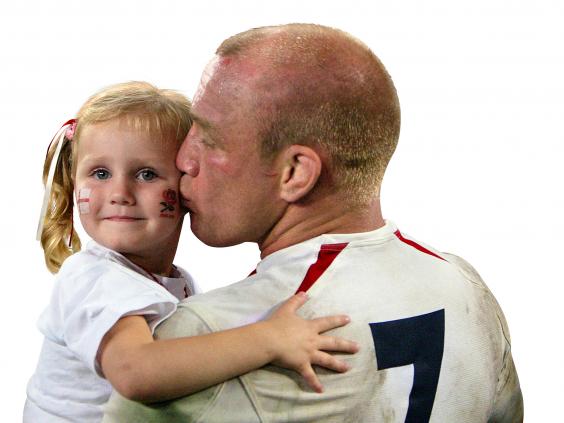 The celebrations afterwards are a bit of a blur. I remember Moodus telling Tessa Jowell to get out of the dressing room (though he didn't use those exact words). You don't need politicians at moments like this. Prince Harry was there.
And your mind goes immediately to all the people that are important to you, that have helped you get there and to the efforts you've made to get to this one point. The hard work. The sacrifices – not just that you've made but the ones everyone around you has made too. As soon as I could I went to find my family. They were all there: my wife Ali, daughter Olivia, who was four, and son Fin, who was just 14 months.
I plucked Olivia out of the crowd. She'd been a mascot at Leicester, she knew what was happening. She loved it. But Fin didn't know me. There I was battered and bruised and he hadn't seen me for weeks. He didn't know what was happening and he didn't want to be there.
That really hit home, the sacrifices my family had made for me to be there (just as with every other person within that squad, players and management).
But it was still a special moment. In my family we have a phrase when you achieve something. You've Only Gone And Done It. Those were the words going through my head then and they were the first words I said to Ali when I saw her in the crowd. "We've only gone and done it."
Afterwards everything takes ages but finally we got to celebrate together. It was worth the wait. It lasted a few days. That was special. Then a couple of weeks later I remember talking to Johnno – and asking him why, for the World Cup final, for the first time ever, he hadn't said anything as we made our way on to the pitch. "I looked into everyone's eyes, Backy," he said, "and I knew I didn't need to say anything. We were ready."
That was the best bit of leadership I've ever experienced.
Reuse content