A track and field athlete from Canada by the name of Bruce Kidd once argued against the idea that moral values have a place in sport. "After all," he said, "sport isn't Lent. It's a pleasure of the flesh."
Had he spent a little time playing rugby alongside Steve Borthwick – or, better still, being captained by him – Kidd would have realised that he was only half-right, at best. Borthwick may or may not have a greater moral compass than the average second-row troglodyte, but not even his worst enemy would deny that he is a man of strong values.
Many of those who have coached the Saracens skipper – Andy Robinson and Brian Ashton; Eddie Jones and Brendan Venter and Mark McCall – swear blind that he is the most dedicated professional player they have ever encountered, give or take the odd Jonny Wilkinson. International-class club-mates past and present – Olly Barkley and Matt Stevens; David Strettle and Jacques Burger – say the same kind of thing.
Danny Grewcock, the Lions Test lock who partnered Borthwick at Bath, once said: "When I was made captain there, all I ever did was run out first with the mascot. As soon as the game kicked off, I left all the decisions to Steve. Things that would have taken me a fortnight to spot registered with him in seconds."
Like Wilkinson, not to mention another modern-day titan in the shape of the great Irish centre Brian O'Driscoll, the 34-year-old Cumbrian calls time on his playing career tomorrow. All three will make their exits in front of a full house on grand final day, which is as it should be: if Borthwick is the last person on earth to bracket himself with two of world rugby's stellar acts, those who know him well flatly refuse to believe that anyone ever gave more of himself to the union cause.
His reaction to defeat by a Wilkinson-led Toulon in last weekend's Heineken Cup final at the Millennium Stadium was wholly typical. "The first thing I said to the players afterwards," he recalled this week, "was a big 'thank you'. I thanked them for the huge effort they'd put in, for the physicality and intensity they had showed throughout the game, and told them that they'd made me proud.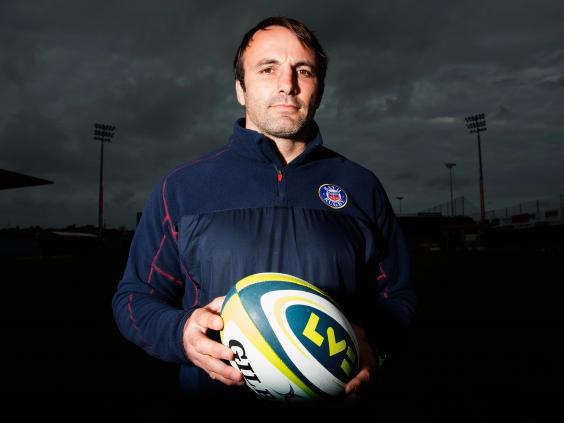 "The second thing I did was remind them that they always respond well to whatever happens to them, good or bad, and they'd be stronger for the experience. I can't predict what the result will be in this last game of the season, but I think I'll be proved right on that point."
Tomorrow's meeting with Northampton in the Premiership final will ask an enormous amount of Saracens as they lick their Heineken Cup wounds and demand even more of Borthwick, who is struggling with a damaged pectoral muscle. There again, worse things have happened at sea. Passed over for Lions duty in 2009 while captain of England – a miserable fate previously suffered by the Bath centre Phil de Glanville and, subsequently, by the Harlequins flanker Chris Robshaw – he was then summarily dumped by the red rose manager Martin Johnson: a spectacularly crass selection decision, even by the lamentable standards of the time.
In addition, there was the rough treatment he received from those in the media who turned against him primarily because he revealed so little of himself in press conferences during his tour of duty as national captain – a reaction that said far more about the petty-mindedness of the critics than it said about Borthwick.
He was, to any fair-minded observer, the outstanding line-out forward in the northern hemisphere and a leader of complete integrity, yet somehow this was an irrelevance to those more interested in a cheap headline.
Yet even now, at a moment when home truths cry out to be told, Borthwick cannot bring himself to bemoan his lot in public. "I managed to play for my country, which was all I'd wanted to do from the age of 14, and I was able to captain my country," he said. "Why would I ever want to talk in a derogatory way about something like that? To me, representing England was an incredible privilege.
"In the same way, I feel privileged to have been involved in this sport from a very young age, although professional rugby comes with certain pressures attached to it and those pressures take their toll. Do I feel a sense of fulfilment now that things are drawing to a close? Yes, definitely. I'm content with where I am and with the decision I've made: I've played for two great clubs in Bath and Saracens and I believe I earned the respect of my team-mates in both cases. The bonds you form with your colleagues are what makes the game worthwhile and while there have been some costs along the way, I don't bat an eyelid over them now. I'd happily go back and do it all over again."
Instead, he will drive himself forward into a new career, as assistant coach to the Japan national side. He informed Saracens of his decision some months ago – "I wanted to do right by the club; it would have been pretty poor of me to wait until the end of the season and say 'thanks, but I don't want to play any more'" – but made it abundantly clear that for the remainder of his active career, he would do everything in his power to put some silverware in the trophy cabinet. "They've always known they'll have everything of me until the moment I stop," he said.
Would victory tomorrow be his crowning achievement? Where would a second Premiership title, to go with the one he helped secure in 2011, rank in the final reckoning? "That's a really difficult question," he replied. "How do you make comparisons? I could talk to you about my final game for Bath, when we won the European Challenge Cup; about captaining England; about the 2011 victory. What I want, more than anything, is for this team to taste success and enjoy it. That's what motivates me.
"I never claimed to be perfect, but I believe my team-mates know how much I want to play well for them. I hope so, at least, because they're the ones who matter. As long as they think the world of me, I'm happy."
Borthwick's career factfile
Born 12 October 1979, Carlisle
Club career
1998-2008 Bath
2008-14 Saracens
International career
57 caps for England (10 points)
Debut v France, Twickenham, April 2001
Captain 21 matches between 2008-10 (winning 45.23%).
Trophies
2001 Six Nations
2008 European Challenge Cup
2011 Premiership
* Holds the record (264) for most Premiership appearances.
* Only Chris Robshaw has led England on more occasions in the last decade. Helped England to 2007 World Cup final.
* Left out of the 2009 British & Irish Lions touring party to South Africa, despite being England captain at the time.
Reuse content