Matthew Morgan, a 5ft 7in Lilliputian who will make his first international start for Wales at the Millennium Stadium this afternoon against an aggressive bunch of Gullivers from Fiji, was understandably reluctant to go into detail about the precise nature of his team's celebration after last weekend's famous victory over the bloody English. "Use your imagination," he said with a grin, as evasive in conversation as he is with ball in hand.
The problem from the Red Dragon point of view is that for all their heroics at Twickenham, it is all too easy for them to imagine things going wrong against the men from the South Seas. It was Fiji who knocked them out of the 2007 World Cup in France; it was Fiji who went within an ace of beating them in Cardiff in 2005; it was Fiji who chiselled out a 16-16 draw at the same venue in 2010. The last time the two nations met, less than a year ago under the Millennium Stadium roof, there were only four points in it come the final whistle. All things considered, Welsh players would rather go down on bended knee and kiss the hand of Will Carling than meet this bunch on a good day.
Throw in the ward-full of injuries suffered by Wales in recent days and weeks and it is not wholly ridiculous for Stuart Lancaster and the rest of the England hierarchy to hope for some Fijian largesse. If the Welsh win, the hosts will be one defeat by Australia – hardly a long-odds possibility – away from being dumped out of their own tournament. If the Welsh lose, all bets will be off. 
But there are three good reasons to think that the 2011 semi-finalists will prevail this time. For one thing, Wales are playing the Pacific islanders in front of their own supporters, thanks to a strange quirk of fixture planning that handed host nation status to a non-host nation, just for the day. For another, Fiji must perform without two of their star turns, the incapacitated scrum-half Niko Matawalu and the suspended wing Nemani Nadolo.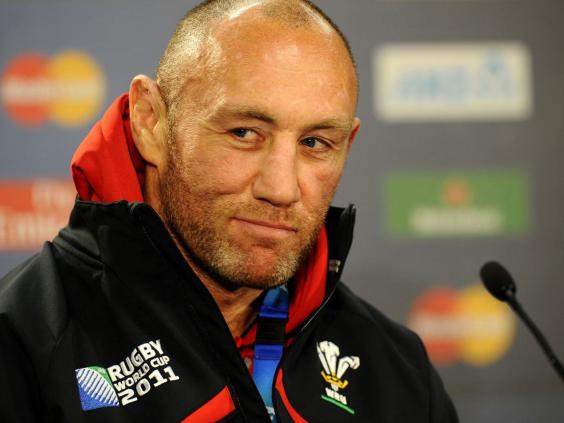 And the third bonus? The wave of positivity washing over the Welsh camp. They do not so much feel as though they're standing on top of the world as gliding above it. Warren Gatland, their head coach, may have felt the need to focus the minds of his jubilant players by threatening them with the push if they trained poorly in the short turnaround from the England game, but if ever a coach looked like the cat with the cream yesterday, it was the former All Black hooker. He even suggested that last Saturday's triumph topped the British & Irish Lions' victory in the series decider with the Wallabies in Sydney a little over two years ago – the game for which he committed heresy by dropping the great centre Brian O'Driscoll, only to be fully vindicated by events.
Spooling back a little further to the last global tournament, Wales drew heavily on their fitness to emerge from a tough group and play themselves into the final weekend of the competition. They think they see a parallel here. "The resolve and the experience gathered over the last four years is important to us," said Robin McBryde, the forwards coach. "You don't need to look beyond last week at Twickenham to see the level of resilience in the team. Slowly, the momentum is building.
"Four years ago in New Zealand, we had consistency and built up a head of steam. It's the same again now: the players know what works for them, both as individuals and as a team. We're not taking anything lightly, though – we're paying Fiji huge respect. We had a huge result last weekend and we've put ourselves in a good position, but it's nothing more than that."
If there is a potential pitfall for Wales, it is the risk of ever more casualties. They have already lost almost an entire international-class back division – Leigh Halfpenny, Hallam Amos, Jonathan Davies, Scott Williams and Rhys Webb are all out of the tournament, while Liam Williams is working his way through the concussion management protocols – and another couple of breakages, always possible when the Fijians are in town, will just about finish them off.
"Are we worried about where the next injury is coming from? There is that," McBryde acknowledged. "We've been unlucky so far, but not one of the injuries had happened on the training field. That's because we don't go about it half-arsed. Injuries often happen when there's a grey area in terms of intensity – when players are told to train at 50 per cent or 70 per cent. All you need then is for someone aggrieved at not being in the team to go a little harder…
"It's why Warren gave such a clear message to the squad after the England game that anyone not giving their all in training, anyone who allowed their GPS readings to fall off, would be substituted."
Danger lurks for Wales. The Fijians are playing their best rugby in years and they have a knowing coach in John McKee, who believes, not unreasonably, that his side deserved more from their resourceful performances against England and Australia than they took. 
"There is a feeling of disappointment," he admitted, "but the spirit is high. This is an important game for Wales, but it's important for us too. We believe we've picked a strong team well suited to playing against these opponents."
Reuse content