It may have appeared perverse on Warren Gatland's part to have his injury-hit squad presented with their jerseys for the midweek win over Fiji by two players on crutches, but it would be a grave error to misread anything done by Wales's head coach as ill-considered or emotionally flawed.
"There is no sense of grievance here," Gatland told the assembled company, which he had limited deliberately to the 23 players for the match, his quartet of assistant coaches and the unfortunate Rhys Webb and Leigh Halfpenny, whose ankle and knee injuries respectively removed them from the World Cup just before it started. "All I want you to know is: we are fighting for us, and we are fighting for them." 
The message had been the same before Wales's outstandingly obdurate 28-25 defeat of England at Twickenham four days beforehand, when the families of the players and coaches were collected by bus in the Vale of Glamorgan and taken to join the squad for lunch at the team hotel in Weybridge. 
And it was reiterated after the Fiji game, in Gatland's comments about Wales's character. "You're not playing for yourself, but for your team-mates, your family and your nation," he said. "That's what drives people on to do something special."
This character will be tested anew next Saturday when Wales's World Cup quarter-final destiny will be on the line against Australia – opponents they have lost the last 10 meetings with, all under Gatland who succeeded the sacked Gareth Jenkins after the ignominious World Cup exit at the hands of Fiji in 2007. 
Wales have lost to injury an entire team of backs – Halfpenny, Webb, Jonathan Davies, Scott Williams, Cory Allen, Hallam Amos and Eli Walker. George North and Alex Cuthbert are Wales's only two fit wings, although the prop Paul James is on the mend, and Samson Lee's improving fitness is further bolstering the front row.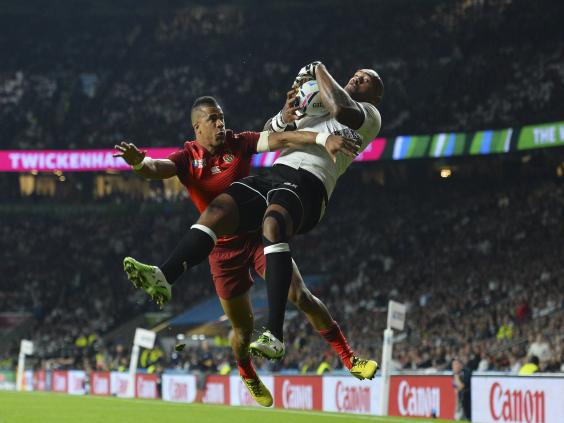 Just two weeks into the World Cup, Gatland was therefore relatively sanguine to report after the Fiji match that Dan Biggar – the fly-half yet to miss in 13 kicks at goal – was waylaid by nothing worse than cramp, and the other knocks suffered in the match were limited to Dan Lydiate taking a bang on the eye socket, Matthew Morgan's "blurred vision…probably through exhaustion" and Bradley Davies's nose still dripping blood on to reporters' notebooks an hour after the final whistle. 
Playing in Cardiff in a World Cup entitled "England 2015" had given an exhausted Wales an intravenous dose of hwyl and home comforts: Stereophonics and 'Delilah' over the sound system, and highlights of the win over England on the big screens.
So training should be fairly normal this week, after a weekend Gatland is spending with his wife Trudi and their daughter Gabby, over from their native New Zealand, in the apartment he owns on the estate around Wales's training base, the plush Vale Resort near Cardiff. The Gatlands' 20-year-old son Bryn is making his way in the Waikato Chiefs' rugby academy in Hamilton. Gatland Snr's 20 years spent at the sharp end of Test match or top-level club rugby with Connacht and Ireland, Wasps and Waikato, Wales and the Lions, has meant his family are used to spending weeks or months apart. Another reason to emphasise family now.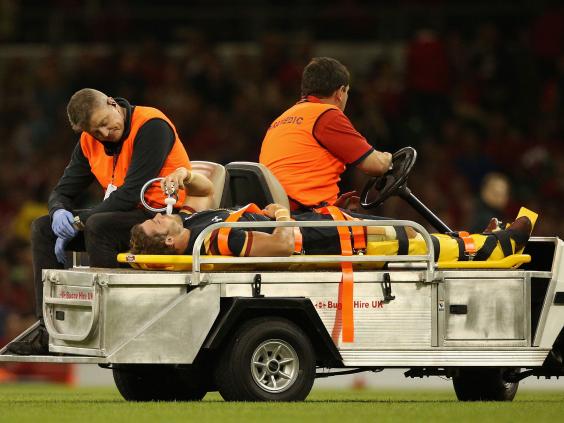 But Gatland the wandering Kiwi is not just winging this on sentiment. Examples of his attention to detail include telling the players they had been "rewarded" with three days off leading into the August warm-up win in Ireland, when in fact it was preparation for the same schedule pre-England; or inserting a midweek match in Port Elizabeth into last year's South Africa tour and concluding from the poor outcome that he would need the first-choice team to play against both England and Fiji now, however tired it made them. 
Gatland took Wales to Switzerland and Qatar this summer while sparing them a planned trip to Poland as an apparent treat. He once pioneered the use of cryotherapy – the ultimate in hot-and-cold treatment – in rugby.
"Warren is right up there with the All Blacks coaches," was the observation in midweek from Craig Dowd, the 60-cap New Zealand prop who played for Wasps, while Neil Jenkins, Wales's record points-scorer and their assistant coach in charge of kicking, said: "He's always making people think, that's what I enjoy about 'Gats'. And something you can't say about all head coaches is that he knows something about everything – about kicking and the kicking game, forward play obviously, attack, defence… He's a very intelligent coach and good to be around." 
Tom Francis, the Exeter prop and a newcomer to the Wales squad, said this on Thursday night: "He's an all-seeing person, he observes everything. He's straight-talking, tells you how it is, no bullshit." And Alun Wyn Jones, the mighty second row at the other end of the experience chart with 98 Wales and Lions caps, said: "Warren's astute in the people he's got around him. Simplicity is a beautiful thing and that's what we have in parts of our game. When we get it right, it's really effective. When we don't, we put ourselves under pressure."
The Gatland style has been called "Warrenball", by critics and admirers alike. Currently the line-out maul is looking good, the scrum not so hot, but these aspects and ball-handlers running hard around the fringes, a blitz defence and players urged to go wide when the chance is on are all familiar features. Gatland's selection in 2011 of Sam Warburton, then aged 22, to captain his side raised eyebrows at the time but has since only ever looked an inspired choice. 
Gatland has never been afraid to make big decisions, most famously (as head coach to the British and Irish Lions) the non-selection of Brian O'Driscoll for the victorious Third Test against Australia in 2013. It caused a storm of outrage, but the great centre was being outperformed by Davies and Jamie Roberts. Gatland was vindicated as his side won that Test with something to spare.
He doesn't always get it right, of course. He was assistant to the beaten Lions in 2009; his Wales have won and lost in Six Nations Championships, even Wasps had blips despite being spectacularly successful in the Premiership and European Cup. 
One ruse I heard about only recently was that on Gatland's first tour as an international coach, with Ireland to South Africa in 1998, he made his players wear spray tan to look more the part of athletes. As to what might work against Australia after a string of horrible near misses? "Our leaders need to get the team to come alive at crucial points," said Jenkins. "Getting a long way in front would help."
Like every Test coach, Gatland receives cuttings of newspaper reports. Almost all mentions of his "mind games" anger him. He sees his answers as statements of the truth, not twists of facts. There was one line this week which must have delighted  him. Gordon D'Arcy, the former Ireland centre, critiqued England v Wales and used one shining sentence about Gatland's team: "They trust their creativity to the end." 
Gatland has said publicly he will return one day to New Zealand. The All Blacks job? It must be a goal. More immediately, Dowd pinpointed a fascinating sub-plot to Wales's World Cup progress. Roger Lewis, the Welsh Rugby Union chief executive who helped appoint Gatland, is leaving this month, to be succeeded by Martyn Phillips. Although Gatland was instrumental in 12 players being placed on revolutionary national dual contracts, and there are four years left on his WRU contract, he may just see the change at the top as unsettling. 
Dowd watched Gatland's uncharacterically exuberant celebrations at Twickenham and wrote: "Had Wales lost that game, and faced not qualifying out of the pool, he was probably going to see someone in that management group face the axe." It may or may not cast light on the scene in the post-match gloaming of the Twickenham car park, as Gatland was hugged by two joyous ladies – Mrs McBryde and Mrs Howley, the wives of Robin and Rob, the forwards and backs coaches.
On Friday morning at the Vale hotel, as the remnants of the squad departed for their short break, mist hung softly in the hollows of the adjacent golf course, waiting to be burnt off by the sun that has shone on most of this Rugby World Cup to date. A season of mellow fruitfulness for Warren Gatland and Wales? The next week will go a long way to deciding.
Reuse content