Wasps must have been relishing Sunday's outing in the way David Cameron might look forward to a foaming pint of Old Gutbucket with Nigel Farage.
There were hot rumours of planned protests by their own supporters at the decision to up sticks and move to Coventry; they were facing the most electrifying attacking side in the land; and they lost Joe Launchbury, their England lock, to a minor car accident a couple of hours before kick-off.
Which just goes to show what a touch of adversity can do for a team.
Protests? There weren't any: one miserable banner in the main stand was hardly rugby's version of the storming of the Bastille.
Bath? They were emasculated by the Wasps forwards, who had themselves a ball at scrum time and were every bit as impressive in the loose.
Launchbury? The home side did not miss him, which says plenty about the effectiveness of James Gaskell and Bradley Davies on their first boilerhouse outing together.
The fact that Wasps gave the West Countrymen such a shellacking at the set-piece will be of concern to the England coaches, as well as the Bath ones. Three of the visiting tight forwards – David Wilson, Rob Webber and Dave Attwood – are certainties to feature in the red-rose squad for next month's international series and the sight of them being driven backwards at the speed of sound was not what Stuart Lancaster and his national hierarchy expected. Still less wanted.
"You can't do anything without set-piece ball, no matter who you have in your back division, and we really struggled in that department," acknowledged Mike Ford, the Bath head coach. "The Wasps forwards wanted it more, I think. They'd gone through a pretty emotional week, while we weren't quite there."
It was a damning indictment: generally speaking, coaches would rather eat their own children than admit to coming second in the desire stakes.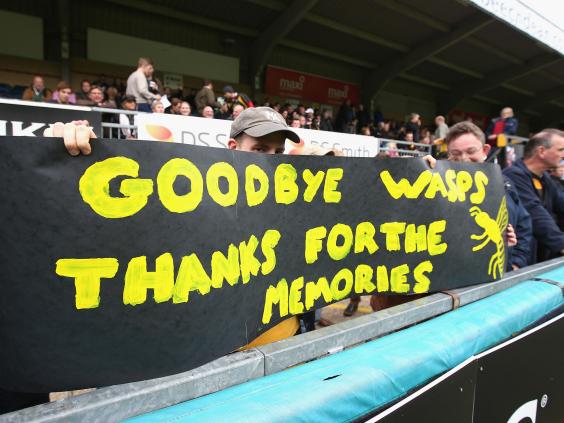 The superiority established by Matt Mullan, Carlo Festuccia and Lorenzo Cittadini in the Wasps front row had to be seen to be believed, especially as Bath pride themselves on their "world-class scrum". The visitors were not even village class on this occasion, and with the aggressive Davies snorting away like an entire herd of buffalo in the home side's engine room, even a player in such blinding form as Attwood found it impossible to straighten things out.
Elliot Daly's penalty with the last kick of the opening period was symptomatic of the way the game was unfolding. Wasps were already a dozen points up when the Bath scrum disintegrated for the umpteenth time, and the centre made it 15-0 with a  jaw-dropping strike from his own half.
Before the game was very much older, that gap had stretched to 29 points. Bath were down to 13 men, Wilson and the No 8 Leroy Houston being incarcerated in the cooler for illegal assaults on Nathan Hughes and Joe Simpson, when Daly's sly little kick on the run gave Christian Wade a sniff of the goal-line. Mickey Young tackled the wing a couple of seconds too early and was just joining his colleagues in a crowded sin bin as Andy Goode converted the inevitable penalty try.
By way of variety, Bath then messed up a line-out. James Haskell, a commanding presence, accepted the free gift before freeing Ashley Johnson on the stampede and when the blind-side flanker found Sailosi Tagicakibau with an off-load of characteristic subtlety, there were not enough West Countrymen in the defensive line to lay a meaningful finger on the ultra-rapid Samoan.
If Wasps supporters were rubbing their eyes in disbelief, they had a cold splash of reality awaiting them.
As the likes of Davies, Cittadini and Johnson tired, Bath set about turning the tables up front with a fresh front row and a dynamic back-row presence in the shape of David Sisi. Three tries came their way in the final half-hour, each of them more clean-cut than the last.
"I have no issues with what we do in attack," Ford said with a roll of the eyes. "It's just that there are three or four things we need to do well before that side of our game comes into play."
At least the West Countrymen found a way back into the game and made a contest of it – a contest so captivating, and in front of a season's best audience to boot, that it was tempting to wonder why Wasps could never make Premiership rugby work for them at Adams Park.
As Haskell said afterwards: "The supporters were wonderful. If we announce another stadium move next week, maybe we'll pull in another big crowd."
It was a decent joke, but as Nick Eastwood, the club's chief executive, pointed out to anyone who was listening, the furore surrounding the Coventry move had been no laughing matter.
Yet by the end, Eastwood was relieved at the way things had turned out, both on and off the field. "It's been about hearts and minds," he said. "In the 24 hours after the confirmation of the Coventry deal, we had supporters speaking from the heart.
"Once we'd gone through it with them, there was real understanding. We had two options: we could have stayed where we were, lost a shedload of money and prayed for a miracle – a one-way ticket to going bust, basically – or we could move.
"Once we decided to move, the Ricoh Arena option in Coventry was our best option by a country mile. There just wasn't a realistic chance of finding a home of our own in or around London. If Roman Abramovich can't find Chelsea a bigger stadium, even with his money..."
Scorers:
Wasps – Tries: Penalty try, Tagicakibau. Conversions: Goode 2. Penalties: Goode 4, Daly.
Bath – Tries: Joseph, Young, Sisi. Conversions: Ford 2. Penalty: Ford. 
Wasps: A Masi; S Tagicakibau, E Daly, A Leiua (C Bell 60), C Wade; A Goode (R Miller 71), J Simpson; M Mullan (J Yapp 73), C Festuccia, L Cittadini (J Cooper-Woolley 60), J Gaskell, B Davies (S Jones 65), A Johnson (E Jackson 70), J Haskell (capt), N Hughes (T Lindsay 75).
Bath: G Henson; S Rokoduguni, J Joseph, K Eastmond, A Watson; G Ford, C Cook (M Young h-t); P James, R Webber (R Batty 48), D Wilson (H Thomas 46)  S Hooper (capt, D Day 50), D Attwood, A Fa'osiliva (O Devoto 74), G Mercer (D Sisi 64), L Houston.
Referee: J P Doyle (London).
Reuse content