What better place to launch your bid to conquer the summit of world rugby than in the Swiss Alps? If Wales are to win this autumn's World Cup, then they have stolen a march on their rivals by kicking off their preparations high in the mountains.
England, among their opponents in the "pool of death", looked to do something similar in Colorado, though are based 700m lower than Wales and the so-called "optimal altitude" for such undertakings. Warren Gatland hopes it is a precursor for what will happen in Pool A.
Tellingly England have dropped the word "altitude" from all correspondence regarding the Denver camp while Wales are shouting it from the mountain tops.
At least they would if they were not so out of breath. If Wales fail to qualify past Australia and Fiji as well, it won't be for any lack of effort.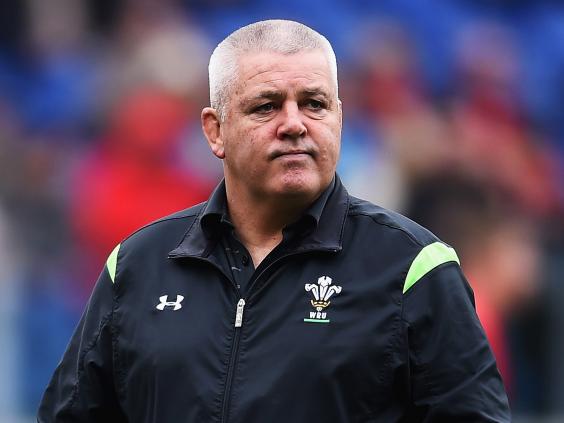 In the shadow of the Eggishorn glacier, Fiesche is an idyllic chocolate-box village but looks are deceiving. Amid the hikers, Gatland is beginning the process of pushing his players to "dark places", before building them back up stronger than ever.
At 2,250m, even the most diligent trainers such as Sam Warburton and Leigh Halfpenny struggle to catch their breath just climbing the steps of their basic chalets. The plan is to have their opponents in the same state come September.
It worked four years ago when a youthful and vibrant Wales took the 2011 World Cup by storm and came within inches – and a red card – of reaching their first final. This time Wales are starting from a far higher level, both in a rugby and fitness sense.
At that altitude and with temperatures touching 34C, sleeping – sometimes three to a room – is difficult.
The "Fat Club", those more hefty members of the squad, are first to descend with the cable car to the town's football ground, with rugby posts borrowed from Sierre RC, 40 miles away, where the hard work begins.
It is gruelling work: power and endurance sessions involving truck tyres, ropes and sledges are followed by skills work while fighting fatigue. The emphasis remains on including a rugby ball in all they do. Wales are striving for better rugby players, not gym monkeys.
Lunch is back up the mountain: the squad is consuming more than 15kg of meat every day, before a second – and possibly a third – weights and rugby session in the scorching afternoon sun.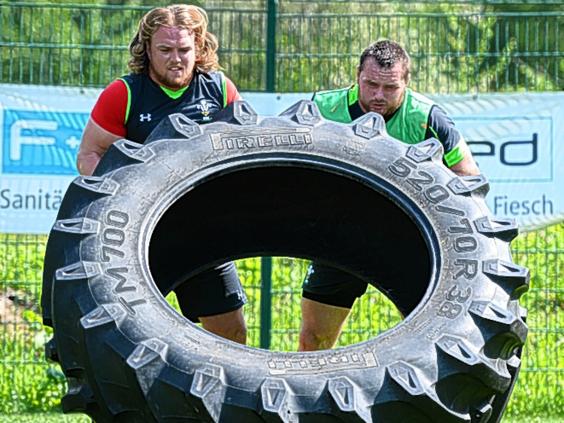 Even for those who were part of Gatland's notorious camps in Poland before the 2011 tournament, the punishment is unprecedented.
"I've never trained to this intensity before. Four years ago in Spala was tough but just when you think these sessions can't get any harder, they do," said the centre, Scott Williams.
"When we got to the semi-final four years ago, we all looked back at the work we had done and realised it was worth every bit.
"Whoever you were stood next to, you knew they had been through the same dark places you experienced in training, so everyone is willing to go that extra bit. When you think you can't go on, you just have to. The camaraderie that comes from that is unbelievable."
The idea is that the body produces more red blood cells at altitude because it works harder, even while resting, giving players more energy when they play at ground level.
But that does not save players from the short-term pain. Wales will repeat the process next week in Qatar, where they will spend nine days sleeping in hypoxic chambers that replicate conditions up to 4,500m, almost the height of Mont Blanc.
"I didn't think I would notice the altitude but you can feel the lack of oxygen in the air even when just lying in bed," said Williams.
"You have to catch your breath just climbing the stairs. Even the training ground is at 1,200m, which is still pretty high. And then there is the heat. It's a real suntrap between those mountains."
The training is not the only thing to have changed for Williams. He had yet to start a Test match when he travelled to New Zealand more in hope than expectation. Now following the loss of Jonathan Davies and Wales' midfield partnership, the 24-year-old will combine with Jamie Roberts.
"It's very different for me this time. Coming into the training camp in 2011, I was very young and probably fifth or sixth-choice centre. But I kept my head down, trained hard and it paid off when I pushed my way in.
"I like to think I played my part then in how well the boys in front of me played because I pushed as hard as I could. That brings out the best in any player and is behind everything we do in training. Everyone wants to get one over the others.
"Now I've got a chance but there are really strong young lads like Tyler Morgan, Cory Allen and Jack Dixon coming through.
"I prefer playing at 12, which is where I normally play, but I really don't mind wearing 13, if it gets me in the team. After the first phase, the numbers are off and you just play what's in front of you."
Williams has rarely failed to make the most of his opportunities: his match-winning try off the bench at Twickenham helped Wales to the Grand Slam in 2012.
However, he knows this autumn should be his big chance and he was running along the beach at seven o'clock every morning during his honeymoon in Tenerife last month. His new room-mate is a little less appealing.
"I'm rooming with George North. He's actually quite tidy and thankfully he doesn't snore," said Williams. "But boy can he eat! I'm trying to keep up because I'd like to put a bit of weight on but he eats a lot."
Reuse content