If Andy Murray loses his Aegon Championships quarter-final to Luxembourg's Gilles Müller here, at least one of his friends will be happy. Britain's Jamie Delgado, who enjoyed a long if modest career before retiring last year at 37, coaches Müller and was in his corner as the world No 48 enjoyed one of his best victories, beating Grigor Dimitrov, the defending champion, 6-4, 7-6. Murray reached the last eight with a 7-5, 6-4 victory over Fernando Verdasco.
At the age of 32 Müller has been in the best form of his career, for which he gives much credit to his British coach, who has been working with him for just over a year. "He's definitely a great coach because he knows a lot," Müller said.
Since finishing 2013 at  No 368 in the world rankings after missing the second half of the year with injury, Müller has climbed back into the top 50. He had never gone beyond the second round in five previous appearances here, but has built on his good run last week in 's-Hertogenbosch, where he made the semi-finals.
Meanwhile the defeat rounded off a disappointing 12 months for Dimitrov, who has not won a title since his triumph here last year.
In the past Delgado has watched Murray's matches from his player box as a friend, while Müller first got to know the Scot when they trained together in Barcelona. The two practise together regularly and have spent more time in each other's company through the Delgado connection.
"Jamie is very knowledgeable about the game," Murray said. "He loves tennis. He's obviously been on the tour himself for a long time. He's done a very good job with Gilles."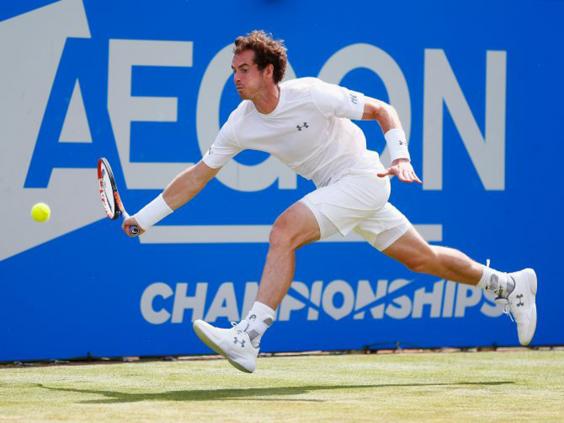 Murray said it was unfortunate that British coaches like Delgado and Iain Hughes, who works with Elina Svitolina, had not been given the chance to coach some of the better up-and-coming British players.
Does Müller believe that Delgado can mastermind a victory over Murray, who has won all three of their previous meetings? "At the end of the day I'm the one standing on the court," Müller said. "He can give me some tips, but everyone knows Andy is a great player. He's been playing really well, especially this year. I think he's back to where he was when he was winning Grand Slams."
Murray was happy with his performance against Verdasco, who gave the Scot his biggest test en route to his Wimbledon title two years ago by winning the first two sets of their quarter-final.
This time the Spaniard was on the back foot from the start as he lost the first three games. Verdasco quickly retrieved the break, but at 5-6 he faltered again. Having saved the first two set points he netted a forehand on the third.
Murray served his way out of trouble at 0-40 down in the third game of the second set before Verdasco dug his own grave serving at 4-5. After three double faults in the game – making it 10 in the match – the world No 42 missed a backhand on Murray's second match point.
Müller hit 19 aces against Dimitrov, having struck 37 in his first-round victory over Mikhail Youzhny, which was more than he had ever hit before in a three-set match. The tournament is developing into a battle of the big servers. John Isner, Milos Raonic and Kevin Anderson are all through to the quarter-finals after hitting 57, 53 and 44 aces respectively in their first two matches.
Murray said the courts were drier and harder than they had been in past years here. When asked about the nature of the tennis being played this week, he said: "I would enjoy more rallies, but I'm not against having quicker courts. I prefer watching matches on quicker courts rather than ones that are so slow."
Reuse content