Andy Murray will play in his fifth Australian Open final here on Sunday but the Scot was pushed to the limit before beating Milos Raonic 4-6, 7-5, 6-7, 6-4, 6-2 in a gruelling semi-final that lasted more than four hours.
When Murray trailed by two sets to one it seemed that Raonic was on the verge of fulfilling the promise that has seen him earmarked as the best prospect among the next generation, but the 25-year-old Canadian appeared to suffer a groin injury early in the fourth set. With Raonic struggling with his movement in the latter stages, Murray went on to close out a victory that sets up another confrontation with his great rival, Novak Djokovic, in Sunday's final.
Djokovic will be will be looking to win the title here for the sixth time in nine years, while Murray will be aiming to become the first man in the Open era to win a Grand Slam title after losing four finals at the same event. He has also lost 10 of his last 11 meetings with Djokovic.
"When you're playing against the best players in the world you can't afford to do anything poorly," Murray said as he looked ahead to the final. "I'll need to execute my game plan very well and not have any lapses in concentration and just play as good a match as I can.
"Novak has played extremely well in his last couple of matches in particular and he obviously loves playing on this court. We've played a bunch of times here and hopefully this time it can be a different result."
With Jamie Murray playing in tomorrow's men's doubles final, the two Scots will be the first brothers in the Open era to reach the finals of both the men's singles and doubles events at a Grand Slam tournament.
"There aren't many tennis players who come out of Scotland," Murray said. "I never expected to be doing this and neither of our parents would have expected us to be here, so for both of us to be in a Slam final at the same time is pretty incredible. Hopefully Jamie can get the win tomorrow."
Raonic, who was aiming to become the first Canadian man to reach a Grand Slam singles final, played superbly for three sets, serving beautifully, hitting his ground strokes with power and precision and volleying with confidence.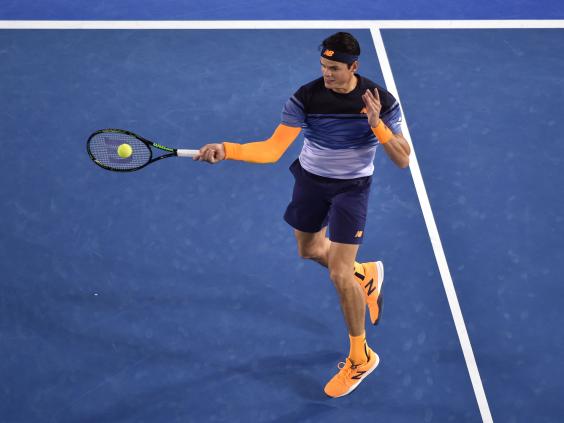 Murray, however, is one of the game's most resilient competitors and when his chance came with Raonic's injury he took it. Reaching the final is quite an achievement for the Scot given the on-court challenges he has faced here with the dramatic collapse of his father-in-law Nigel Sears and the knowledge that his wife back home is expecting their first child next month.
It was another cool day, with rain in the air, and the temperature had fallen to 16C when the players entered Rod Laver Arena. Murray appeared to be slower to warm up than Raonic. Against such a big server he knew that holding his own serve would be crucial, but he could not have made a worse start as he was broken to love in the opening game.
When Raonic missed three forehands on the first three points of his opening service game it seemed that Murray might break back immediately, but the Canadian quickly steadied the ship to hold serve. At 5-4 Raonic converted his second set point with an ace.
Break points were rare in the second set. Raonic did not have any, while Murray had just three. When Raonic served at 5-6 and 30-15 he double-faulted, was beaten by a glorious forehand cross-court winner and then netted a volley.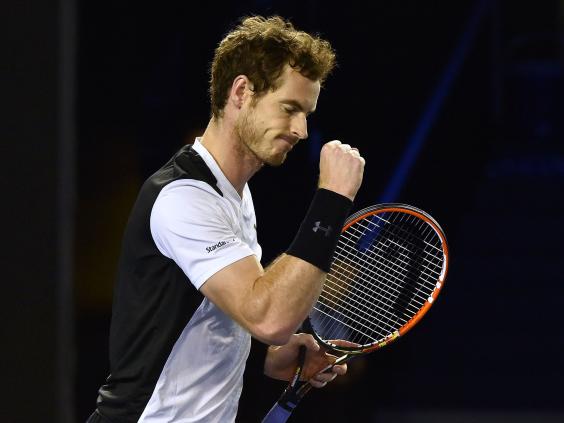 The servers had their own way for almost the whole of the third set, Murray saving the only break point at 5-5. In the tie-break the fourth point proved crucial as Murray's weak second serve was punished by a big forehand return winner. Raonic served superbly in the tie-break, which he won 7-4, completing the job with an ace.
The momentum was with the 6ft 5in Canadian, but at 2-1 in the fourth set he took a medical time-out, apparently for treatment to a groin problem. Four games later, more than three hours into the contest, Murray broke serve for only the second time, winning the game to love after Raonic netted a forehand following the Scot's punishing return.
Nevertheless, the Canadian made Murray work for the fourth set. When the world No 2 served at 5-4 he saved two break points before levelling the set with yet an unreturned serve.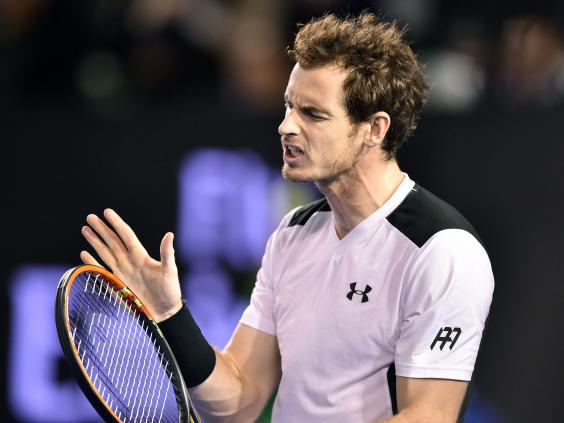 The Canadian's frustration was evident as he smashed his racket after double-faulting twice while dropping his serve in the first game of the decider. In the closing stages it was clear that he was not moving as well and Murray finally secured his victory by serving out to love, converting his first match point with a forehand winner.
Murray said it had been tough to lose the third set. "I'd played well in the set but in the tie-break he didn't miss one first serve," Murray said. "He obviously has one of the best serves in tennis so it's frustrating when you don't have much say in the points. But I started to get a slightly better read on his serve as the match went on and I was able to make a few more returns. That was the key."
Reuse content