Whether he is playing on a clay court in the foothills of the Bavarian Alps, high on a Spanish plain or in glorious Mediterranean sunshine appears to make little difference to Andy Murray.
Having won titles in Munich and Madrid over the last fortnight, the Scot took his record on clay this year to 10 wins in 10 matches when he beat France's Jérémy Chardy 6-4, 6-3 here yesterday in  his opening match at the Rome Masters.
With the French Open starting in just 10 days' time – and given his recent gruelling schedule – Murray had considered skipping Rome, but decided against it because he wanted to get some matches under his belt in conditions similar to those in Paris after playing at altitude in both his previous tournaments.
On the evidence of his 84-minute victory over Chardy, the world No 3 could carry on winning even if he played his next tournament underground. Once he had saved two break points in the sixth game, the first of them with a splendid backhand  cross-court pass, he took command.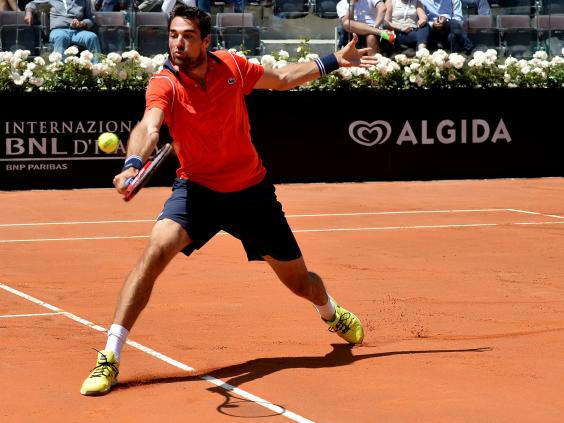 After breaking serve in the next game, Murray served out for the first set. He was soon in control of the second, breaking serve in the fifth game with another fine cross-court backhand, and rounded off his victory with his third break of the match. Murray served well throughout, always tried to dictate the points and made only 10 unforced errors. In today's third round he  will meet David Goffin, who beat Jo-Wilfried Tsonga 6-2, 4-6, 7-5.
"I was happy with the way I adjusted in the conditions," Murray said afterwards. "In Munich, the conditions were extremely fast and the court was quite slippy. The conditions were nice in Madrid but it's a lot easier to finish points and a lot harder to control returns there, whereas here, because the ball doesn't travel as far, you can hit the same shot you did a couple of days ago and it might land in the service box.
"Certain things are easier here. Returning is definitely easier. You can get more returns back in play. You can track more balls down. It's harder to hit winners, but serving is a little bit easier. So some things are easier to do here than the last couple of weeks, some things are harder. It just takes a bit of time to get used to that."
He added: "I felt like I moved very well today and I think that's one of the things that's nice about the conditions here. Because it's a bit slower, you can track more balls down. I definitely moved well and made it difficult for him to win free points. That's very important on the clay. The conditions are so different here to Madrid – and they will obviously be in Roland Garros as well."
Amélie Mauresmo, Murray's coach, is here and will be with him at the French Open. Jonas Bjorkman, the latest addition to the Scot's entourage, will rejoin the team for the grass-court season. Mauresmo is expecting her baby in August, so Bjorkman will take the coaching reins through the north American hard-court campaign.
There has been speculation that Mauresmo might not return to his entourage following the birth, but Murray said that the intention was for her to come back around the time of the Paris Masters, which is the last tournament before the season-ending Barclays ATP World Tour Finals in November.
Roger Federer and Rafael Nadal both won their opening matches. Federer beat Uruguay's Pablo Cuevas 7-6, 6-4, while Nadal needed only 74 minutes to crush Turkey's Marsel Ilhan 6-2, 6-0. Nadal has claimed the title here seven times, but this is only one of two Masters Series tournaments Federer has never won, despite this being his 15th appearance at the Foro Italico.
Heather Watson was unable to build on her first-round victory and was crushed 6-1, 6-1 by Spain's Carla Suarez Navarro. The British No 1 had 12 game points but converted only two of them. "I was just making so many errors," she said afterwards. "I felt so sluggish on the court."