The sun shone, spectators sipped their Pimm's and players occasionally slipped and stumbled as they took their first tentative steps on the lush green surface. You could have been forgiven for thinking that nothing had changed in the world of men's tennis as the grass-court season began in earnest here yesterday on the first day of the Aegon Championships, but that might have been because Hurricane Amélie is not due to touch ground until today.
On a day when Dan Evans and James Ward, Britain's No 2 and No 3 players, enjoyed impressive first-round wins over Jürgen Melzer and Blaz Rola respectively, much of the talk at Queen's Club still centred on the British No 1, Andy Murray, and his recruitment of Amélie Mauresmo as his coach.
When Murray practised on an outside court here yesterday with Tomas Berdych he was accompanied by four male members of his entourage – his coaching assistant Dani Vallverdu, physical trainers Matt Green and Jez Little and physio Mark Bender – but from today Mauresmo is expected to take charge of his preparation.
Murray revealed that the Australian Darren Cahill, who has worked with him in the past when he has been between coaches, had recommended Mauresmo to him. "I mentioned to him that I was thinking about possibly a female coach," Murray said in an interview with the BBC. "He thought that Amélie would be a good fit. After I spoke to her I just had a good feeling about her."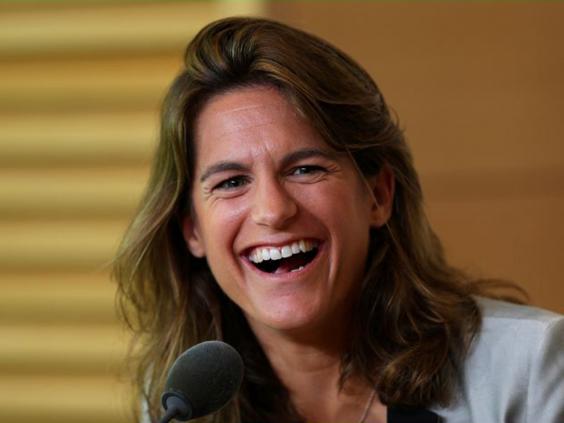 Asked why he had wanted to consider female coaches, Murray pointed out that his mother Judy had coached him at various stages of his junior career. "I found that with my mum especially she listened extremely well," he said. "That was something that I felt I needed right now. I have started to listen to my body a lot more, because over the years you start to pick up some things. I think it's important that the people that you work with respect and understand and listen to how you're feeling as well because you can't just be pushed extremely hard every single day.
"I need to pick my moments during the year where I really go for it in training. That was one of the reasons, but for me it didn't feel like a strange thing to do just because I grew up with a female coach."
Murray, who has a first-round bye, will play his first grass-court match of the year tomorrow against one of Mauresmo's compatriots, Paul-Henri Mathieu, who knows her well but admitted he had not expected the appointment. "I think I'm not the only one who is surprised because it's the first time this is happening that a woman is going to train a man," he said. "Maybe we're going to see more and more. I like the fact that Amélie is going to train Andy. It's going to bring something new in our sport."
Roger Federer was reported to have commended Murray's "excellent" choice of coach, pointing out that the Scot had a history of thinking outside the box when making his appointments. Loïc Courteau, Mauresmo's former coach, said he had told her "not to hesitate for a quarter of a second" in accepting the position, while Nathalie Dechy, a former world No 11 and contemporary of Mauresmo, said that "happily in 2014 there are some players who go looking for expertise before talking about gender".
On the court Evans enjoyed one of his best wins of the year when he bridged a gap of 88 places in the rankings to beat Melzer, the world No 51 and a fine grass-court player, 6-3, 6-7, 7-6. Evans, who is playing on painkillers because of a knee problem, next faces South Africa's Kevin Anderson. Ward's reward for a 7-5, 6-4 victory over Rola, the world No 91, is a meeting with Grigor Dimitrov, the world No 13.
Ward said he had derived much confidence from his showing at the French Open, where he became the first British man to come through qualifying for 41 years and then took Tommy Robredo to four sets. "It was a tough draw, but it was a good experience and one that will help me," Ward said.