He wears an earring, sports the sort of haircut you would find at the edgiest nightclubs in town and told a magazine last week that he did not believe in abstaining from sex the night before a big match.
The likes of John McEnroe and Mats Wilander have singled out Nick Kyrgios as a character who might fill the chasm in men's tennis once the "Big Four" have departed the stage.
The 20-year-old Australian can play a bit too: he has already claimed the scalps of Rafael Nadal (at Wimbledon last summer) and Roger Federer (on clay in Madrid earlier this month) and will attempt on Saturday to add that of 28-year-old Andy Murray.
The meeting of Murray and Kyrgios is one of two third-round matches here at the French Open that reflect very different generations. The current leading light of the Big Four, Novak Djokovic, who is one week younger than Murray, takes on Thanasi Kokkinakis, another young Australian of Greek heritage and another player with a big personality.
Kyrgios, an attacking shot-maker with a huge serve, is No 30 in the world rankings. Kokkinakis, who has only just turned 18, has a big game to match his 6ft 5in frame and is already the world No 84. Both men are set to make further progress up the rankings at the end of the tournament.
Murray, who beat Kyrgios in Melbourne earlier this year, has gone out of his way to help the two young Australians. He has practised regularly with them and been generous with his advice, remembering how much he appreciated help from the likes of Tim Henman and Jonas Bjorkman in his own early years on the tour.
"He has almost mentored us," Kyrgios said. "He's a great role model. If I was going to ask for help he'd be someone I'd turn to. But you've got to put that to one side when you go out and play him. You watch him on TV and all of a sudden you're playing him in the third round of the French Open. It's a tough situation."
Kokkinakis also appreciates Murray's help. "He's a good guy," Kokkinakis said. "It's really good to have him as someone I can talk to and hit with in tournaments. It's good to have one of the big guys."
Kyrgios is not afraid to say what he thinks, as he showed at the Australian Open earlier this year when he called out to a member of the crowd: "Get off your fucking phone, mate!"
Kyrgios said he would not call himself a rebel but added: "Maybe I'm different to the rest of the guys. I go about what I do in my own way. I don't try and copy anyone else. I play the game I like to play."
There are obvious similarities between Kyrgios and McEnroe. "I had an earring briefly, not as big as his," McEnroe said. "What I see as a similarity is that he's got personality. He's got belief in himself. He brings something, you can feel it on the court."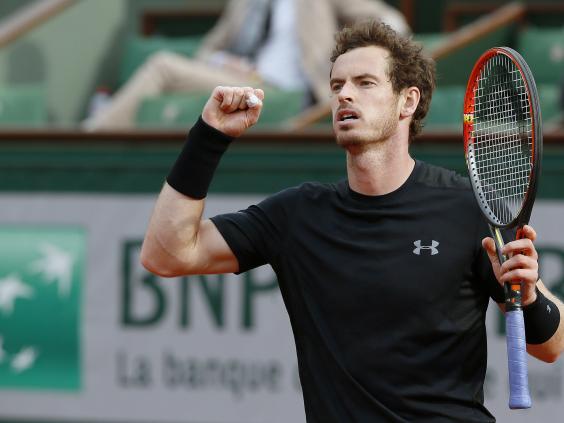 McEnroe, who names Kyrgios alongside Nadal and Gaël Monfils as the most exciting players in the modern game, added: "He talks a lot. He's out there expressing himself. From that standpoint I can see a similarity.
"I believe he's got a shot at being the No 1 player in the world in the next couple of years, certainly without question top five. I think it would be good to have someone with his background and with Australia's incredible history.
"He's making progress. I would have thought he would have already been higher than he is but I suspect if he takes it seriously and is able to commit himself he is going to be a truly great player."
Wilander, writing in the French daily sports newspaper L'Equipe, believes that the emergence of youngsters with character such as Kyrgios, Kokkinakis and Andrei Rublev is good for the sport but warned: "I think it's going to be very hard for these young players to beat the Big Four for one good reason – you never want to lose to guys who have a bit of an image as rebels. It was always easier to get yourself motivated when you played McEnroe or [Jimmy] Connors.
"Kyrgios is a fighter. He will win at least one Grand Slam, as well as the Davis Cup. He will be very good each year at the Australian Open and at Wimbledon. New York? There are some big characters there: the crowd is full of them. You can get lost over there."
Murray thinks Kyrgios can only help to spread the appeal of tennis. "Young  people just now will love him because he's different,"  Murray said. "He has earrings, he plays in loud clothes, he's got a haircut which isn't one I would have but it's a fashionable, stylish kind of haircut.
"He's a cool guy. He's different. Whether over time he grows out of that and becomes different, I've no idea, but he does get people excited and I'm sure young people enjoy watching him. He'll get people into the sport, for sure, and that's a good thing."