It may be only a matter of time before an Australian revolution sweeps aside the established order, but for the moment Nick Kyrgios and Thanasi Kokkinakis will have to wait. The tyros from Down Under remain among the game's greatest prospects, but were put in their place here at the French Open yesterday by two members of the ancien régime.
Not long after Andy Murray had beaten a physically below-par Kyrgios 6-4 6-2 6-3 on Court Suzanne Lenglen, Novak Djokovic completed a 6-4 6-4 6-4 victory over Kokkinakis. Murray will meet Jérémy Chardy in the last 16 on Monday, while Djokovic will face another Frenchman in Richard Gasquet. Five Frenchmen are through to the last 16 for the first time since 2008.
Murray, who has helped both young Australians as they make their way on the professional tour, has not dropped a set in his three meetings with the 20-year-old Kyrgios, though their latest encounter might have been closer if the world No 30 had not suffered a recurrence of an elbow problem. From the end of the first set Kyrgios had to slow down his serve, which is usually one of his strengths. "It's pretty heart-breaking going out there and having something like that holding you back," he said.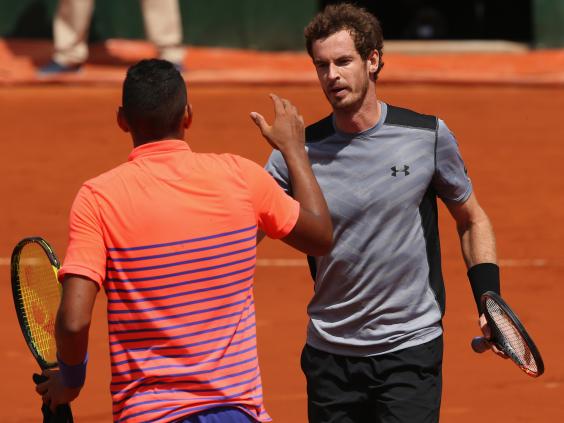 Although the injury did not affect the rest of Kyrgios's game, it clearly dampened his spirits. "I hate this place," he was heard to say quite early in the match. He was given a code violation for smashing a ball out of the court in anger after dropping serve in the third set, while the on-court microphones picked him up complaining: "I don't give two shits about this."
With Murray cursing away in typically self-critical mode, the language was often as colourful as the pink-and-purple kit Kyrgios was wearing, which was in strict contrast to Murray's sober grey-and-black outfit. Despite his elbow problem, however, Kyrgios played some spectacular tennis, including the shot of the tournament in the seventh game of the first set. With his back to the net as he ran back to retrieve a lob, Kyrgios played a winning through-the-legs lob of his own which was inch-perfect, but the game ended with the Australian dropping serve after putting a wild forehand wide.
That episode was a neat summary of the match. Kyrgios, who is a great showman, hit some wonderful shots  – huge forehands, beautifully angled drives, exquisite drop shots – but could not match Murray's consistent excellence. The Scot, who has won all 12 matches he has played against Australian opponents, played particularly well when it mattered most, successfully defending eight out of 10 break-points and converting seven of his 13 break-point opportunities.
"I watch him quite a lot, so you go on the court expecting the unexpected," Murray said afterwards. "If you go on the court with that mindset, you can deal with some of the shots that he comes up with. He always has some periods in matches where he's on fire and hits some unbelievable shots, but I just try to stay solid throughout."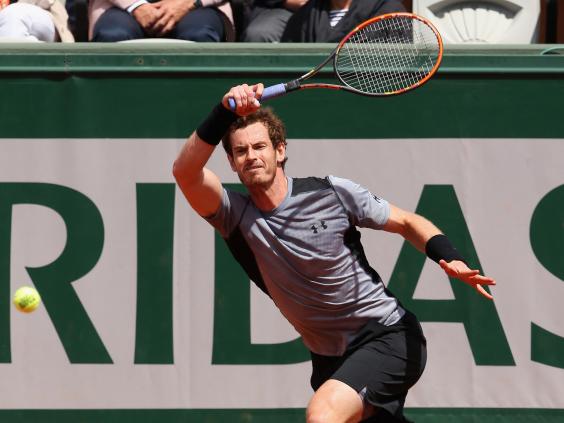 Kyrgios is due to play at 's-Hertogenbosch in the Netherlands next week and then at Queen's Club, but may need to rest in order not to ruin his grass-court season. "I will do everything I can obviously to get ready for Wimbledon," he said. "I think that's my best chance to win a Grand Slam."
Chardy, Murray's next opponent, has beaten two higher-ranked opponents in his previous two rounds in John Isner and David Goffin, but has lost six of his seven meetings with the Scot. The most recent was in Rome earlier this month. Murray pulled out of the tournament after that second-round match, saying he was exhausted, which did not impress Chardy.
"If you want to win a Grand Slam, everybody is tired," the world No 45 said last night. "So I was a little bit pissed [off] when I saw he retired because of tiredness."
Djokovic was typically efficient in his victory over the 19-year-old Kokkinakis, who played well on his debut on the main show court but did not force a single break-point.
Rafael Nadal, who went into the tournament without a European clay-court title to his name for the first time in 11 years, and Djokovic are just one win each away from a heavyweight quarter-final showdown after the nine-times champion crushed Russia's Andrey Kuznetsov 6-1 6-3 6-2.
The Lawn Tennis Association failed on Saturday in their attempt to reverse the International Tennis Federation's decision to declare Aljaz Bedene ineligible to play for Britain in the Davis Cup. The ITF said Bedene, who was recently granted a British passport, was ineligible because he had already represented Slovenia, the country of his birth. The LTA will appeal.
Reuse content