Their careers have been  inextricably linked ever since they first played each other at an Under-12s tournament in the south of France and on Sunday Andy Murray and Novak Djokovic will  share another major chapter in their lives.
The meeting of the two  27-year-olds here in the  Australian Open final will be the 24th of their careers, with Djokovic currently leading their head-to-head record 15-8. Djokovic has won four of their six meetings at Grand Slam level, but the Serb was on the other side of the net for Murray's two greatest victories, in the finals of the US Open in 2012 and at Wimbledon in 2013.
Djokovic will hope to take encouragement from his  victories over Murray in Australian Open finals in 2011 and 2013, especially as the world No 1 played well below his best in beating Stan Wawrinka, the defending champion, 7-6, 3-6, 6-4, 4-6, 6-0 in Friday's second semi-final. It was a curious match, with both players occasionally  hitting the heights but making 118 unforced errors between them. Wawrinka said that he had felt "mentally completely dead" with "no battery".
A downbeat Djokovic said after the match: "I'm proud of the fighting spirit that I had, but the level of performance was not where I wanted it to be. You have days when things aren't going your way."
Murray will attempt to become the first player to win the title here after losing in his first three finals, having also lost to Roger Federer in 2010. Djokovic said he was glad to see Murray back in a Grand Slam final. The last one the Scot contested was when he beat Djokovic at Wimbledon in 2013.
"He deserves to be there," Djokovic said. "With the game that he has, he has a winning mindset. He's a great fighter, a great competitor, and somebody that commits to this sport. You can see that on a daily basis. He has a great team of people around him. He puts a lot of hours in the practice, gym, so forth. It pays off. I have known him for a long time, so it's great we  are able to challenge each other now in another Grand Slam final."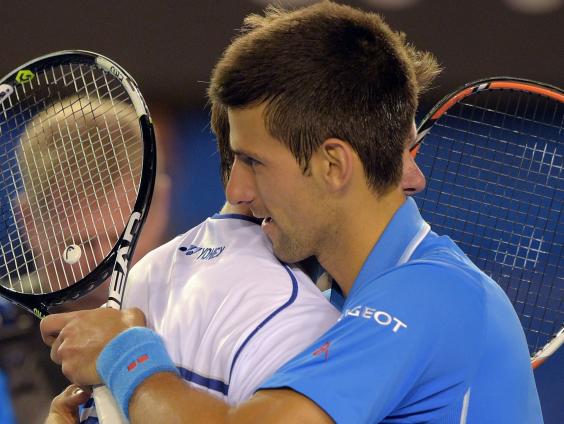 What changes had Djokovic seen in Murray since the end of last year? "He's going for the shots," the world No 1 said. "He's one of the best defenders in the game, no question about it. He is an incredible counter-puncher. He's got a lot of variety in his game. He's also got a big serve. I think if he serves well, that's a huge confidence boost and advantage for him.
"He feels that he's more relaxed on the court and he can swing through his shots from the baseline. I think his forehand has improved judging by the matches he has played during these couple of weeks compared to a few months ago."
Djokovic said his two victories over Murray in finals here will give him "a slight mental edge" but he believes there is no clear favourite. "I'm sure Andy's going to be very motivated to win his first title here," he said.
Reuse content