The emotions and the tensions that swirl around inside Novak Djokovic often appear to be on the brink of rising to the surface and they broke out twice at the O2 Arena in London as the Serb fought back to beat Dominic Thiem 6-7, 6-0, 6-2 in the opening match of his defence of his title at the Barclays ATP World Tour Finals.
For much of the last five months Djokovic has seen some of his most treasured tennis possessions slip from his grasp, from his Wimbledon and US Open titles to the world No 1 ranking, and his frustrations were evident at the end of a first set in which he had made too many unforced errors and had not struck the ball with his usual consistency.
Djokovic's emotions boiled over when he smashed a ball in anger in the general direction of his entourage. His actions earned a warning for unsportsmanlike conduct and could have had a much more serious consequence if the ball had hit anybody, but at least they seemed to focus his mind on the task in hand.
The former world No 1 was then in a tetchy mood when asked about the incident at his post-match press conference, saying it was "unbelievable" that reporters were "always picking these kind of things".
When it was pointed out to him that he had been fortunate at the French Open earlier this year not to hit a line judge after throwing his racket in anger, Djokovic asked if he was the only player who ever showed his frustration on court. He insisted: "It's not an issue for me. It's not the first time I did it."
Did he not think the consequence could have been serious if the ball had hit someone? "It could have been, yes," Djokovic replied. "It could have snowed in the O2 Arena as well, but it didn't."
He added: "I had made a great comeback, saving six or seven set points, and then when I didn't manage to win that first set, of course you're frustrated. On the other hand, I think I managed to compose myself and really gather all my attention and concentration to what was coming up after that. The great start of the second set helped me to regroup."
Djokovic, who is aiming to win the season-ending title for the fifth year in a row, was immediately more focused from the start of the second set as Thiem faded fast on his maiden appearance in this tournament.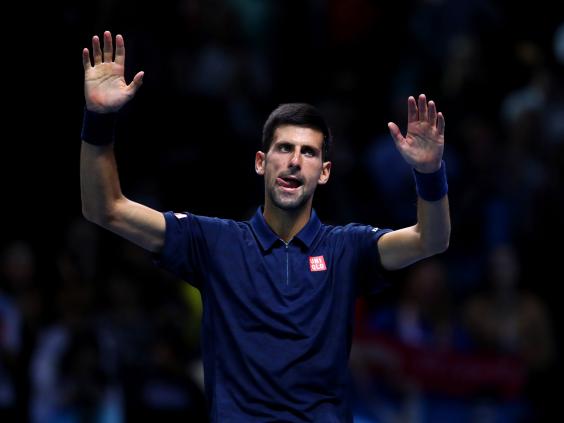 The 23-year-old Austrian's performance was a reflection of his year. Only Djokovic and Andy Murray have won more matches in the course of the season than the youngest player in the London field, but competing in more tournaments (27) than any other player has appeared to take its toll of late. Thiem won the last of his four 2016 titles in June.
Djokovic's year has followed a similar pattern, but the Serb has more to play for this week. If he wins every match to claim the title for a sixth time, which would equal Roger Federer's record, Djokovic would take the world No 1 ranking back from Murray, who plays his opening match on Monday evening against Marin Cilic.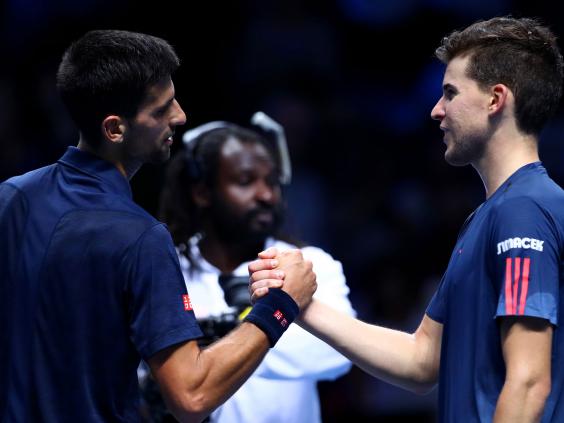 The first set was tight, with only one break point apiece, but with Thiem finding a good rhythm on his potent single-handed backhand it was the Austrian who dominated the tie-break, even if he took his time clinching it. Serving at 6-3, Thiem hit two successive double faults. Four more set points came and went before he took the tie-break 12-10 with a big forehand winner.
However, no sooner had the door opened for Thiem, who had not won a set in his previous three meetings with Djokovic, than it was promptly shut in his face. Djokovic took the second set in just 23 minutes, went up an early break in the third and quickly closed out victory.
"Even though I lost the first set, I thought I didn't do too many things wrong," Djokovic said. "After that I knew it would be crucial for me to start with a break at the start of the second set, which I did. I felt more comfortable. I started swinging more freely in the second set. I obviously made him play an extra shot and he started making more errors."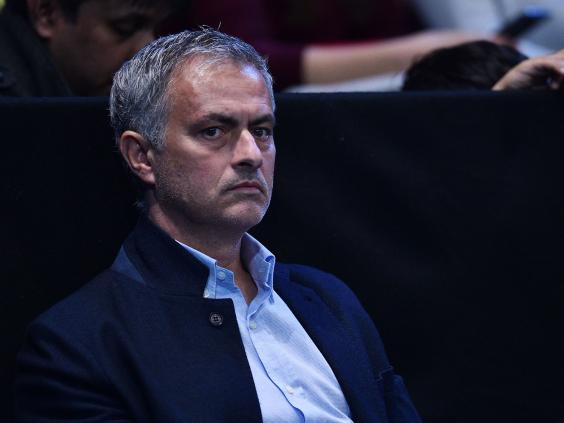 Thiem, who met the watching Manchester United manager Jose Mourinho after the match, admitted that he had "lost a little bit of energy" after the opening set. "I couldn't quite keep the level up from the first set," he said.
Reuse content