The possibility of the Murray brothers both finishing the year on top of the world moved a step closer here as Andy followed Jamie into the semi-finals of the Barclays ATP World Tour Finals.
While a third successive defeat for the Frenchmen Nicolas Mahut and Pierre-Hugues Herbert ensured that Jamie and his partner Bruno Soares would end 2016 as the world No 1 doubles pair, Andy produced his best performance of the tournament so far to beat Stan Wawrinka 6-4, 6-2 and stay on course to preserve his own place at the top of the world singles order.
If you discount Bob and Mike Bryan, the American twins who have regularly topped the world doubles list, it would be the first time two brothers have achieved a similar feat since the launch of the official world rankings more than 40 years ago.
Andy's 22nd victory in a row secured a place in the first of Saturday's singles semi-finals against Milos Raonic, the man he has already beaten twice in London this year, in the finals at Queen's Club and Wimbledon.
Novak Djokovic, who needs to outperform Murray this week to reclaim the world No 1 ranking from him, will play in the other semi-final on Saturday evening against Kei Nishikori, who went into his concluding round-robin match against Marin Cilic on Friday night knowing that his place in the last four was already secure. A final showdown on Sunday between Murray and Djokovic, with the world No 1 ranking at stake, is looming ever closer.
"The whole year has been fantastic for both of us," Andy said when asked about the brothers' achievements. "I think we're probably each other's biggest fans. It's really special to get to watch what he's achieved in the biggest competitions in the sport. Neither of us ever would have expected this when we were growing up."
Murray recalled how the brothers played each other regularly at many sports when they were boys. "When we were really young, Jamie would have won most things," he said. "He was 15 months older, so he was bigger and stronger and better than me at most things. He was smarter than me.
"Then as we started to get older and physically were on more of a level playing field, we were pretty close really at most things. Jamie is a really good golfer. He was better at that. Football, it was probably me. Then with squash and table tennis, more of the racket sports, it was pretty close between the two of us really."
He added with a smile: "That's my recollection of it. He might say something a bit different."
Fears that Murray's gruelling victory over Nishikori might have taken too much out of the Scot were quickly allayed. The world No 1 had allowed Nishikori to take the initiative in the first set, but against Wawrinka he was positive from the start. He also served well throughout, conceding just two break points in the match, neither of which were taken.
Twelve months ago Wawrinka beat Murray at exactly the same stage of this tournament in a shoot-out for a semi-final place. On that occasion Murray's attention had been diverted by Britain's Davis Cup final against Belgium the following week, but this time there was no doubting his focus.
Wawrinka had to win to stand any chance of qualifying, while Murray knew that simply winning one set would be enough to take him through to the last four. The Swiss came out shooting from the hip, hitting aces and firing huge ground strokes from both flanks. In the first five games alone he cracked 15 winners.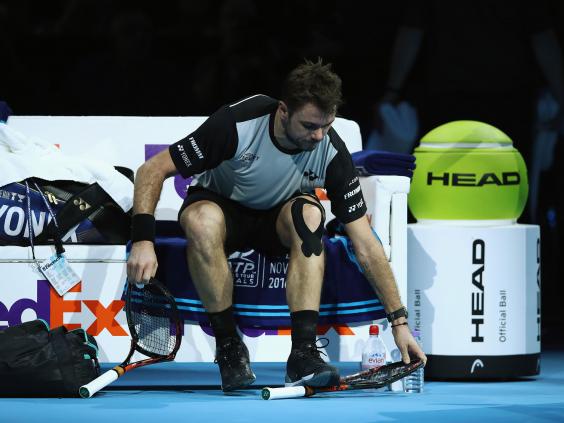 By the middle of the opening set, however, Murray's controlled hitting was pushing Wawrinka further and further back, which is no mean feat given the way that the Swiss can drive opponents off the court.  When he is on song, the world No 3 is an awesome opponent who can hit the ball harder than anybody from both flanks.
However with Wawrinka serving at 3-3, everything changed. On the first break point of the match a Murray backhand clipped the top of the net but landed safely on the other side. Later in the rally Wawrinka netted a backhand volley, upon which he hurled his racket to the floor in disgust. Wawrinka saved three set points two games later, but Murray served out for the set.
Knowing that a win would ensure he would not face Djokovic in the semi-finals, Murray was in no mood to let up. He broke serve in the first and third games of the second set, after which Wawrinka again took out his frustrations on his racket, completing the demolition job by breaking it across his knee.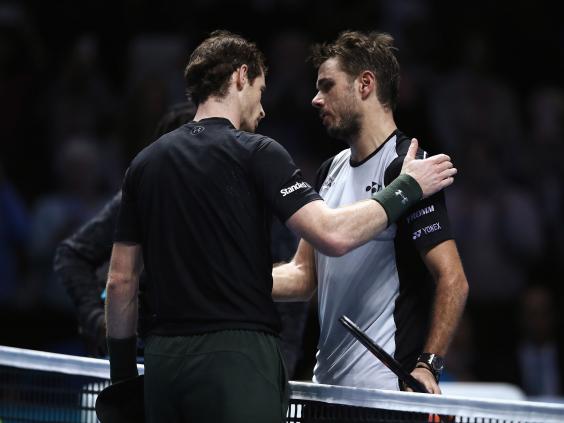 After 86 minutes Murray completed his victory when Wawrinka mishit a forehand. Remarkably, the Swiss has met world No 1s in all three of his Grand Slam finals and won each of them. However, in the 20 other matches in which he has faced world No 1s, he has lost every time.
"I weathered the early storm a little bit," Murray said afterwards. "Stan came out hitting the ball huge. He was hitting a lot of winners and a lot of aces but once I got through the early part of the match, I started to create chances in most of his service games. I served very well myself. I got a lot of free points with my serve. That allowed me to also dictate a lot of the points, whereas at the beginning of the match I wasn't able to do that."
In Saturday's doubles semi-finals Jamie Murray and Soares will meet Raven Klaasen and Rajeev Ram, who beat the Spaniards Feliciano Lopez and Marc Lopez 6-3, 7-6 in Friday's concluding round-robin match. Soares can also replace Mahut at the top of the individual world doubles rankings by winning the title here.