There was a time when Roger Federer could be relied upon to let his racket do the talking, but not any more. Twenty-four hours after Novak Djokovic suggested that Federer's recent decline was because he was slowing down on the court, the 32-year-old Swiss lost his opening match here at the Barclays ATP World Tour Finals and faces an uphill task to qualify from his round-robin section.
Djokovic, who had opined the previous day that Federer "hasn't been moving as well this year as he did the year before", rubbed further salt into the former world No 1's wounds by beating him 6-4, 6-7, 6-2 after two hours and 22 minutes. It was the Serb's third consecutive victory over Federer and came just three days after he had beaten him in the Paris Masters semi-finals.
While Federer showed plenty of spirit with his second-set fightback and provided some flashes of his old genius, Djokovic had the edge on most of the key points. The pattern was established in the first set as Federer missed a forehand down the line when he had a break point at 4-4. In the following game he put a careless forehand wide when Djokovic had set point.
The second set was an up-and-down affair. Federer was twice a break up and served at 5-4, but was unable to hang on to his advantage. From 2-2 in the tie-break, nevertheless, he won five points in a row to take the match into a deciding set, to the delight of a boisterous crowd who had got behind the seven-times Wimbledon champion from the start.
Djokovic, whose play had become increasingly erratic in the second set, found a much better rhythm in the third and never looked back after breaking serve in the opening game. A further break only confirmed his superiority.
Federer, who has failed to reach the semi-finals or better only once in his 11 previous appearances in this tournament, may now have to win both his remaining matches, against Richard Gasquet on Thursday and Juan Martin del Potro on Saturday, if he is to progress.
Djokovic, meanwhile, has kept alive his hopes of finishing the year as world No 1, although Rafael Nadal will ensure he retains top spot into next season if he beats Stanislas Wawrinka on Wednesday afternoon. Nadal started his own campaign in impressive fashion by beating David Ferrer 6-3, 6-2.
Any idea that Nadal might be desperate for the season to finish, his results having tailed off in recent weeks, was dispelled by his reaction at the end of the match. Nadal punched the air and wore a smile as wide as the roof of the Millennium Dome after a performance that suggested playing on a fast indoor court was not so difficult after all. Breaking serve six times, the world No 1 struck the ball beautifully, though he also took advantage of an opponent who looked tired at the end of a long season.
Playing this tournament back-to-back with the Paris Masters, where the quarter-final line-up comprised the eight players who are competing here, always meant that scheduling would be difficult. Ferrer has suffered more than anyone. The 31-year-old Spaniard, who lost to Djokovic in Sunday's Paris final, will have played seven matches in eight days by the time he has faced Tomas Berdych on Wednesday night.
Nadal, meanwhile, was grateful for a speedy victory over a player who can be the most dogged of opponents. Nadal did not complain, but he also has to play again within 24 hours, against Stanislas Wawrinka on Wednesday afternoon. The four players in the other round-robin group all have at least a day's rest between matches.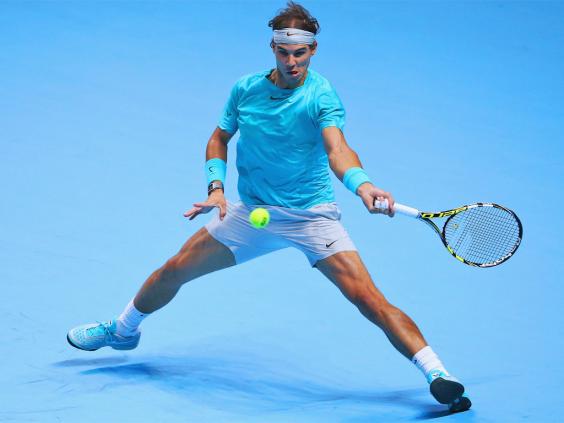 Admitting that Ferrer looked tired and had had little time to adapt to the conditions, Nadal said that a slightly slower surface than Paris had helped him, though he felt he had also played better.
"In Paris David was able to hit the winner a lot of times on the first shot," Nadal said.  "I made mistakes in where I hit my first shots.  I tried to play to his backhand too many times there.  He was quick and he covered his backhand with his forehand very well.  From that position, he took control of the point and it was very difficult for me to get back in it, so I changed a little bit where I hit the first ball."
Nadal said that although the conditions were not ideal for him, he loved playing here. "The atmosphere and the combination of the lights is great," Nadal said. "It is a fantastic stadium, a stadium that I really love, one of the best in which I have ever played."
The managing director of this tournament is Chris Kermode, who is also the tournament director of the Aegon Championships at Queen's Club. Kermode was overlooked for the chief executive's job at the Lawn Tennis Association this summer - he was not even interviewed - but has emerged as a leading candidate for the same post at the Association of Tennis Professionals, which runs the men's game worldwide. A decision could be made as early as this week.
Nadal meanwhile expressed sympathy for the Serbian player, Viktor Troicki, who learned that the Court of Arbitration for Sport had only partially upheld his appeal against an 18-month suspension for missing a drugs test. The former world No 12, whose ban was reduced by six months, said the decision "puts an end to my dreams of being a top player, of reaching the ATP Finals and fighting against the best in the world."
Troicki, who will be cleared to play again in July next year, claimed that he had been told by a tournament anti-doping officer that he could miss a blood test because he was feeling ill. He had already given a urine sample, which later tested negative, and returned for the blood test the following day, which was also negative. "The player committed a doping offence, but his fault was not significant," the CAS said in a statement.
Baseball arena will stage GB's elite return
Britain's first tie in the Davis Cup's World Group for six years will be staged in a baseball stadium in San Diego.
The match against the United States, which will be played on clay in a temporary 8,000-capacity arena inside Petco Park, starts on 31 January, only five days after the Australian Open.
Andy Murray, having missed the latter part of this season following surgery on a back problem aggravated by playing on clay, hopes to be fit to compete at the Australian Open, but it remains to be seen whether he would then play in San Diego.
Paul Newman Reuse content