Crushing, soul-destroying, humiliating. Whatever words you used to describe it there was no escaping the fact that Andy Murray suffered one of the most brutal defeats of his career when he went out of the Barclays ATP World Tour Finals here.
Having gone into his concluding round-robin match with a chance of making the semi-finals, Murray was torn apart by Roger Federer, who won 6-0, 6-1 in just 56 minutes to secure his own passage to the last four.
Since starting out on the main tour Murray has suffered only one comparable loss, when an injury contributed to his 6-1, 6-0 defeat by Novak Djokovic at the Miami Masters seven years ago. The Scot has never been on the wrong end of a "double bagel" but was two points away from losing by that margin when he trailed 6-0, 5-0 and 30-0 before saving face by finally getting his name on the scoreboard.
"It was a tough night," a downcast Murray said afterwards. "Frustrating would be the one word that I would use to describe it.
"There are some matches you can maybe look on where you might have behaved badly, felt like you hadn't given your best effort or whatever, maybe be embarrassed about that. But I was trying tonight. I tried from the first point through until the last. So it's very frustrating when that's happening to you, when you're trying to give your best effort."
ATP World Tour Finals 2014 - results
ATP World Tour Finals 2014 - results
1/9 Day 5, Group B

Kei Nishikori of Japan beat David Ferrer (who stood in for the injured Milos Raonic) 4-6 6-4 6-1

GETTY IMAGES

2/9 Day 4, Group A

Novak Djokovic beat Stanislas Wawrinka 6-3 6-0

Getty Images

3/9 Day 4, Group A

Tomas Berdych beat Marin Cilic 6-3 6-1

GETTY IMAGES

4/9 Day 3, Group B

Andy Murray won 6-3, 7-5 against Milos Raonic

Getty Images

5/9 Day 3, Group B

Rodger Federer beat Kei Nishikori 6-3 6-2

GETTY IMAGES

6/9 Day 2, Group A

Novak Djokovic beat Marin Cilic 6-1, 6-1 in under an hour

Getty

7/9 Day 2, Group A

Stan Wawrinka beat Tomas Berdych 6-1, 6-1

GETTY IMAGES

8/9 Day 1, Group B

Roger Federer beat Milos Raonic 6-1 7-6 (7-0)

GETTY IMAGES

9/9 Day 1, Group B

Andy Murray lost to Kei Nishikori 6-4 6-4 in the opening game of the tournament

GETTY IMAGES
It was a desperately disappointing way for Murray to finish a year which had taken an upward turn when he won three tournaments in the autumn to secure his place in the season-ending finale here. While winning the tournament would always have been a huge task, he would surely have hoped to make the semi-finals given his improved form over the last two months.
In truth, Murray's best chance of making the last four had gone on the opening day when he lost to Kei Nishikori after a curiously lacklustre display. Victory over Milos Raonic in his second group match had put Murray back in contention, but a rejuvenated Federer has been in such superb form since the US Open that beating the world No 2 was always going to be a major challenge for the Scot.
Federer, with three wins from his three matches, finished top of Group B and in Saturday's semi-finals will face the runner-up in Group A, where the positions will be decided by Friday's concluding round-robin matches. Djokovic, the world No 1 and defending champion, is favourite to top the section and earn a semi-final against Nishikori, who beat Murray to the second place in Group B.

Murray had gone into his third round-robin match knowing that he needed to win in straight sets to make the semi-finals at the expense of Nishikori.
Two errors handed the Scot the first two points but everything went downhill from that moment onwards. He briefly got himself out of trouble in his opening service game with two successive aces, but put a forehand long on Federer's second break point.
Much worse was to follow. As Federer quickly settled into a rhythm the Swiss won 14 points in a row to take a  5-0 lead. From 30-15 up in the following game Murray lost three points in succession, losing the set and effectively sealing his exit from the tournament when he put a backhand into the net.
Federer, striking the ball beautifully and attacking at every opportunity, was magnificent. He drove Murray to the back of the court with cracking forehands, pulled him into the net with deft drop shots and put away his volleys in majestic style.
Murray had his first game points of the match when he served at 0-3 in the second set. The Scot put backhands beyond the baseline on both of them and completed a miserable hat-trick when he did the same on break point moments later.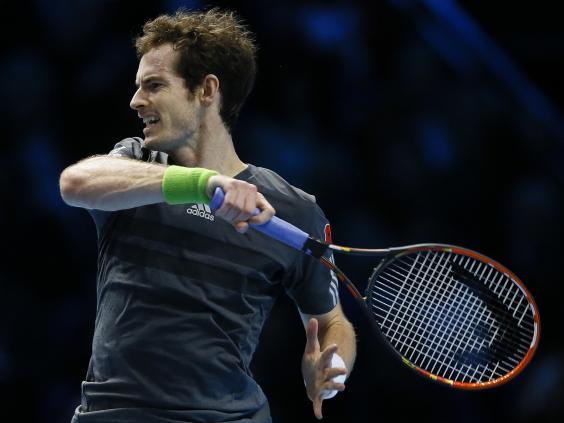 When a double-fault put Murray 0-30 down at 0-5 the ultimate humiliation beckoned, but to his credit the Scot refused to give up and drew one of the loudest cheers of the night when a service winner finally got him on the scoreboard.
It was only delaying the inevitable, however, and in the following game Federer converted his first match point as Murray missed a backhand. The Scot swiftly left the arena with both hands raised, palms upwards, as if to apologise for his performance.
Federer's own place in the semi-finals had been secured earlier in the day by Nishikori's 4-6, 6-4, 6-1 victory over David Ferrer, who had stepped into the fray as an alternate after Raonic withdrew from the tournament with a leg muscle injury.
It was the first singles match of the week to go to three sets.
Reuse content