Switzerland have high hopes of winning the Davis Cup for the first time when they face France in the final in Lille next weekend but their chances suffered a major setback when a back injury forced Roger Federer to pull out of Sunday night's final against Novak Djokovic here at the Barclays ATP World Tour Finals.
To add to Swiss woe there were reports that Federer and his Davis Cup colleague, Stan Wawrinka, had had a fall-out behind the scenes after their semi-final on Saturday evening.
If Federer's withdrawal from the ATP's grand finale was a huge blow for the tournament, which will make partial refunds to ticket holders despite having staged hastily arranged exhibition matches featuring Djokovic, Andy Murray and others, the world No 2's injury could be fatal for Switzerland's chances later this week. Federer said he would head to Lille, where the final begins on Friday, but it is by no means certain he will be fit to play.
While the French have strength in depth – their four-man team of Jo-Wilfried Tsonga, Gael Monfils, Richard Gasquet and Julien Benneteau are all ranked inside the world's top 30 – the Swiss rely heavily on Federer and Wawrinka, world No 2 and No 4 respectively. The two other members of the Swiss squad are Marco Chiudinelli, the world No 198, and Michael Lammer, the world No 513.
ATP World Tour Finals 2014 - results
ATP World Tour Finals 2014 - results
1/9 Day 5, Group B

Kei Nishikori of Japan beat David Ferrer (who stood in for the injured Milos Raonic) 4-6 6-4 6-1

GETTY IMAGES

2/9 Day 4, Group A

Novak Djokovic beat Stanislas Wawrinka 6-3 6-0

Getty Images

3/9 Day 4, Group A

Tomas Berdych beat Marin Cilic 6-3 6-1

GETTY IMAGES

4/9 Day 3, Group B

Andy Murray won 6-3, 7-5 against Milos Raonic

Getty Images

5/9 Day 3, Group B

Rodger Federer beat Kei Nishikori 6-3 6-2

GETTY IMAGES

6/9 Day 2, Group A

Novak Djokovic beat Marin Cilic 6-1, 6-1 in under an hour

Getty

7/9 Day 2, Group A

Stan Wawrinka beat Tomas Berdych 6-1, 6-1

GETTY IMAGES

8/9 Day 1, Group B

Roger Federer beat Milos Raonic 6-1 7-6 (7-0)

GETTY IMAGES

9/9 Day 1, Group B

Andy Murray lost to Kei Nishikori 6-4 6-4 in the opening game of the tournament

GETTY IMAGES
Federer said he had hurt his back in the tie-break at the end of his semi-final victory over Wawrinka, which lasted two and three-quarter hours. During the day the seven-time Wimbledon champion was suffering with back spasms. He was still having treatment during the doubles final, which started at 3.30pm, in the hope of being fit to play Djokovic, but eventually decided he could not risk it.
Federer went on court following the doubles final, which finished just after 5pm, to apologise to the crowd for his withdrawal. "I wanted to come out personally and excuse myself," Federer said.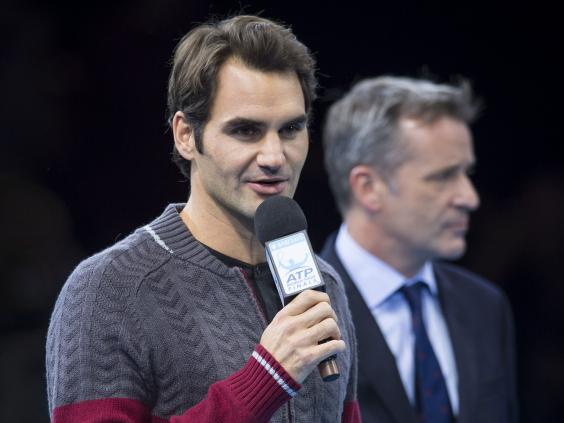 "I tried everything I could last night and today –  pain-killers, treatment, rest and so forth, warm-up – till the very end, but I can't compete at this level with Novak in the ATP World Tour Finals like this. It would be too risky at my age to do this right now."
It was only the third time in his career that Federer has pulled out during a tournament because of injury. Back problems, which he had hoped he had overcome after a difficult year in 2013, were the cause of both his previous withdrawals, at the 2008 Paris Masters and the 2012 Qatar Open.
In the 1,221 times he has played in his 16-year career Federer has never retired during a match.
Federer did not give a press conference following his withdrawal, which meant that journalists were unable to ask him about the reports of his fall-out with Wawrinka. That was said to have followed complaints by the latter during the semi-final about distractions between his first and second serves.
There was a suggestion that Wawrinka had been unhappy about noise coming from Federer's courtside entourage, which included his wife, Mirka.
Wawrinka and Federer usually talk in warm terms about their friendship with each other, but there have been times when it has not been easy for the former, who has lived for years in the latter's shadow.
Severin Luthi, who is Switzerland's Davis Cup captain and also works as one of Federer's coaches, may have to smooth the waters between the two men this week.
Chris Kermode, who is head of the ATP and the World Tour Finals chairman, learned of Federer's physical problems at lunchtime and moved swiftly to line up some alternative entertainment in the event of his withdrawal.
Murray agreed immediately to play an exhibition against Djokovic and a doubles match with Tim Henman, Pat Cash and John McEnroe. Kermode said that all had agreed to  take part without any payment.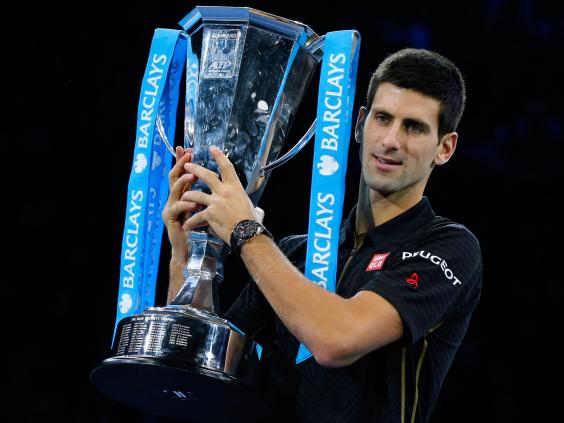 "People will say many things about athletes and on Andy in particular people can be very critical about things over the years, but he has a fundamental responsibility for tennis and an acknowledgement that people are paying money to come to see something," Kermode said. "He was straight in."
Murray, who won only one game when he lost to Federer in the group stage last week, joked after losing 8-5 to Djokovic in a "Superset" exhibition: "I have to apologise because obviously I pushed Roger so hard on Thursday."
The Scot had been at home playing a video game called "Mario Kart" when Kermode called. "I was winning at that," Murray said with a smile. "Mario Kart is better than my tennis."
The 17,500 spectators, which included the Chelsea football manager, Jose Mourinho, had tickets which cost between £64 and £110. Those who bought their tickets via official suppliers will be contacted this week about a partial refund. The tournament is the ATP's biggest money-spinner during the year and makes a profit of up to £11.5m.
Djokovic, who secured the year-end world No 1 ranking last week, has now won the World Tour Finals four times, including the last three years in succession in London. As the undefeated champion he earned $2,075,000 (about £1.3m) for his week's work.
"Clearly it was not the way I wanted to win," Djokovic said. "I feel very sorry for Roger. I've been in tennis for 10 years and he has always given 100 per cent. I'm sure if he could have played he would have. I wish him all the best in the Davis Cup."
Reuse content