There could be a Murray at the O2 Arena after all. Andy Murray has withdrawn from next month's Barclays ATP World Tour Finals following back surgery but brother Jamie and his partner, John Peers, could yet qualify for the season-ending finale.
The 27-year-old Scot and the 25-year-old Australian are firmly in contention for one of the eight doubles places in London after their run to the semi-finals of the Shanghai Rolex Masters.
With three titles in the bag this year, Murray is enjoying his best campaign since his breakthrough season in 2007, when he won three doubles tournaments with Eric Butorac as well as the Wimbledon mixed doubles title with Jelena Jankovic. Teaming up with Max Mirnyi the following year did not work out and for the next four seasons Murray chopped and changed partners.
In February this year he was languishing at No 92 in the world rankings. In today's updated ranking list, he is expected to climb back into the world's top 30 for the first time for two years. The Scot has a spring back in his step, his spirits having been revived by the partnership with Peers.
Murray and Peers, who are competing in Vienna this week, played their first World Tour 500 tournament as a team in Tokyo, where they reached the final. Their run in Shanghai in their first Masters Series outing together, which ended in a 7-6, 7-6 defeat to David Marrero and Fernando Verdasco on Saturday, has put them in with a chance of making it to the O2 Arena, where the field comprises the eight doubles pairs who have won the most ranking points in the year. However, they need to make up ground on at least three of the pairs above them in the "Race for London".
"People keep asking me about London," Murray said. "To be honest, it's not been on my radar at all. For us to come close is a pretty big effort, considering that we haven't played in most of the big tournaments the teams ahead of us have played.
"Now that our rankings have moved up, hopefully we can start to play more of those tournaments next year. I think next year we'll give it a good go. If a miracle happens and we make it this year we'll have had a great end to the year, but for me it's not something I'm thinking about."
Peers, a tour latecomer after playing college tennis in the US, had singles ambitions but decided to concentrate more on doubles this year. Murray practised with him at the Australian Open in January and suggested playing together. "I said: 'We're similar ranking, we're both pretty young, we speak the same language. Why don't we give it a try for a couple of months and see how it goes?'"
The new team reached the semi-finals in Montpellier in their first outing in February and won their first title in Houston in April, beating the Bryan brothers in the final. Titles in Gstaad and Bangkok followed, plus a run to the quarter-finals of the US Open.
"We've got different styles, which I think works well," Murray said. "He has all the attributes that you need for doubles. If you watch doubles now so much of it is about big serves, big returns. He has a great serve and he's learning a lot about how to return. He has a huge forehand, plus he moves so well at the net and volleys well.
"John can trade big shots with opponents. I don't have the ability to hit 10 big forehands cross-court, but I can do other things. I can chip the ball and come forward and make it difficult for guys. There are things he's learning on the return, like how important it is to set your partner up. I can do things at the net to maybe help get the breaks, but if the ball goes back to him he can hit some great forehands. So we have lots of different ways to win points.
"He's only a couple of years younger than me, but in tennis terms I'm quite a bit older because he's only played on the tour for a couple of years. He's got a lot of energy and he doesn't have any fear."
Murray enjoys not having to spend so much emotional energy worrying who will be his partner in upcoming tournaments. "I always used to be thinking: 'In two or three weeks' time I'm not going to have a partner so I need to find someone.' It was often a case of messaging 20 guys, seeing who was free. Peace of mind, calmness, continuity – all those words – have definitely helped me. I think it's helped John as well. It's exciting. We're both enjoying it. Everyone enjoys success.
"Every time you turn up at a tournament there's that calmness there because you're playing with the same guy, you know what each person's about on the court, what they're trying to do, their strengths and weaknesses, what we need to do to perform. Even if we lose in the first round we can practise together for the week.
"John's a really nice guy. He wouldn't say a bad word about anyone. We don't live in each other's pockets, which I think is a good thing because you spend so much time with each other at the courts that you can spend every waking minute with each other. You probably shorten the shelf life of the team because eventually you just get pissed off with each other."
This is the first year since 2007 that Murray has won three titles. "I know a lot more now, six years down the road, than I did then, especially about myself and what it takes to win," he said. "I'm a lot more comfortable with me as a tennis player on court now. I accept my weaknesses and I accept that my strengths can be really, really good and I try to use them as much as possible, to increase my chances of winning.
"I'm enjoying my life. There are guys still playing doubles at 40, having played for 15 or 20 years, so I'm still like a baby. That's quite scary, really."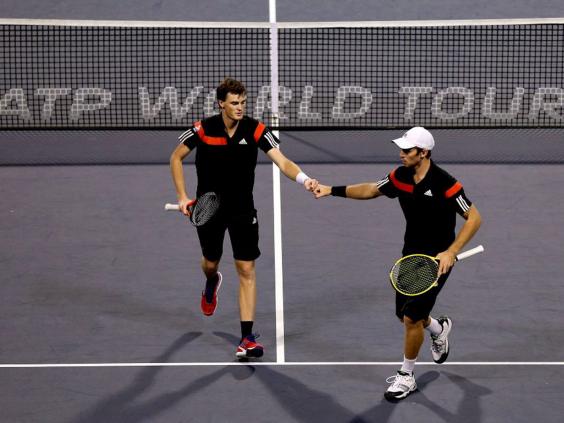 Reuse content