Serena Williams' pursuit of history has been put on hold. The 32-year-old American had been hoping to win her 18th Grand Slam title here, which would have put her equal with Martina Navratilova and Chris Evert, but the injury jinx which has dashed her hopes at the last three Australian Opens struck again here. Struggling with a back injury, Williams suffered only her sixth defeat in the last 20 months when she was beaten 4-6, 6-3, 6-3 on Sunday by Ana Ivanovic.
Although Williams has won the Daphne Akhurst Memorial Cup five times, this was the third year in a row when she has made an early and painful exit from the tournament. Ankle injuries were her problem in 2012 and 2013, when Ekaterina Makarova and Sloane Stephens knocked her out in the fourth round and quarter-finals respectively.
This time the world No 1 hurt her back in practice the day before she played Daniela Hantuchova in the third round. Patrick Mouratoglou, Williams' coach, revealed on Sunday: "Thirty minutes before the Hantuchova match she was about to pull out. Then she said: 'I'm going to try to hit one ball.' She hit two balls and said: 'OK, I'm going to try.' So that one was a miracle. She didn't warm up at all before that match. She couldn't."
Mouratoglou said that Williams' back had been "10 times worse" before she played Hantuchova, but it was clear against Ivanovic that her movement was still badly impaired. Reaching for her shots, she kept mistiming the ball, giving encouragement to Ivanovic to play an attacking game.
The Serb had her chances in the first set, in which she made the first break of serve, but kept her nerve despite Williams' extraordinary record as a front-runner. In her previous 227 matches in Grand Slam tournaments where she had won the first set, Williams had lost only five times.
"She couldn't move the way she usually moves, so she was in a bad position to hit the ball most of the time and couldn't be really aggressive the way she usually is," Mouratoglou said. "When you're not able to do what you usually do and your opponent is just succeeding every time she hits her shots, the pressure becomes much bigger on you."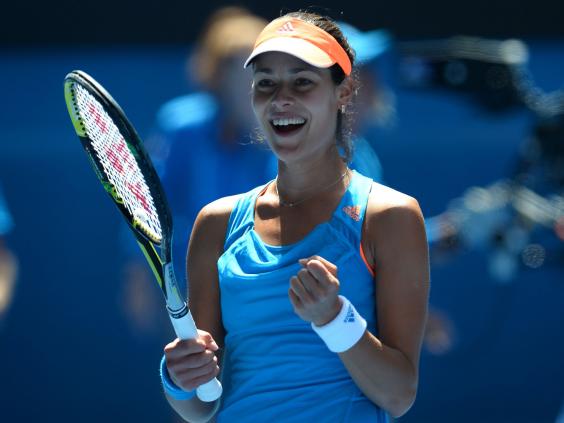 Mouratoglou nevertheless gave credit to Ivanovic. " Ana played unbelievably well," he said. "She has improved a lot. Today she was serving better, returning better and was better in the rallies."
Until she was told that Mouratoglou had been talking about her back problems, Williams was reluctant to blame her defeat on her back. "It wasn't the best, but it was all Ana today," Williams said. "I thought she played really well."
However when pressed she admitted: "I obviously wasn't hitting the way I normally would hit and wasn't moving the way I normally would move and making a lot of errors that I normally would not make and haven't made in a couple of years. I just know that I can play 10 times better than what I did today.
"I always feel like I can do better and improve. After I fell at Wimbledon, I was able to get myself back up. Sometimes it's good when I lose because it takes my head out of the clouds. I just work as if I'm ranked No 1,000 in the world."
Williams' defeat should open up the top half of the draw for Li Na, who has twice been runner-up here. Li earned a quarter-final meeting with her fellow 31-year-old, Flavia Pennetta, thanks to a crushing 6-2, 6-0 victory over Russia's Ekaterina Makarova.
The home crowd celebrated with Ivanovic, who has been known as " Aussie Ana" here since she started dating Adam Scott, the Australian golfer. She has also spent an increasing amount of time with relatives in Melbourne. Ivanovic will become an even greater focus of the crowd's affections after Casey Dellacqua, the last home player in either the men's or women's singles, was beaten 6-7, 6-2, 6-0 by Canada's Eugenie Bouchard, who will next play Ivanovic.
Novak Djokovic, Ivanovic's fellow Serb, eased into the quarter-finals by crushing Italy's Fabio Fognini 6-3, 6-0, 6-2. During his on-court interview after the match Djokovic treated the crowd to an impersonation of the serving style of his new coach, Boris Becker. The German was all smiles as he watched, though he might have been less amused when he heard the world No 2's post-match press conference with the world's media.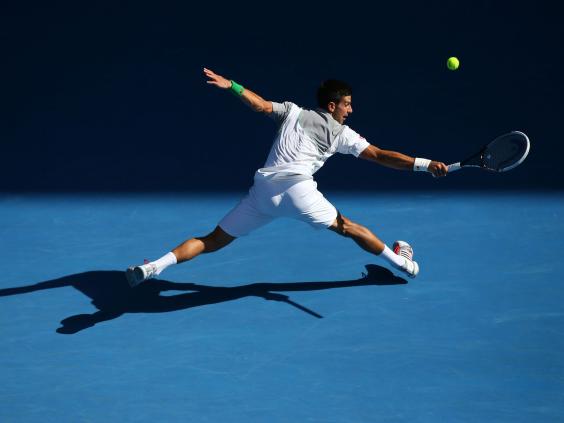 "The first impression, when I've done all the serves, was that he was happy and he was applauding," Djokovic said. "When I said how he is today with his back problems and everything, he was not so happy about that. He was upset.
"But, no, it's all for good laughs. It's actually the first time after a long time I've done a Becker imitation. I don't know how I was. Was I OK? I'm going to gain few kilos and have to colour my hair in order to do the proper Becker imitation."