Andy Murray is not usually a whingeing Pom in defeat, whatever his scowling on-court demeanour might suggest, but the Scot left the Australian Open giving the impression that he was far from happy with Novak Djokovic's behaviour in Sunday's final.
Djokovic won his fifth title here, beating Murray 7-6, 6-7, 6-3, 6-0 after making a remarkable recovery in the last two sets. At the start of both the second and third sets the world No 1 looked to be a spent force physically as he stumbled and struggled to chase balls. On both occasions Murray went a break up, only for Djokovic to regain his strength almost as quickly as he had lost it.
The Serb's recovery in the third set proved to be the turning point of the match. Going for his shots and striking the ball with great power, Djokovic won 36 of the last 49 points. It was the first time in Australian Open history that the last set in a men's final had ended 6-0.
Australian Open men's final - in pictures
Australian Open men's final - in pictures
1/12 Australian Open men's final

Murray's girlfriend Kim Sears wore this top in response to being caught swearing in his semi-final win over Tomas Berdych

Getty Images

2/12 Australian Open men's final

A member of security (bottom) prepares to pull down a banner displayed by protesters (wearing white shirts) in the stands. Two women were later arrested

GETTY IMAGES

3/12 Australian Open men's final

Murray's coach Amelie Mauresmo looks on in shock as the Briton falters in the fifth set, going down 6-0

GETTY IMAGES

4/12 Australian Open men's final

Djokovic celebrates Championship point

5/12 Australian Open men's final

A distraught Murray takes a seat after his match

6/12 Australian Open men's final

Djokovic holds his trophy next to runner-up Murray

GETTY IMAGES

7/12 Australian Open men's final

Murray looks on as Djokovic is presented with the title

8/12 Australian Open men's final

Djokovic poses with his trophy - winning the Australian Open title for the fifth time

9/12 Australian Open men's final

Djokovic's coach Boris Becker applauds from the stands

10/12 Australian Open men's final

A downbeat Murray talks to the press

11/12 Australian Open men's final

Djokovic raises a celebratory toast in his press conference

12/12 Australian Open men's final

Djokovic is all smiles in the locker room
"The third set was frustrating because I got a bit distracted when he fell on the ground after a couple of shots," Murray said. "It appeared that he was cramping, and then I let that distract me a little bit. That's what I'm most disappointed about – not so much the fourth set because I think, especially at the end of it, he was just going for everything, and it was going in."
Asked if he thought it was a legitimate tactic to make an opponent think you were hurt when you were not, Murray said: "No, it's not legitimate. I have no idea what the issue was. He obviously looked like he was in quite a bad way at the beginning of the third set and came back unbelievable at the end of that set. Then, obviously, the way he was hitting the ball in the fourth and moving was impressive."
Murray, who was called a "drama queen" when he made his own dramatic recovery from a back problem at the French Open four years ago, admitted that he had played enough matches "to be able to handle that situation better". He said he hoped that Djokovic had not deliberately given a false impression that he was struggling, but added: "If it was cramp, that's a tough thing to recover from and play as well as he did at the end."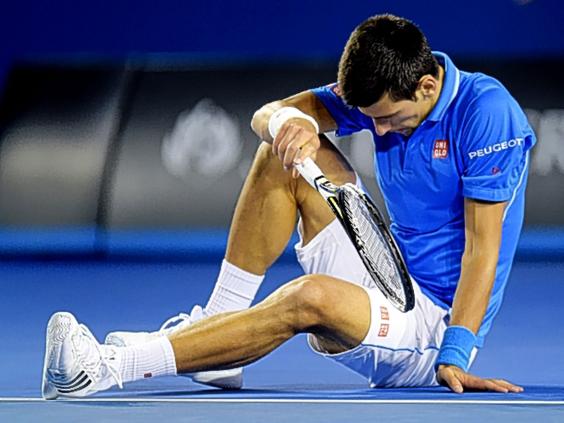 Djokovic said that he had had a physical "crisis" at the beginning of the third set, but not cramp. "I just felt very exhausted and I needed some time to regroup and recharge and get back on track," he said. "That's what I did."
When told that Murray had said that he had been distracted by Djokovic's apparent discomfort, the Serb said: "I'm not going to talk bad things about him in the press or find any excuses or something like this.
"In the match like this a lot of emotions go through, a lot of tension. It's not easy to keep the concentration 100 per cent all the way through."
Djokovic, who thought his physical dip might have been a legacy of the virus that disrupted his build-up to the tournament, said that he had recalled his 2013 final against Murray here, which he also won after they had split two marathon sets at the start.
"It was a similar situation," Djokovic said. "Then I felt that I had some physical edge over him in that match. That was something that kept me going, as well as the importance of the moment, being in the final of a Grand Slam. I didn't want to give up. I try never to give up."
While Murray said he would take many positives from the last fortnight, he was frustrated at failing to take his opportunities as he lost in the final here for the fourth time.
The Scot needed six break points before he broke serve in the opening set, at the end of which he lost the tie-break 7-5 after being 4-2 up. In the second set Murray regrouped well after letting slip an early lead following Djokovic's first physical dip – he was helped by a five-minute delay after two political protesters were evicted from the court – but after going 2-0 up in the third the Scot let the advantage slip from his grasp. When he dropped serve on a double-fault to go 5-3 down he slammed his racket to the floor in frustration.
The pity of it was that Murray had matched Djokovic blow for blow over the first two sets, which took more than two and a half hours to complete and featured some superb rallies.
Despite his disappointment at losing in the final here for the fourth time, Murray acknowledged that he would eventually look back on the last fortnight as a period of major improvement in his game. He played his best tennis since his last appearance in a Grand Slam final at Wimbledon two years ago. This was also the first time since he underwent back surgery later in the same year that he felt physically capable of lasting the distance in a Grand Slam tournament.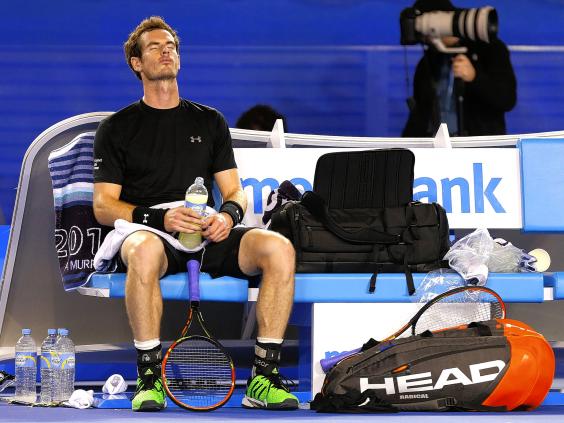 One of his rewards will come with today's updated world rankings list, in which he will climb back to No 4 behind Djokovic, Roger Federer and Rafael Nadal, the three other members of the "Big Four" who have dominated the sport for so long.
"It's been a great couple of weeks compared with where I was a couple of months ago," Murray said. "It's like night and day, really. I've been playing way, way better in almost every part of my game. I'm moving better. Physically, I feel better, I'm more confident, have more belief. I was a lot calmer before my matches. Mentally I felt much, much stronger than I did at the end of last year and during the majors last year."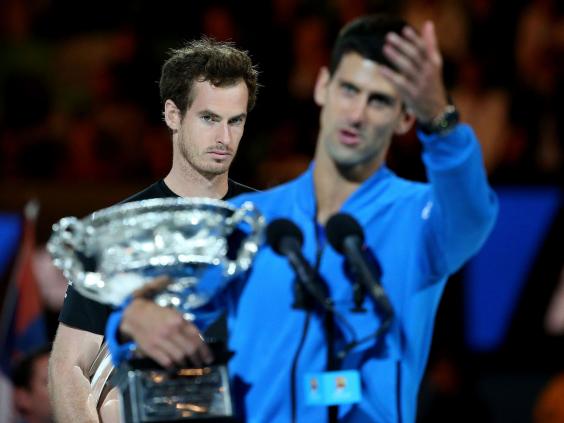 After a difficult 2014, it is also clear that Murray is in a much happier frame of mind, particularly with regard to his coaching entourage. "Success is being happy," he said. "It's not about winning every single tournament you play, because that isn't possible. You want to win every event, that's what you prepare for. But no one in the history of this game has ever  done that."
Reuse content