There can be no denying that this has been a memorable month for some of Britain's best young players but if Heather Watson, James Ward and Kyle Edmund are to maintain their progress they need to learn from their experiences here at the Australian Open.
On a disappointing day for British tennis, all three fell at their first hurdle. Watson, who had been feeling under the weather since the previous evening, was beaten 6-4, 6-0 by Bulgaria's Tsvetana Pironkova. Ward pushed Fernando Verdasco hard before  losing 2-6, 6-0, 7-6, 6-3, while Edmund was outgunned by the big-serving American, Steve Johnson, and lost 6-4, 6-4, 6-3.
For Watson, the lesson was simple: there are some occasions when you just have to take the rough with the smooth and move on. It was impossible, nevertheless, not to feel sympathy for the 22-year-old from Guernsey, who had won the second title of her career three days earlier, had just risen to a career-high No 38 in the world rankings and arrived here full of confidence.
Instead the day brought a distressing reminder of two years ago when her Australian Open campaign was troubled by what was later identified as the first signs of glandular fever. Even the doctor who came on court to advise Watson how to deal with her lack of energy was the same man who had treated her here in 2013.
This is not the first time Watson has experienced such symptoms on court, though she does not believe it is a recurrence of glandular fever. "I get this at different times," she said. "I have a day or two here and there where I feel like this."
She added: "I'm not sure if it's to do with my schedule. I just think it's to do with my body and how it works, but I'll find out about that and go and see the doctor." Watson has still to play in the doubles here, but her next singles appearance will be in Hungary next month when she leads Britain's Fed Cup challenge. Thereafter she plans to play in Doha and Dubai, where  high-quality fields are guaranteed.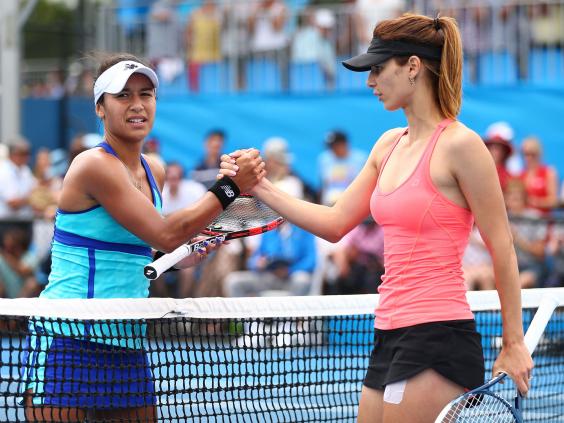 Ward, who was competing in the main draw of a Grand Slam tournament by dint of his world ranking for the first time, had his chances against Verdasco, particularly in the pivotal third set. The Briton led by an early break and was also up in the tie-break, but from 5-4 ahead, with two of his own serves to come, lost four of the next five points.
The quality of the tennis was high throughout and Ward was left to reflect on the excellence of Verdasco's play on the biggest points. "I'll go away and watch it again and if I'm in the same position again, try and do something a little different," he said.
Ward is not sure where he will play next because he first has to go home for the funeral of his grandmother, who died last week. "I used to live with her a lot," he said. "Of course it has been on my mind. It's been tough. I don't want to talk about it or make excuses. It is difficult. We are a very close family. It was a bit of a shock. I will go home and get on with it and then look  forward."
Having climbed to the brink of the world's top 100, Ward would like to go up another 50 places before Wimbledon. He said he now felt more comfortable playing at this level. "I think you can see today," he said. "I've shown big improvements."
Edmund had come through the qualifying tournament of a Grand Slam event for the first time to play in the main draw. However, the 20-year-old was overpowered by an opponent who hits the ball much harder than most of those players he faces on the Challenger tour, to which  he will return in Hong Kong next week. Thereafter Edmund will come back to Australia to play two more Challengers.
"I'll keep trying to get better and I'll keep looking forward," Edmund said. "Matches like these are the best experience and provide you with the best information to take away. You learn more from your losses. Obviously, you don't want to lose all the time, but when it does happen you have to take it positively. Johnson is ranked No 39 in the world. He's a good player. I just have to keep looking to improve, regardless of what other people do."
Reuse content