Andy Murray will face a familiar foe when he goes in search of his first Australian Open title here on Sunday. Twenty-four hours after the 27-year-old Scot earned his chance to make history, Novak Djokovic secured the opportunity to stop his long-time friend and rival becoming the first man in the Open era to win this title after losing his first three finals.
A 7-6, 3-6, 6-4, 4-6, 6-0 semi-final victory over Switzerland's Stan Wawrinka took Djokovic into his third final here against Murray. The Serb won both their previous meetings, in 2011 and 2013, while Roger Federer beat Murray in the Scot's first Melbourne final in 2010.
"Andy and I go back to when we were 12 years old," Djokovic said in an on-court interview after his victory over Wawrinka. "That was the first time we played against each other. There's only a week's difference between us in age. We've known each other for a long time and we have a very friendly relationship. It's nice to see that we're playing another Grand Slam final against each other. We've played many and we'll see if we can come up with a good match for all of you guys."
Today's semi-final was the third meeting between Djokovic and Wawrinka here in as many years. Like the first two it went to five sets, but in truth the collision of "Stanimal" and "The Djoker" rarely lived up to its pre-match billing. Both men played well below their best and made too many mistakes, although there were occasional reminders of their outstanding ability.
When Djokovic dropped his serve at 3-3 in the opening set it was only the second time in 77 service games at the tournament that he had been broken. The Serb smashed his racket in frustration at the subsequent changeover but responded superbly in the following game, breaking back to love. Wawrinka saved two set points when serving at 4-5 before Djokovic won the tie-break 7-1.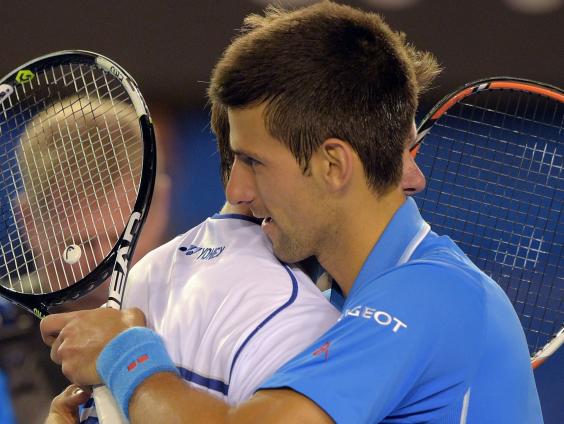 Djokovic might have been expected to turn the screw in the second set, but the world No 1 continued to play within himself. Wawrinka saved two break points in the opening game, broke serve to lead 4-2 as Djokovic double-faulted on break point and then served out to level the match.
After an early exchange of breaks Wawrinka let the third set slip from his grasp when he played four poor points in a row when serving at 4-5 and leading 40-15. The rot started with a double fault as the defending champion went for a 120mph second serve before two unforced forehand errors and a Djokovic winner sealed the set.
The fourth set followed a similar pattern-  but produced a different result. At 3-3 Djokovic dropped his serve to love and with the clock approaching three hours Wawrinka served out for the set.
Djokovic had been looking in despair at his entourage, having failed to hit a single winner in the fourth set, but the Serb finally found his form in the decider as Wawrinka faded badly.
The statistic at the end of the match told their own story, with Wawrinka making 69 unforced errors and Djokovic 49. Murray will give Djokovic the respect he deserves, but if the world No 1 plays as poorly again the Scot will have an outstanding opportunity on Sunday.
Reuse content