Maria Sharapova is still only 28 years old but sometimes it can seem as if the Russian has been around for ever. She won her first Grand Slam title at the age of 17 and, barring the odd injury break, has been in contention for major honours ever since.
The world No 5, who lost to Serena Williams in the final here last year, recorded the 600th victory of her career when she beat Lauren Davis, of the United States, 6-1, 6-7, 6-0 to reach the fourth round of the Australian Open.
"I think it's a proud number," Sharapova said afterwards when asked about the milestone. "I've played for many years. I don't think about those numbers until I finish the match and someone does mention it. I think it's a good fact that I've been able to win that many matches. But overall it's not constantly on my mind, how many matches I've won in my career."
Playing her first tournament of the year after an arm injury interrupted her early-season plans, Sharapova did not have things all her own ways. When she served at 30-0 and 2-1 in the second set she seemed to have everything in control, but Davis broke back and forced a tie-break, which she won 7-5.
Sharapova made a remarkable 33 unforced errors in the second set, which lasted 77 minutes and ended with her hitting a loose forehand on Davis' first set point. Nevertheless, order was restored in the deciding set, which Sharapova won in just 31 minutes.
"I felt like I made it a little bit more difficult than I should have," Sharapova said. "I definitely had a let-up at 2-1 and 30-0. I felt like I was hitting the ball well, doing the right things to get in that position, then let up. In a Grand Slam environment against anyone you can't expect to get away with it and I didn't in the second set.
"But overall I'm really happy with how I came out in the third and stepped up, considering it's been many weeks since I've been in that position. So I was happy with the way I finished. I think I can take a lot of good things from that."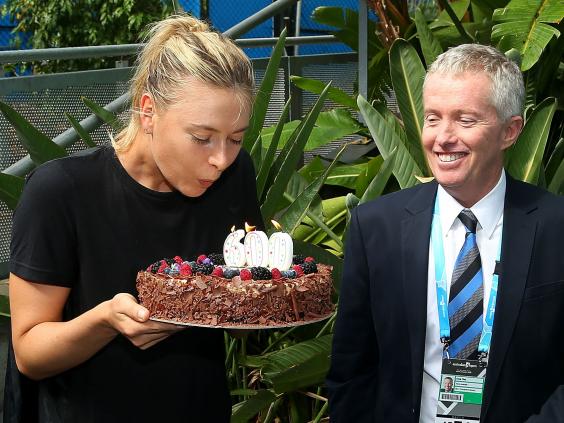 Asked how she keeps herself motivated, Sharapova said: "I really love what I do. Although I'd love to sit on the beach and read a book and drink margaritas, after a few days I get bored.
"When I miss a couple of weeks or I'm away with injury, I get back on the court and it's funny, those first few moments where you feel a bit rusty, but the feeling of hitting the ball, even though you're not playing points, when that comes back to me, I'm like: 'This is what I love to do.' There's no better feeling."
She added: "I have been doing it for a long time. That's a fact. But there's nothing else that I'd rather do right now than keep doing that. If I think about it like that – 'Oh, I've been around the block, I've been to all these tournaments so many times' - that would seem quite heavy and would not really motivate me much. You always have to find new inspirations and new goals, find things that really get you going in the morning."
In the next round Sharapova will face 18-year-old Belinda Bencic, who reached the last 16 here for the first time thanks to a 4-6, 6-2, 6-4 victory over Ukraine's Kateryna Bondarenko.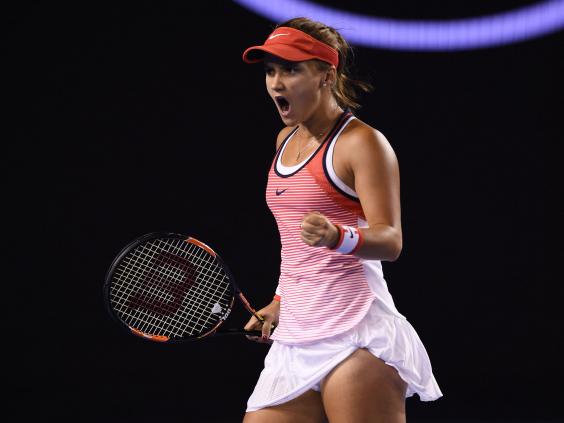 Bencic, the world No 13, is arguably the most exciting teenager in the women's game, but there was a time when she was losing three-set matches regularly. However, she has put a bigger emphasis on fitness of late and has not lost a three-set match for eight months.
"I don't know if it's only fitness, but also the focus and the belief that you can really play the best at the most important points and you really can't do any stupid mistakes in the third set when it's 4-4," Bencic said.
Twelve months ago the Swiss lost in the first round to Julia Goerges, but she is clearly a more mature player now. "I just feel like I'm not as nervous when I go to the court any more," she said.
"When I played last year I was very nervous. I didn't really know what to do on the court. Now I've got a lot of confidence. Just when I go to the court, I stay more calm and really try to think more what I have to do. For sure I think my serve has got better, which helps a lot in the game."
Bencic also said she was learning how to cope with all the media attention around her. "When you're a good junior and you have the success early, you have to learn it and you have to deal with it," she said. "You just take it as a normal thing. So I try to really stay on the ground, stay humble."
Reuse content