She should have been walking up the aisle but instead she will be pounding the streets. It was in early summer, shortly after Rory McIlroy called off their November wedding, that Caroline Wozniacki decided to give herself another occasion to look forward to this month. On Sunday the 24-year-old Dane will run the New York Marathon, confident she can last the pace despite having had nightmares about being carted off in a wheelchair.
Wozniacki, who has never previously run more than half the marathon distance of 26.2 miles, insists that her decision to run had nothing to do with the cancellation of her wedding, for which the invitations had already been sent out. She has always run as part of her training and came up with the marathon idea shortly before Wimbledon while having  dinner with her father and support team.
Having studied her tennis schedule, Wozniacki decided the timing of the race would be perfect. The regular season ended with last week's WTA Finals in Singapore, where Wozniacki lost to her good friend Serena Williams in the semi-finals, and she will still have time for a break before beginning preparations for next year.
Having decided to run in New York, Wozniacki planned to increase her road work during the tennis season, but she has not done as much as she would have liked, largely because of the reversal in her on-court fortunes. She was world  No 1 for 67 weeks until January 2012, but had suffered a steady decline and slipped to No 16 this summer.
Since losing in the fourth round at Wimbledon, however, she has not looked back. Wozniacki won a title in Istanbul, reached the final of the US Open, has made the semi-finals or better in four of her last five tournaments and is back up to No 8 in the rankings. Playing so many matches has limited her marathon training, though she does not see that as a problem.
"I know that normally you should be doing more, but I've been playing so many long matches and I think most people don't work out or play tennis for three, four or five hours a day," Wozniacki said. "When I did half and I felt great, I thought: 'You know what? This is OK. I can finish this.'"
Wozniacki said that her experience of playing long matches left her confident that she could "push through anything". She has set herself a target finishing time, though she is refusing to reveal what it is.
"I will save my energy and just get through with the crowd on Sunday," she said. "I think it's going to be mental more than physical." She said she had still not worked out how to run and drink at the same time, admitting that "it goes all over the place".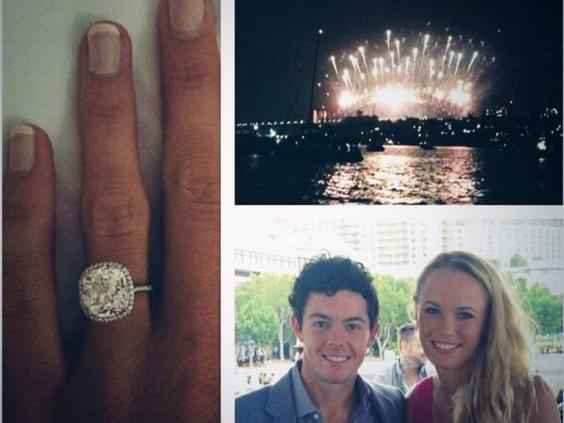 Kimiko Date-Krumm, who has given some advice, ran the 2004 London Marathon during her 12-year break from tennis, but Wozniacki is believed to be the first active top-class tennis player to have entered a marathon. Very few athletes from other sports run marathons at the peak of their careers, though the New York field includes Billy Demong, a skiing gold medallist at the 2010 Winter Olympics.
Wozniacki is running in aid of Team for Kids, which supports health and fitness programmes for young people. She has already raised more than $50,000 (about £31,300) for the charity, with Andy Murray among a number of fellow tennis players who have supported her.
Earlier this week, nevertheless, Wozniacki still had one significant absentee from her list of sponsors. "Serena, you're still missing," the Dane told TV cameras at a press conference in New York. "She asked me the other day where she could donate, and I gave her the website. Now I've put her on the spot so she doesn't have a choice."
Reuse content