For Andy and Jamie Murray, not to mention their Glaswegian captain Leon Smith, it surely cannot get much better than this. In front of 8,000 fans who all but blew the roof off the Emirates Arena with their raucous support, the Murrays put Britain within one win of a first appearance in the Davis Cup final for 37 years with a stunning victory in the doubles here yesterday.
The brothers beat Lleyton Hewitt and Sam Groth 4-6 6-3 6-4 6-7 6-4 after three hours and 56 minutes of unrelenting drama to put their team 2-1 ahead in this gripping semi-final. They need to win just one of today's two reverse singles to go through to the final in November against either Belgium or Argentina.
If Andy does not beat Bernard Tomic in this afternoon's opening match it will be down to Dan Evans to find a way past Thanasi Kokkinakis in a deciding fifth rubber. However, both teams can change their nominated players up to an hour before the 1pm start.
There were times yesterday when Andy appeared to be struggling physically as he stooped for low volleys, but he insisted afterwards that it had simply taken him time to warm up and adjust to the different movements involved in doubles.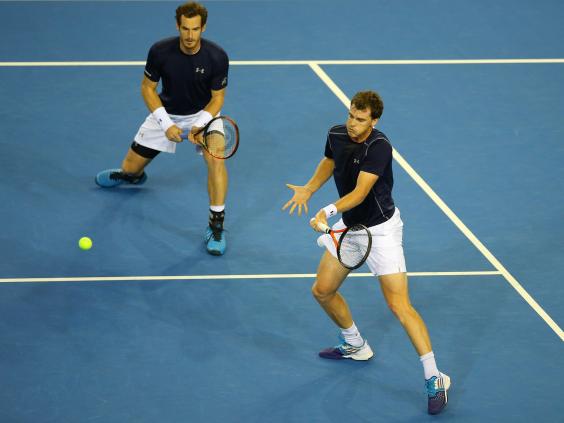 From the moment it was decided to stage this tie here it was as if the script dictated it would be the Murrays who would be the home team's heroes. When Andy came through his victory over Kokkinakis unscathed there was little doubt Smith would send him out alongside his brother instead of Dominic Inglot for the doubles. When the world No 3 plays for his country – in the Olympics or in the Davis Cup – there is a passion that drives him forward and pushes him beyond physical limits that would restrict most mortals.
Nevertheless, this was not a one-man show. Jamie is enjoying his best year and although the Wimbledon and US Open runner-up could not match his brother in the quality of his returns and ground strokes, he played magnificently at the net.
In such an emotionally charged atmosphere the tension got to all four players at different stages, but it was Groth whose nerve seemed to go. The big Australian, hitting huge serves and smart volleys, was his team's most effective player for two and a half sets, but as the pressure grew he became weaker.
Hewitt, who delayed his retirement largely in order to have one last crack at this competition, was an inspiration. While Groth wobbled, the former world No 1 kept his nerve and was there to offer support.
If this does prove to be Hewitt's last match in the Davis Cup – he will retire after next year's Australian Open - it was fitting that it should go to five sets, as so many of his contests have over the years.
The Murrays have been occasional doubles partners but this was only the third time they have paired in the Davis Cup. There were times when their lack of understanding showed. Twice in the first set the Australians hit clean winners off Jamie serves by returning into empty space as both brothers covered the other side.
The Britons had chances to break both Australians in the first set, but the only player who dropped serve was Jamie. From 40-0 up at 2-2 in the second Andy appeared to be in physical trouble when he missed a volley and half-volley. After surviving that mini-crisis, however, the Britons broke Groth in the following game, enabling Andy to serve out the set.
 The Australians went 3-0 up in the third, breaking Andy's serve for the first time. Hewitt and Groth were chest-bumping à la Bryan brothers, but from 4-2 up they both dropped serves as Britain took the set.
 The fourth set was a roller-coaster from start to finish. After Jamie and Hewitt dropped service games, Jamie saved two break points and then three set points at 4-5. Hewitt was broken again, but when Andy served for the match he was broken. Groth saved a match point with a smart volley and two missed volleys later the Australians had levelled the match.
 The drama intensified in the fifth set. Groth dropped his serve to love only for Andy to be broken three games later. Groth clung on to his serve at 2-3 but when he served to stay in the match he crumbled one last time. A superb return winner by Andy created match point, upon which Groth missed a volley.
"It was an incredible match, to come back from the disappointment of losing [the] fourth," Andy said. "They came up with great tennis to get back, but we kept creating chances, fighting hard. We stuck together – like brothers should – and just managed to come up with enough good returns to get through."
Despite his tiredness the world No 3 had time to joke when asked about his final match: "I think I'll let Dominic play the singles tomorrow."
Reuse content