Andy Murray has grown accustomed to upstaging his older brother and after Jamie's narrow failure to deliver Davis Cup victory for Britain here on Saturday the scene is set for Murray junior to strike the winning blow on Sunday afternoon. Although Bob and Mike Bryan kept the United States alive by beating Jamie Murray and Dominic Inglot 6-3 6-2 3-6 6-7  9-7 in a dramatic doubles, Britain need to win only one of Sunday's reverse singles to secure a quarter-final at home to France in July.
Andy Murray will meet John Isner in the first of them and will be the favourite to clinch the tie in front of his adoring Scottish public. The world No 5 has never lost a Davis Cup singles rubber on home soil and has won all three of his meetings with Isner, who lost to James Ward from two sets up in a five-hour marathon on Friday.
Jim Courier, the American captain, said last night that Isner was "ready to go", but it remains to be seen whether the world No 20 will have recovered. "I don't think Isner is going to be exactly back-flipping out of bed tomorrow morning to play Andy," Jamie Murray said.
It seemed for a while that Murray and Inglot might repeat Ward's comeback heroics, only for the Bryans to hold on grimly to their record of never losing after winning the first two sets. The Britons had not played together since their junior days, but recovered from a poor start to push the world's most successful doubles pair to the limit. Inglot, in particular, played superbly and never dropped his serve.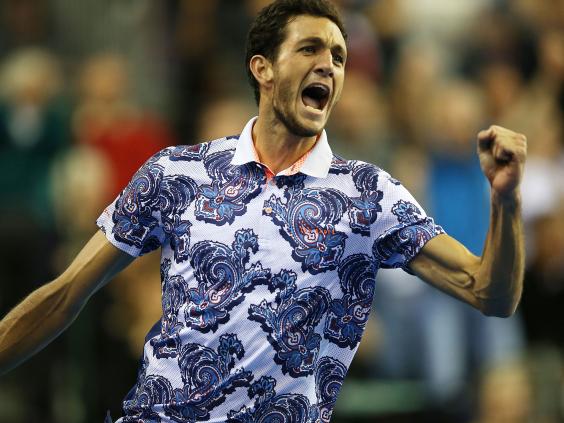 With Andy Murray at the forefront of the cheerleading, the whole British entourage helped to whip the 7,700 capacity crowd in the Emirates Arena into a frenzy of support. Jamie Murray noticed that the American bench offered significantly less support to the Bryans. "It was pretty obvious to me that we are a much tighter team than the Americans," he said.
On court the only significant difference in the first two sets had been Murray's failure to win any of his first four service games, but holding serve for the first time in the third game of the third set transformed him. Mike Bryan dropped serve in the following game, Murray hitting the winning volley, and the Britons served out to take the set.
The Americans saved two set points in the fourth set tie-break and then failed to take a match point. With Inglot serving at 9-8 and Andy Murray encouraging the crowd to pump up the volume, the Britons levelled the match, Jamie Murray hitting the winning forehand volley.
In the decider there were no break points until Murray served at 7-7. Ironically, it was a series of Inglot mistakes that proved costly. Murray saved one break point with an ace but netted a volley on the second, after which Mike Bryan served out for victory. Leon Smith, Britain's captain, said Murray and Inglot should be proud to have run the 16-times Grand Slam champions so close.
For two days this tie has mirrored last year's in San Diego, when Andy Murray and Ward won on the first day and the Bryans kept the tie alive on the Saturday. Andy Murray went on to clinch victory last year by beating Sam Querrey in the fourth rubber. On Sunday he will be hoping to round off Britain's first home victory over their oldest rivals for 80 years. If Murray loses, it will go to a deciding fifth rubber between Ward and Donald Young. History is on Britain's side. In the 40 ties in which the United States have gone 2-0 down, they have recovered to win only once, when they beat Australia in 1934. Britain have never let slip a 2-0 lead.
Reuse content