This was not so much a defeat as a brutal mugging. Andy Murray knew he was facing the greatest challenge in tennis when he met Rafael Nadal in the semi-finals of the French Open, but even he could surely not have envisaged the beating he endured on Court Philippe Chatrier. Nadal, playing at his majestic, magnificent best, won 6-3,  6-2, 6-1, inflicting on Murray the heaviest defeat of his Grand Slam career.
Nadal, who will renew his rivalry with Novak Djokovic in tomorrow's final, had seemed significantly below his best in the build-up to Roland Garros, where he has now won 65 of his 66 matches, but this victory was one of his most remarkable.
Murray may not be at his best on clay, but the Wimbledon champion had pushed the world No 1 to the limit on his favourite surface only three weeks earlier and had made progress in his previous five clay-court matches against him. Nadal, however, played superbly, hitting his forehands in particular with immense power and stunning accuracy. He put so much pressure on Murray that the Scot was regularly caught between trying to keep the rallies going and knowing that he had to put something extra on his shots if he was to win the point. Nadal served and returned beautifully and Murray did not.
"That's the toughest match I have played against him," a subdued Murray said afterwards. "He was hitting extremely hard, extremely heavy, returning well, and was hitting it well on the run."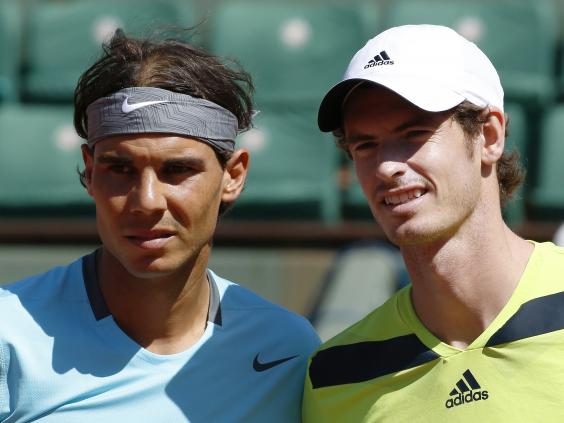 Until Friday Murray's heaviest loss in 156 Grand Slam matches had been a 6-1, 6-3, 6-3 defeat to Argentina's Juan Ignacio Chela in the first round of the 2006 Australian Open. Murray won only 10 points (two of which were double faults) in Nadal's 12 service games, did not have a single break point and kept the Spaniard on court for only an hour and 40 minutes. Nadal, who won a total of 83 points to Murray's 43, created six break points and converted all of them. Murray had lost in straight sets to Nadal at the same stage of the 2011 tournament, but on that occasion the match lasted more than three and a quarter hours and the Scot created 18 break points.
"He played a great match," Murray said. "He missed hardly any balls. He served very well. His forehand, especially with the conditions the way they were today, was incredibly hard to control. As soon as he was inside the court, he was hitting the ball so close to the line. He played great tennis."
The conditions, with the temperature climbing at last to 28C after one of the coldest French Opens in living memory, suited Nadal as the balls flew through the air and bounced high off the court.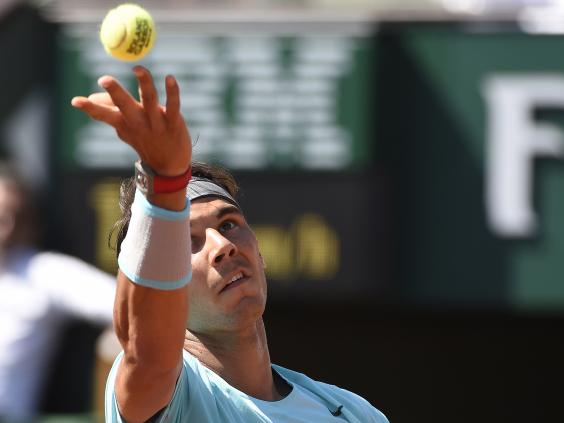 Everything went downhill for Murray after the first point, which he won with a backhand winner after pulling Nadal from one side of the court to the other. Nadal won the next four points to hold serve and broke in the following game thanks to a huge forehand winner and three Murray mistakes – a double fault and two netted forehands. Nadal served out for the first set in just 34 minutes and needed only 31 minutes to take the second after breaking serve in the third and seventh games.
Any chance of the match developing into a contest vanished when Nadal broke in the third game of the third set.
The major positive that Murray can take from this tournament is that he has played more tennis here than at any stage since he began his comeback following back surgery at the start of the year.
"It's obviously a good thing that I managed to get through some long matches, but there is still a lot of work for me to do on this surface in particular if I ever want to have a chance at winning this tournament," he said.
With the Aegon Championships starting at Queen's Club on Monday and Wimbledon following a fortnight later – Murray is the defending champion at both – the world No 8 needs to put this disappointment behind him as quickly as possible.
"I think going onto the grass will help me in some ways," he said. "I have a lot of good memories from the grass court season over the last couple of years."
Nadal, who is going for his ninth Roland Garros title, needs to beat Djokovic tomorrow to prevent the Serb replacing him at the top of the world rankings. Djokovic, who beat Nadal in the recent Rome final and has won their last four meetings, requires the title to complete his Grand Slam collection.
The world No 2, who lost to Nadal in the 2012 final here and the 2013 semi-finals, has been in superb form of late, but his 6-3, 6-3, 3-6, 6-3 victory yesterday over Latvia's Ernests Gulbis was a strangely lacklustre affair.
Gulbis, playing in his first Grand Slam semi-final, admitted the occasion had got to him. "In my opinion, it was not good-quality tennis at all," he said afterwards. "It was just grinding and trying to put the ball in. Neither of us were hitting the ball well. The pace was really slow. It was a struggle out there. In the whole match I felt as though I maybe hit only five really clean shots, from backhand, forehand or even serve. I felt he was just the same."
Reuse content