Andy Murray has yet to play on Court Philippe Chatrier at this year's French Open, but the 27-year-old Scot can expect star billing in the main stadium here on Wednesday. The reward for Murray's best display of the tournament so far, a dominant 6-4, 7-5, 7-6 victory on Monday over Fernando Verdasco, will be a quarter-final showdown with Gaël Monfils, the last French player left standing and a hugely popular figure in his home city.
After completing his four-hour victory over Philipp Kohlschreiber the previous day, Murray was keen to win his fourth-round match in the minimum time possible. He still needed two hours and 54 minutes to see off Verdasco, but this was a masterful performance, full of controlled aggression.
It was the third day in a row that Murray had appeared on Court Suzanne Lenglen, the second stadium here, his  win over Kohlschreiber having been spread over two days.
The victory extended Murray's fine record of consistency in Grand Slam tournaments. He has reached the last eight in each of the last 13 Grand Slam events he has contested. Tomorrow's match will be his fourth quarter-final here.
Monfils, who beat Spain's Guillermo Garcia-Lopez  6-0, 6-2, 7-5, has grown used to carrying home hopes at the French Open, having reached two quarter-finals and a semi-final in the last seven years. The 27-year-old Parisian, a superb athlete and spectacular shot-maker, is one of the game's great entertainers. His talent is matched only by his unpredictability, which has frustrated a succession of coaches in the past.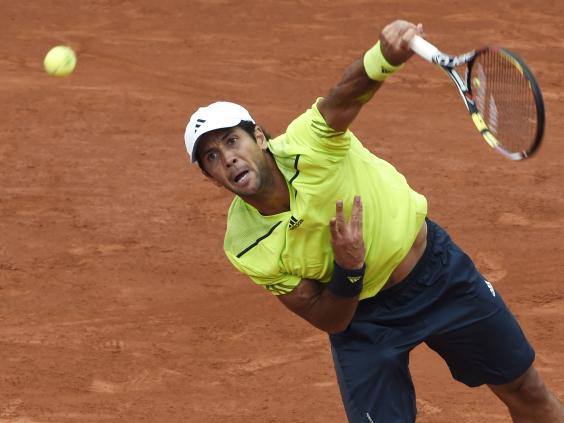 Murray, who wrote "merci beaucoup" on the television screen after beating Verdasco, knows that the vast majority of the crowd will be behind the local hero when he faces Monfils. Tomorrow's two quarter-finals are scheduled to be split between the main show courts. The other match, between Rafael Nadal and David Ferrer, is a repeat of last year's final, but it would still be a surprise if the all-Spanish meeting was chosen ahead of Murray-Monfils as the contest to put on the main stage.
"The atmosphere will be great whichever court it's on," Murray said. "I don't care whether no one in the crowd wants me to win or everyone wants me to win. I will fight just as hard."
Murray has known Monfils since he lost to him in the semi-finals of a tournament in Rouen when he was just 10. Murray's brother, Jamie, went on to beat the French boy in the final. "He used to play with glasses," Murray recalled. "He had shaved hair, with quite a high cut. He was the same as he is now. He was just a great athlete, moved unbelievably well, smiling on the court. He's a great athlete, maybe the best we have had in tennis."
Monfils has lost three of their five matches, but came out on top in both of their previous meetings in the Frenchman's home city. Murray, troubled by a back problem, lost in five sets when they met in the first round here in 2006, while Monfils won over the best of three sets at the indoor Masters Series tournament on the other side of Paris four years ago.
Murray had beaten Verdasco in nine of their previous 10 meetings, including the most recent, when the Scot won from two sets down in the quarter-finals at Wimbledon last summer. Aggressive from the start and as steely as ever in defence, he took the game to the world No 25 throughout. Murray won the first set in 46 minutes after breaking to lead 5-4 and the second after breaking in the 11th game.
By the start of the third set Murray looked to be in complete control. He broke serve immediately and had 10 break points in Verdasco's next three service games but was unable to take any of them. Verdasco, meanwhile, was becoming increasingly agitated. After thumping a forehand straight at Murray when the Scot was at the net, the Spaniard then became involved in a heated exchange with Pascal Maria, the umpire, over a line call.
For a game or two Murray might have been in danger of letting his frustration get the better of him, but he held firm in the tie-break, setting the tone on the opening point with a splendid winning backhand cross-court pass. Verdasco levelled at 3-3 after losing the first three points, but Murray remained as solid as a rock to win it 7-3.
Murray, who said he had played more aggressively because he knew he would be tired from his previous exertions, agreed that it had been his best performance of the tournament so far. "I thought I dictated as many points as I could today," Murray said. "It's not always possible, because you're playing against top tennis players. He's got a lot of firepower as well."
On the day that King Juan Carlos of Spain announced his intention to abdicate after nearly 40 years on the throne, his countryman Nadal showed he had no desire to step down as king of clay. The world No 1, who has not dropped a set in his first four matches, beat Serbia's Dusan Lajovic 6-1,  6-2, 6-1 to earn a quarter-final meeting with Ferrer, a 6-3,  6-3, 6-7, 6-1 winner over South Africa's Kevin Anderson.
Nadal, who refused at his post-match press conference to discuss the back problem which had troubled him in earlier rounds, beat Ferrer in last year's final in straight sets but has lost two of their three subsequent meetings, including one on clay in Monte Carlo two months ago.
"I think that I am a little bit better than when I was playing against him in Monte Carlo, but I think he's playing great, too," Nadal said. "He's coming to the match with confidence."
Reuse content