The "not since Fred Perry" and "not since Bunny Austin" statistics are growing fewer by the year as Andy Murray continues his stampede through the British record books. Another will be erased if the Scot reaches the French Open final here this afternoon. No British man has made the final since Austin in 1937, while Perry (1935 and 1936) is the only other man from across la Manche to have achieved the feat.
Murray ended Britain's 77-year wait for a men's singles champion at Wimbledon last summer but if he is to end the 77-year wait for a finalist here, he will have to beat the greatest player in French Open history. Rafael Nadal, who is aiming to extend his record of eight Roland Garros titles, has won 33 matches in a row on these courts and lost only one of the 65 matches he has played here. No wonder one bookmaker is quoting him at 7-1 on to win.
Most of the signs point to Nadal extending his unbeaten record on clay against Murray, but there is no way that the Scot will go into his second French Open semi-final with an inferiority complex. "Reaching the semi-finals is definitely a big achievement, but that's not what I came here to do," Murray said. "My goal is to try to win these events every time I come to them. I'm in a good position right now."
Asked whether he still had the hunger to win Grand Slam titles, Murray said: "That's not something I have to worry about. I believe 100 per cent I can beat Rafa and Novak [Djokovic], but on this surface it's harder for me than other courts because it's not my best surface and in my opinion they are two of the greatest clay-court players. Rafa is definitely the best. You can't compare anyone with what he has achieved. But [my] hunger is there, the desire. I'll give it everything I've got."
Murray has lost 14 of his 19 matches against Nadal. However, the Scot has beaten the Spaniard twice in Grand Slam tournaments (at the 2008 US Open and 2010 Australian Open) and the evidence of their five meetings on clay is that Murray is getting closer. At last month's Rome Masters he led 4-2 in the final set before fading in the closing stages.
"He's a candidate to win Roland Garros," Nadal said. "He can play really well on clay. There's nothing in his game that would prevent him from playing really well on clay. He's gone really deep in the tournament several times here."
If there is a doubt about Murray, it could be his durability. Clay has been his biggest challenge physically as well as technically and for all his hard work, it has taken time to rebuild his powers of endurance following back surgery. Murray always used to be the player you would back to last the distance, but in both of his five-set victories here, over Philipp Kohlschreiber and Gaël Monfils, there were periods when he was struggling, even if he emerged the winner.
Murray has spent more time (14 hours and 46 minutes) on court than any of the other semi-finalists, while Nadal has spent the least time – four hours and 36 minutes less than Murray. The world No 1 has dropped only 34 games in reaching the semi-finals, which is the third fewest he has lost in his eight journeys to the last four here.
Nadal will be happy with the weather forecast. A sunny day is predicted, with temperatures rising to 26C, the highest of the fortnight so far. "When it's sunny, when it's drier, then the balls are faster," Nadal said. "Generally, it's more positive for me in this case."
The consensus, nevertheless, is that Nadal has not looked his best on clay this year. Never before has he gone into the French Open having lost three times already during the clay-court season. He has also lost four of his last seven matches against top 10 opponents.
While Nadal is a hot favourite to overcome Murray, Djokovic is an even shorter price to beat Ernests Gulbis in this afternoon's first semi-final. This could be Djokovic's best opportunity to win the only Grand Slam trophy missing from his collection. The 27-year-old Serb has beaten Gulbis in four of their five meetings, though the Latvian is in the form of his life after victories here over Roger Federer and Tomas Berdych.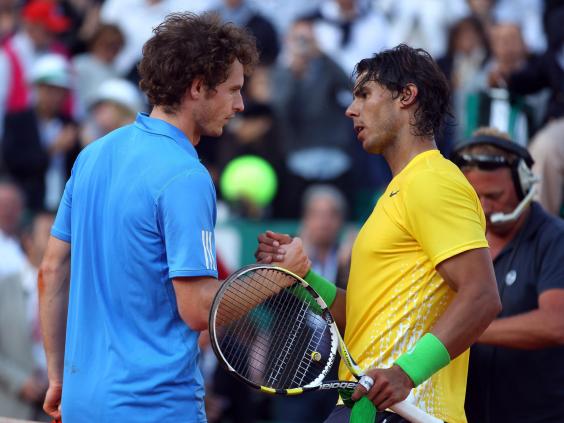 Getting closer: Murray v Nadal on clay
2008: Hamburg Masters third round Nadal won 6-3, 6-2
Murray had beaten Dmitry Tursunov and Gilles Simon in the first two rounds but on his 21st birthday was outplayed in his first meeting with Nadal on clay. The Spaniard was suffering with blisters and fatigue but needed only 78 minutes to complete his win
2009: Monte Carlo Masters semi-final Nadal won 6-2, 7-6
Another straight-sets victory for Nadal, but Murray kept him on court for more than two hours and pushed him hard in the second set. Murray, going on the attack, recovered from 5-2 down, saved a match point at 5-3 and lost a tight tie-break 7-4
2011: Monte Carlo Masters semi-final Nadal won 6-4, 2-6, 6-1
Murray needed a cortisone injection after injuring his right elbow but went on to play his best clay-court match yet against the king of clay. Murray broke Nadal's serve six times and faded only when the effects of the injection wore off in the final set
2011: French Open semi-final Nadal won 6-4, 7-5, 6-4
A closer match than the scoreline indicated. Nadal played the big points superbly but needed more than three and a quarter hours to beat Murray, who paid for failing to take his chances. Murray took only three out of 18 break points; Nadal converted six of his 13
2014: Rome Masters quarter-final Nadal won 1-6, 6-3, 7-5
The closest Murray has come to beating Nadal on clay. The Scot won the first five games and took the first set in just 37 minutes. Murray led 4-2 and 5-4 in the deciding set, but Nadal lasted the distance better, winning 12 of the last 13 points.
Paul Newman