It could be argued that no player in the modern era has faced more pressure than Andy Murray did in his two Wimbledon finals, which is why the Scot will understand what might be going through Novak Djokovic's mind as the two men prepare to face each other here in the French Open semi-finals.
Murray bore the weight of three-quarters of a century of history at Wimbledon, where Fred Perry had been the last home-grown men's singles champion in 1936. Djokovic, meanwhile, knows that his place among the sport's all-time greats could be at stake here.
If the 28-year-old Serb lifts the Coupe des Mousquetaires he will become only the eighth man – after Perry, Don Budge, Rod Laver, Roy Emerson, Andre Agassi, Roger Federer and Rafael Nadal – to win a "career Grand Slam" of the sport's four major titles.
Djokovic has been attempting to join that elite group ever since he added the US Open to his Australian Open and Wimbledon crowns during his annus mirabilis in 2011.
The world No 1, who ended Nadal's attempt to win the title here for the 10th time by beating him in the quarter-finals on Wednesday, has admitted that he put too great a burden of expectation on himself in subsequent visits to Roland Garros.
Murray knows how hard it can be to avoid that scenario when you want something so badly.
"You put extreme amounts of pressure on yourself to do it," the Scot said. "You would say this is Novak's best chance now to do it, having beaten Rafa and with Rafa not playing as well as he has in the past. No one that is left in the tournament has won the event. He goes into the semi-finals as the most experienced player.
"To win the career Grand Slam is an extremely difficult thing to do. That's why so few people have done it. He will obviously put a lot of pressure on himself to try to do it this year."
John McEnroe, who is doing a commentary stint here before he joins the BBC team at Wimbledon later this month, agrees.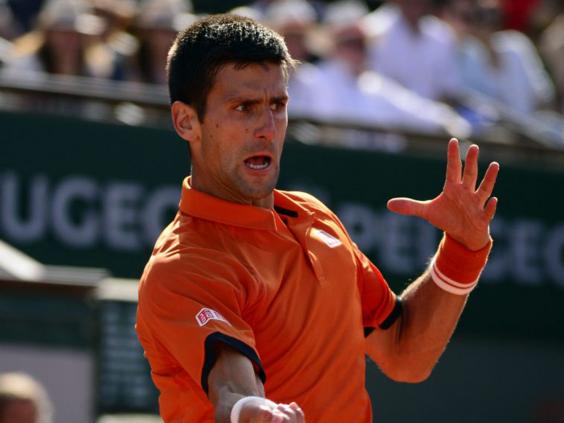 "There's a lot of pressure on [Novak], no question, and I'm sure a lot of it is self-induced," McEnroe said. "He's got an opportunity to be considered among the elite of the elite if he wins this.
"I was always thinking: 'How would I break in with [Jimmy] Connors and [Bjorn] Borg and be considered their equal?' It was not easy to do that and when I felt like I was on that level, it [felt like] an amazing accomplishment.
"I think Novak's the same: he's got these two guys [Federer and Nadal] who are arguably the two greatest ever, but he's trying to be on an equal footing – and that's a hell of a tough thing to do when [they have won] 17 and 14 Slams to Novak's eight."
McEnroe added: "He seems incredibly well prepared and pretty relaxed but I'm sure that inside, if things start going off, he's got to have some mechanisms in place to deal with this."
The American believes Djokovic would have preferred to play Nadal in the final. "That, to me, helps the person playing [Novak] directly after that," he said. "You suddenly realise that you've got to win two more matches."
Murray's clay-court pedigree is nothing like Nadal's, but the world No 3 has just claimed his first two titles on the surface and has won all 15 matches he has played on clay this year.
This is the only Grand Slam tournament where he has not made the final, but this afternoon he will clearly be dealing with a much lower level of expectation than his opponent.
Djokovic acknowledged Murray's improvement on clay this year and added: "He's extremely talented. He's also a great fighter and somebody that has a lot of experience playing in big matches."
After a predominantly chilly tournament, the weather is predicted to let rip this afternoon. Temperatures are forecast to reach 33C and there is a threat of thunderstorms. Djokovic used to  wilt in the heat but the world No 1 has coped much better with extreme conditions in recent years.
"Heat makes the conditions quicker," Murray said. "The ball travels through the air faster so points potentially  can be shorter. But any long point you play in 33-degree heat is tough. You lose your breath.
"Here we've been playing in pretty pleasant conditions. You don't get as out of breath and it's much, much easier to recover between the points. It makes things tough. I'll try to use that to my advantage. I have played Novak many times and had a bunch of tough, close physical battles with him."
Djokovic has beaten Murray seven times in a row, but they have met only twice on clay in their careers, most recently when the Scot lost a deciding tie-break in Rome four years ago.
The Serb is on a 27-match winning streak and has lost only two matches this year, to the big-serving Ivo Karlovic in the first week of the season in Doha and to Federer on a lightning-quick court in Dubai.
Since last October, Djokovic has won the Australian Open, the Barclays ATP World Tour Finals and all five of the Masters Series tournaments he has entered, in Paris, Indian Wells, Miami, Monte Carlo and Madrid.
"It's a huge, huge task," Murray said. "I'll try to get myself prepared as best I  can. I couldn't have prepared any better, with the way the last few weeks have gone,  winning 15 matches in a row on clay. I've never prepared for a semi-final of the French Open better than I have this time."
In the day's first semi-final France's Jo-Wilfried Tsonga will take on Switzerland's Stan Wawrinka, who is the older of the two 30-year-olds by just one month.
Tsonga, the only one of the semi-finalists who has not won a Grand Slam title, is attempting to become the first Frenchman to reach the final here since Henri Leconte in 1988 and the first to win the title since Yannick Noah in 1983.
Murray vs Djokovic: Three key matches
Australian Open final 2015 Djokovic won 7-6, 6-7, 6-3, 6-0
Djokovic won 36 of the last 49 points to claim his fifth Melbourne title. The world No 1 had looked a spent force physically at the start of the third set, when he went a break down, but quickly recovered. Murray said later that he had allowed himself to be distracted by Djokovic's physical issues.
Wimbledon final 2013 Murray won 6-4, 7-5, 6-4
Murray ended Britain's  77-year wait for a men's singles champion at Wimbledon in impressive style. Going for his shots and playing with great aggression, the Scot survived a marathon final game to claim victory. With Murray serving for the title, Djokovic saved three match points and then forced three break points of his own before finally succumbing.
Rome Masters semi-final 2011 Djokovic won 6-1, 3-6, 7-6
The most recent meeting between the two on clay. Murray went desperately close to becoming the first man to beat Djokovic that year after the Serb's superb start to the season. Murray served for the match and went within two points of victory four times before Djokovic won.
Paul Newman
Reuse content